7 Great ETFs to Avoid the Havoc in Energy Stocks
Energy stocks have been belted since the start of 2020 amid the rising threat of the COVID-19 coronavirus outbreak.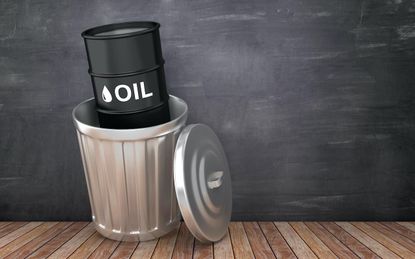 (Image credit: Getty Images)
Energy stocks have been belted since the start of 2020 amid the rising threat of the COVID-19 coronavirus outbreak. Now, a potential price war threatens to turn the sector into one of the biggest liabilities in investor portfolios.
Oil prices, which have been under pressure all year, officially fell into bear-market territory by February as coronavirus fears hampered expectations for demand. The Energy Select Sector SPDR ETF (XLE (opens in new tab)), a fund made up of the S&P 500's energy stocks, had declined by 29% as of March 6.
Now, energy prices and the sector's stocks face even more disruption. Saudi Arabia announced on March 8 that it would cut prices on oil deliveries by nearly 10%. The retaliatory move is aimed at Russia for not agreeing to a production cut to stabilize oil prices, but it's sure to be felt across the rest of the energy-producing world. Some analysts fear the move is the start of a new price war in oil.
"The prognosis for the oil market is even more dire than in November 2014, when such a price war last started, as it comes to a head with the significant collapse in oil demand due to the coronavirus," Goldman Sachs oil strategist Damien Courvalin wrote March 8. His firm is cutting its second- and third-quarter price forecasts for Brent crude oil (a world benchmark) to $30 per barrel, "with possible dips in prices to operational stress levels and well-head cash costs near $20." Brent traded around $45 per barrel just days before.
The energy sector doesn't make up a huge percentage of most broad-market funds, but some funds are more insulated than others. Here, we look at seven great ETFs that will minimize your exposure to the chaos that's wrenching energy stocks.
Data is as of March 8. Dividend yields represent the trailing 12-month yield, which is a standard measure for equity funds.
Senior Investing Editor, Kiplinger.com
Kyle is senior investing editor for Kiplinger.com. As a writer and columnist, he also specializes in exchange-traded funds. He joined Kiplinger in September 2017 after spending six years at InvestorPlace.com, where he managed the editorial staff. His work has appeared in several outlets, including U.S. News & World Report and MSN Money, he has appeared as a guest on Fox Business Network and Money Radio, and he has been quoted in MarketWatch, Vice and Univision, among other outlets. He is a proud graduate of The Ohio State University, where he earned a BA in journalism.