9 Dividend Stocks That Are Waving Red Flags
A strong economy typically lifts the broader market, and a rising broader-market tide will lift a lot of boats.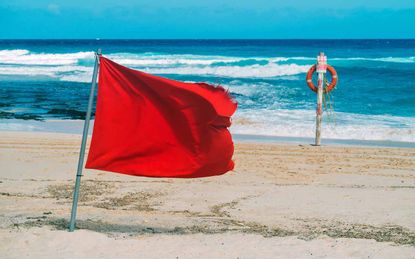 (Image credit: Getty Images)
A strong economy typically lifts the broader market, and a rising broader-market tide will lift a lot of boats. But not all of them. Even in the midst of America's longest bull market, numerous publicly traded companies are struggling – including several dividend stocks whose payouts appear to be on thin ice.
Dividend cuts and suspensions are among the worst things that can happen to shareholders – especially those that are relying on that stock for retirement income. Not only are you missing out on cash you were depending on, but the stock's value itself typically suffers ahead of – and after – that kind of announcement.
Fortunately for investors, dividend cuts don't come out of nowhere. Even once-proud blue chips such as General Electric (GE (opens in new tab)) and Kraft Heinz (KHC (opens in new tab)) telegraphed considerable financial issues before ultimately slashing their regular payouts. But investors need to heed these signs. For instance, high yields – especially if a stock's yield is much higher than its industry peers – can be a sign of heightened risk and a struggling stock (as stock prices go down, dividend yields go up). Also, watch out for companies that pay out most or all of their earnings in dividends, as they will have little breathing room should their profits dip.
Here, we look at nine dividend stocks that are flashing warning signs of a payout cut. Some of these companies have already chopped their dividends within the past few years. Some of them have maintained or even grown their payouts of late. In no case is a dividend cut or suspension a guarantee, but all of them face issues that, at the very least, should have current and prospective shareholders on their guard.
Data is as of Nov. 3. Stocks listed by yield. Dividend yields are calculated by annualizing the most recent payout and dividing by the share price.
Contributing Writer, Kiplinger.com
Lisa currently serves as an equity research analyst for Singular Research covering small-cap healthcare, medical device and broadcast media stocks.