13 Vulnerable Stocks to Watch If the Market Trembles
America's economy is showing cracks.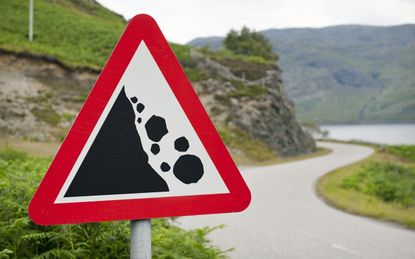 (Image credit: Getty Images)
America's economy is showing cracks. It's not just the ongoing trade war with China. Global economic weakness unrelated to China is weighing here at home. Uncertainty around Brexit, instability in the Middle East are among the contributors. As a result, there are a number of vulnerable stocks to watch, as another push could send them over the cliff.
Yes, the Federal Reserve is helping to ease the pain with lower interest rates. But consumers still are dealing with higher costs in health care, education and food. Consumer spending, which has been a sign of strength of late, even started to turn recently, cooling off in August.
Several stocks already are showing serious fundamental issues, such as stagnant growth, high levels of debt, lack of free cash flow (FCF; essentially, what's left over once the company spends and invests to maintain and expand its business). Continued volatility in the market could exacerbate the drop in currently falling stocks, and start the slide in others. In some cases, a broader market downturn on sentiment alone could do the trick; in others, further signs of economic fragility could unleash the sellers.
Here are 13 vulnerable stocks to watch. Some of these are deeply troubled stocks that might not warrant investor funds even in a strong market. A few are more stable companies that could experience outsize stock losses from temporary weakness – but might warrant buying on a future dip.
Data is as of Oct. 21, 2019. Dividend yields are calculated by annualizing the most recent payout and dividing by the share price. Analysts' opinions provided by Wall Street Journal.
Contributing Writer, Kiplinger.com
Ellen Chang is a freelance journalist who is based in Houston and writes articles for TheStreet and U.S. News & World Report. Chang focuses her articles on stocks, personal finance, energy and cybersecurity. Her byline has appeared in national business publications, including USA Today, CBS News, Yahoo Finance and MSN Money. She is a proud graduate of Purdue University and a lover of random acts of kindness, volunteering and cats and dogs. Follow her on Twitter at
@ellenychang
and Instagram at
@ellenyinchang
.