The Smart Money Is Looking for Value Stocks
A long-overdue rotation into value appears to finally be underway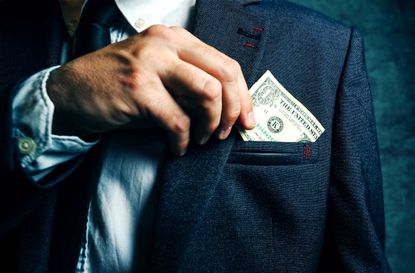 (Image credit: stevanovicigor)
September shaped up to be a pivotal month for stocks – and perhaps, specifically, value stocks.
For starters, it wasn't the bear of a month we usually expect. On average over the past half-century, September is the only month to produce a significant negative average return. This year, September was nicely positive. Major market indexes, such as the Standard & Poor's 500, finished the month near all-time highs.
But the noteworthy event was a little more specific. Between Sept. 5 and Sept. 16, as the S&P 500 gained 2.0%, the "smart money's" focus shifted. Value stocks were suddenly in demand – at the expense of growth stocks.
Subscribe to Kiplinger's Personal Finance
Be a smarter, better informed investor.
Save up to 74%
Sign up for Kiplinger's Free E-Newsletters
Profit and prosper with the best of Kiplinger's expert advice on investing, taxes, retirement, personal finance and more - straight to your e-mail.
Profit and prosper with the best of Kiplinger's expert advice - straight to your e-mail.
Where Growth Started Showing Its Cracks
Let's look at what was happening outside the market to gain perspective.
On Sept. 5, progress in trade talks with China sparked a rally in the broader stock market. Of course, those talks have been on-again, off-again for months. But for that day, conditions were ripe for any spark to break the market out from its five-week trading range.
That same day, yields on long-term Treasury securities reversed their trends and started to move higher, providing some relief on the yield curve. You see, an inverted yield curve, where short-term rates are higher than long-term rates, is a big problem for financial-sector earnings. Banks borrow at lower short-term rates and lend at higher long-term rates; the difference between the two makes up most of their profits. Thus, financial stocks took the rise in long-term rates as a cue to break out to the upside, and they actually started to outperform the S&P 500.
Some of that steam was let out thanks to weak economic data across the first week of October. But now, it appears likelier that the Federal Reserve will again cut short-term rates. So the yield-curve roadblock is gone, at least temporarily. Banks and other financials could continue to outperform.
It appeared that momentum-driven growth sectors of the market, including technology, were about to give way to value sectors such as financials.
And on Sept. 9, we finally saw a breakout in value stocks relative to growth.
The chart above shows the ratio of mid-cap value stocks (via the Dow Jones US Mid Cap Value Index, listed here as $DJUSVM) to mid-cap growth stocks (Dow Jones US Mid Cap Growth Index, $DJUSGM).
We've seen such surges before. This time, given both chart-based indicators showing the shift and economic indicators suggesting a softening (opens in new tab), it appears the smart money started to believe growth stocks were a bit too "crowded."
Crowded is a fancy way to say that if everyone is bullish on something, theoretically everyone who's going to buy it has already done so. With no one left to buy, the path of least resistance becomes lower. And in this case, if there's no one left to buy growth stocks, the path of least resistance for value stocks becomes higher.
What Value Stocks' Rise Means for Investors
This, like many things, is not an all-out buy or sell signal. But it does warrant reconsidering how your portfolio is constructed.
Any time one part of the market moves from laggard to leader, investors should pay attention. If value stocks take the lead, a higher portion of your portfolio should be invested there. If growth truly loses favor, consider lightening up there.
Did you notice what happened to Netflix (NFLX (opens in new tab)), one of the market's leading superstars? It's crumbling (relatively speaking). While the market is up 16% in 2019, Netflix is flat – courtesy of a 29% decline over the past three months.
Momentum stocks can, and do, fall back to earth.
But there is one more important implication for this shift. Pundits call it a "rotation" from one area to another. And usually, it is an overall good sign for the bulls.
Rotation is simply when one leadership group yields to another. The important thing is: As long as another group actually leads the market higher, it is a healthy change. There's only a problem when leading groups stop leading, but no other group takes over. That would be a signal that a bull run is nearing its end.
In short: Investors are rotating away from higher-growth momentum stocks and rotating into overlooked value stocks. It makes sense. Momentum stocks garnered a lot of interest, but it made them expensive put them at higher risk for pullbacks. Value stocks, by comparison, were (and still are) much cheaper due to lack of demand.
Just compare the valuations of the iShares Russell 2000 Value ETF (IWN (opens in new tab)) to the iShares Russell 2000 Growth ETF (IWO (opens in new tab)). Value is trading at just 12.4 times its collective trailing 12-month profits. Growth is priced almost twice as high, at 24.6.
The takeaway? It's not time to sell out growth completely. But it is time to make some changes in a stock market that still is holding its own, despite October's opening fireworks.
Contributing Writer, Kiplinger.com
Michael Kahn, CMT (Chartered Market Technician) has been writing about the markets since 1986. He is the author of three books on technical analysis published in five languages. His specialty: jargon-free analysis accessible to everyone. He has contributed to many leading financial media including Barron's Online, MarketWatch and Nightly Business Report and was the Chief Technical Analyst for BridgeNews.