11 Superfoods to Boost Productivity at Work
When you're faced with a hectic workday, it can be all too easy to make some not-so-healthy food choices in between attending meetings, checking emails and returning phone calls.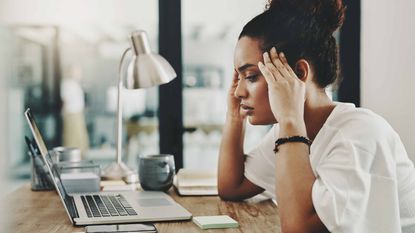 (Image credit: Getty Images)
Poor nutrition can significantly impact your ability to perform well on the job, because it can lead to fatigue, lower energy levels, decreased mental effectiveness and a reduced ability to think clearly. That's why it's important to consume healthy foods and beverages consistently throughout the day, rather than waiting until you're starving to have a snack or meal, advises Keri Glassman, a New York City-based nutritionist and founder of NutriousLife.com. It's not easy during days filled with deadlines: You're more likely to make poor food choices when you're under a time crunch, she says.
And if you've been working from home due to the coronavirus, finding healthy food options -- no vending machine down the hall, no neighborhood deli in walking distance -- to help power through a hectic work day can be challenging.
Meal planning for the week ahead is critical to keeping your refrigerator and cupboards stocked with an assortment of healthy meals and snacks. With input from several nutrition experts, we've identified a variety of so-called superfoods that pack extra health benefits to help keep you focused and effective throughout the work day. In addition, we've outlined cost-friendly options for where to buy (online and in-store) and how to prepare these items without breaking the bank or taking up too much time. Take a look.
1/11
Steel-Cut Oatmeal
It's no secret that breakfast is the most important meal of the day. Starting off with high-protein foods such as eggs with vegetables or sliced tomato and smoked salmon is ideal. However, if you crave carbohydrates and need something a bit more filling first thing in the morning that's also high in protein, a bowl of real steel-cut oats is best, says Oz Garcia, a New York City-based nutritionist whose clients include celebrity A-listers such as actress Hilary Swank and supermodel Naomi Campbell. It's a much healthier option than the processed cereals you'll find at traditional grocery stores that are loaded with sugar, he notes.
Steel-cut oatmeal has a variety of nutritional benefits that will help you power through those morning meetings without having to rely on coffee. This includes containing far less sugar than instant oatmeal. Steel-cut oats are also high in fiber. Foods that are high-fiber take longer to digest, which leaves you feeling full for a longer period of time.
At Target, you can buy a 30-ounce canister (about 21 servings) of their store brand Good & Gather steel-cut oats for $3.19. You can opt for same-day delivery via Shipt, curbside pick-up or shop in-store. If you're concerned about the preparation time taking too long (roughly 20 minutes on the stove), there are many overnight oatmeal recipes that call for prepping and mixing the ingredients the night before, so the oatmeal is ready to eat in the morning. If you're planning ahead, you could even prepare larger quantities to last throughout the week.
2/11
Water
Some people might buy a green smoothie when they're in need of an extra boost of energy during a busy work day. Yes, it's tasty, but a glass of water provides the same effect. In fact, staying hydrated plays a key role in helping to maintain energy levels and combat drowsiness. "Very often people think they're tired, when they're really just dehydrated," says NutritiousLife.com's Glassman.
A reusable bottle and filtered tap water can do the trick. Or, consider purchasing a multipack of bottled water at your local grocer for pennies per bottle when you factor in the unit price. At Walmart you can get a 32-count pack of 16-ounce bottles of Deer Park water for $4.96 via curbside pick-up or in-store purchase. That amounts to about 15 cents each -- a steal, especially since you could easily pay $2 or more for bottled water from a restaurant you've ordered food from.
3/11
Green Tea
If you must have caffeine to stay afloat, there's a much healthier option than coffee. Consider swapping out that cup of joe for some green tea, Garcia advises. A cup of green tea has about 30 milligrams of caffeine compared to 200 milligrams found in coffee. This is important, because the tea won't cause you to have a caffeine high that's followed by a sudden energy drop, he adds. The "crash and burn" feeling that's commonly associated with coffee occurs when that rush of caffeine that's coursing through your system abruptly wears off.
Keep a green tea stash in your spice cabinet so you aren't tempted to make a pricey Starbucks run first thing in the morning or during a break in your work day. The cost for a 12-ounce cup of brewed coffee can run $2 or more, depending on location. Remember, you don't have to spend a lot even if you choose an organic version. For example, on Amazon Fresh, which is a grocery delivery service available to Prime members (see 31 Best Amazon Prime Benefits to Use), you can buy a package (containing 70 tea bags) of Whole Foods' 365 brand organic green tea for $3.96. That amounts to 5-cents per tea bag.
4/11
Seasonal Fruit
Snacking on fruit throughout the day is an easy way to keep your energy levels up. That's because fruit is rich in vitamin C, which is a vital nutrient that helps boosts your metabolism. If you're someone who likes to stock up on food for the work week on Saturday or Sunday, keep your grocery bill in check by sticking with fruit that's in-season at your local supermarket or grocery delivery service. Keep in mind that when you buy fresh produce out-of-season, you could end up paying triple the in-season price, according to FoodNetwork.com.
During the warmer months, opt for peaches, oranges and other citrus fruits, as well as melons, Garcia says. When winter rolls around, berries (including blueberries, raspberries and pitted cherries) are the smart superfood choice. You can eat these fruits as-is or use them to make a smoothie that includes a scoop of high-quality yogurt and almond milk -- both of which are good sources of protein, he notes.
An added bonus: Fruit contains natural sugar, which helps satisfy your sweet tooth without ruining your diet. It's also a good source of fiber and keeps you feeling full longer.
5/11
Yogurt
We've all been there. The afternoon slump hits and it's become practically impossible to focus on the task at hand. One problem: You've got a 3 p.m. meeting on your calendar and need to be on your A-game. Rather than raid your snack cabinet for sugary treats, grab a cup of yogurt to help boost your energy levels, recommends Glassman. In addition to being a great source of protein, yogurt also has vitamin B12, which aids in regulating the body's metabolism rate. Add some chopped nuts and blueberries for an energizing combination of nutrients that includes antioxidants, healthy fats and fiber, she adds.
If you have a designated home office space, consider adding a tabletop fridge where you can keep a yogurt stash. That way you aren't tempted to grab that bag of Oreos or M&Ms right before a big presentation for your boss. On Amazon Fresh, a 5.3-ounce container of Chobani Greek Yogurt costs $1.22. You could stock up for the workweek and spend about $6 for five containers.
6/11
Salmon
When lunchtime rolls around, go for a high-quality protein such as wild-caught salmon, Glassman advises. Wild-caught salmon is less likely to have contaminants compared to farm-raised versions. It also has an abundance of healthy fats including omega-3 fatty acids, which fuel the body by providing energy. Salmon, a popular superfood, also contains several essential nutrients including potassium, iron and zinc. The latter aids in keeping your body's metabolism rate at an optimal level.
Seafood can be costly, but that shouldn't deter you from making better food choices. Peruse your Sunday circulars to find the best savings on needed grocery items -- especially those used for meal prepping for the upcoming week. For example, at a Washington, D.C.-area Target you can buy a 24-ounce package (5 servings per bag) of their Good & Gather brand frozen wild-caught Alaska Keta Salmon Fillets for $15.99. That's just $3 per serving. Since this is a frozen food item, it's only available for in-store purchase.
7/11
Leafy Greens
If you're pressed for time, it can be all too easy to grab fast food for lunch (think: pizza or a deli sandwich with all the fixings). However, you're setting yourself for the afternoon slump when you load up on heavy and unhealthy foods, Garcia says. If you're trying to fit a quick lunch into a busy workday, go for a leafy green salad, he recommends. It'll help you knock out that long list of to-dos by fueling with necessary nutrients.
Kale, spinach, arugula and romaine lettuce are all rich in vitamins B and C, and also contain potassium. Studies have shown that leafy greens can assist in improving certain cognitive responses including daily memory and thinking skills, according to Consumer Reports.
To ensure your appetite is satisfied, Garcia recommends pairing a small leafy green salad with either chicken or salmon and some roasted vegetables. If you're craving carbs, add a slice of gluten-free bread. Again, if you're looking to cut down on ordering out, these are items you can pick up at your local grocer for cheap. At discount grocer Lidl (where you can have your groceries delivered via Shipt), you can purchase a 5-ounce container of their store brand organic Half & Half salad mix, which containers spinach and spring mix greens, for $1.99. Depending on how often you eat salad throughout the week, you could buy two containers for under $5 to use for your lunch and dinner meals.
8/11
Avocado
Avocado, a perennial superfood, has a number of vital nutrients that can help you stay focused throughout the workday. This includes vitamins B and C, as well as potassium, which acts as an electrolyte and helps your body absorb necessary vitamins and minerals. It's a versatile food that can be used in a variety of ways.
If you want to add avocado to your daily meal plan, but don't want to be bothered with preparing it while at work, you've got options. Try making an avocado mash at home that you can store in the office refrigerator, Glassman suggests (we spotted a quick two-step recipe over at CookingLight.com). For an added dose of protein and fiber, she recommends spreading the mash on a piece of Ezekiel toast, which is a type of whole grain bread. The avocado toast could easily be eaten for breakfast with a hard-boiled egg or paired with a leafy green salad for lunch or eaten by itself as a midday snack.
9/11
Nuts
Snacking on sugary foods and beverages -- cookies, candy, soda and so on -- during theday is a recipe for disaster. You can expect a sugar-induced rush that's quickly followed by feeling lethargic as the sugar dissipates. If you're trying to keep your energy levels up in-between meals, nuts such as almonds, walnuts, pecans and cashews are a smart snacking choice, Garcia advises. All are a great source of protein and fiber, in addition to containing essential vitamins that keep your body functioning properly.
If you plan on adding nuts to your grocery list, keep in mind certain varieties can be pricey. A simple way to keep costs low is to purchase store brand versions rather than name brands. For example, at Walmart a 14-ounce bag of Blue Diamond brand whole natural almonds cost $6.98. The same size package of the big-box retailer's Great Value brand whole natural almonds totals just $4.96 -- about $2 less. Both items are available in-store and for online shipping.
10/11
Bean Soup
You may not always have enough time to plan for a more elaborate lunchtime spread. That doesn't mean you can't still have a nutritious meal that's satisfying and helps fuel your productivity. A hearty bean soup -- white bean, lentil or black bean -- is ideal when you're short on time, Garcia suggests. These soups are rich in protein, fiber and vitamin B.
There are a variety of affordable canned or boxed bean soups that aren't packed with sodium that you can grab on the go and heat up for lunch in your microwave. At Target, a 17-ounce box (2 servings) of Pacific Foods brand Organic Vegetable Lentil and Roasted Red Pepper Soup costs $3.19. It's available for purchase in-store, through curbside pickup and online shipping. For a more complete meal, you could pair the soup with some gluten-free crackers and a leafy green side salad.
11/11
Protein Shake
If you need a quick pick-me-up and want a beverage that's a bit more filling (and tastier) than water, consider a protein shake, Garcia says. It's a better snack option compared to energy bars, which can be high in added sugar.
There are a variety of protein mixes on the market. Garcia recommends the Metagenics Perfect Protein powders, which are non-GMO and gluten-free. You can purchase them from Amazon (around $73 for a 2-lb. bag) or through a healthcare provider -- such as a nutritionist -- that sells these products in their practice. "A scoop or two of protein powder with a glass of water or almond milk . . . will give you a lot more power than eating a muffin or drinking a cup of coffee before going into a meeting," he says.
If you're looking for a less-expensive option, a 2-lb. container of PlantFusion's Complete Protein Powder, which is plant-based, non-GMO and gluten free, sells for $57.95 on the brand's website. This protein powder was included in Prevention.com's 2020 round-up of the 32 Best Protein Powders for Every Health Goal, which was ranked by dieticians.

Browne Taylor joined Kiplinger in 2011 and was a channel editor for Kiplinger.com covering living and family finance topics. She previously worked at the Washington Post as a Web producer in the Style section and prior to that covered the Jobs, Cars and Real Estate sections. She earned a BA in journalism from Howard University in Washington, D.C. She is Director of Member Services, at the National Association of Home Builders.