The 12 Best Communication Services Stocks to Buy for 2022
Despite global headwinds and the potential for rising interest rates, communication services stocks look poised to maintain growth throughout 2022.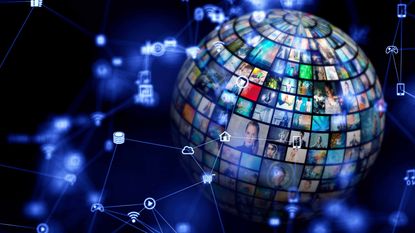 (Image credit: Getty Images)
Historically, communication services is a robust sector with resilient fundamentals. However, there are a few concerns for even the best performing sectors heading into 2022.
For starters, the world's semiconductor chip shortage looks like it might last well into 2023, which could affect some of the big-name communication services stocks. Also, some of the largest companies in the sector are falling under the watchful eye of bipartisan regulators. Antitrust investigations could soon become a thing for the world's largest social and communications companies.
However, there are reasons to believe communication services stocks could still have a fruitful year.
"In our base-case scenario, we expect slowing growth and peaking inflation to support moderate outperformance of defensive sectors with quality characteristics and higher duration," say Invesco strategists in their 2022 investing outlook. That includes communication services, which is among the sectors Invesco is positive on heading into the new year.
Scott Wren, senior global market strategist for Wells Fargo Investment Institute, is more optimistic about U.S. growth prospects, yet still sees that as a reason to buy the sector.
"We recommend investors focus on U.S. equities with an emphasis on growth sectors such as information technology and communication services, as well as more economically sensitive sectors such as industrials and financials, given our positive outlook," he says.
Here, we examine 12 of the best communication services stocks for 2022. With a handful of household names and even some smaller opportunities making this list, communications is definitely one sector that shouldn't be overlooked by any investors in the coming year.
Data is as of Dec. 14. Average price targets and analyst ratings provided by market data tool Koyfin (opens in new tab).
Contributing Writer, Kiplinger.com
Michael Adams's financial writing career has spanned roles with KCI Communications, The Motley Fool, InvestorPlace, InvestingDaily and other major financial publishing outlets. Michael's personal investing style is based on a buy-and-hold approach of primarily up-and-coming tech businesses. He uses fundamental analysis to find great companies with the possibility for tremendous growth over the course of years.