Insider Buying: Bullish Signals for These 7 Stocks
If history is any guide, these stocks could be headed higher in the months ahead, based on recent insider buying activity.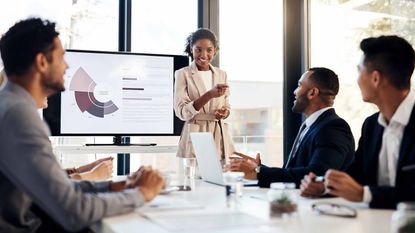 (Image credit: Getty Images)
As much as investors might like to key on insider selling for insights into where a company's share price could be headed, insider buying is a far more useful tell.
True, corporate insiders – the chairs, directors and executives who run the company – are privy to information that outsiders are not. When these insiders sell stock, it's only natural for outsiders to wonder if something is afoot.
But studies show that insider selling doesn't tell us all that much. The reason? Insiders sell stock for perhaps dozens of reasons, the vast majority of which are innocent.
An insider buys stock, however, for one reason only: He or she is bullish on the company -- and its shares -- prospects.
Which gave us an idea: Let's find stocks where recent insider buying activity has a high probability of predicting tactical outperformance for shares in the months ahead.
To that end, we used Refinitiv Stock Reports Plus. This data and analytics platform employs quantitative and historical metrics to track insider activity and score its utility as a predictor of share-price returns. The platform's Proven Insider scoring methodology is based on three factors: the insider's historical returns for the three months and six months following the purchase of stock, the consistency of those returns, and the number of times the insider has transacted.
"Quite simply, this gives tremendous insight into whether the insider makes prescient investment decisions or trades for reasons that one would not want to emulate (i.e., portfolio diversification or cash flow needs)," Stock Reports Plus says.
In the case of insider buying, Stock Reports Plus produces a "Proven Buy Score," which is a comparative proprietary performance ranking for each insider based on his or her prior trading performance when purchasing shares. Scores range from 1 (least predictive) to 100 (most predictive).
After screening the market for stocks with highly predictive recent insider buying activity – delivering a minimum of double-digit-percent returns over the following six months – we found seven names poised for outperformance.
So let's have a look at insider buying as it pertains to bullish signals for these seven stocks.
Share prices and other data are as of Sept. 23, courtesy of Refinitiv Stock Reports Plus and S&P Global Market Intelligence, unless otherwise noted. Stocks are ordered by average six-month return, from lowest to highest.
Senior Investing Writer, Kiplinger.com
Dan Burrows is Kiplinger's senior investing writer, having joined the august publication full time in 2016.
A long-time financial journalist, Dan is a veteran of SmartMoney, MarketWatch, CBS MoneyWatch, InvestorPlace and DailyFinance. He has written for The Wall Street Journal, Bloomberg, Consumer Reports, Senior Executive and Boston magazine, and his stories have appeared in the New York Daily News, the San Jose Mercury News and Investor's Business Daily, among other publications. As a senior writer at AOL's DailyFinance, Dan reported market news from the floor of the New York Stock Exchange and hosted a weekly video segment on equities.
Once upon a time – before his days as a financial reporter and assistant financial editor at legendary fashion trade paper Women's Wear Daily – Dan worked for Spy magazine, scribbled away at Time Inc. and contributed to Maxim magazine back when lad mags were a thing. He's also written for Esquire magazine's Dubious Achievements Awards.
In his current role at Kiplinger, Dan writes about equities, fixed income, currencies, commodities, funds, macroeconomics, demographics, real estate and more.
Dan holds a bachelor's degree from Oberlin College and a master's degree from Columbia University.
Disclosure: Dan does not trade stocks or other securities. Rather, he dollar-cost averages into cheap funds and index funds and holds them forever in tax-advantaged accounts.