Best Banks for Families With Students, 2019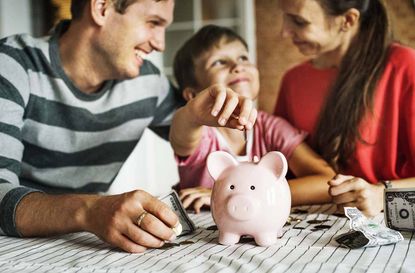 (Image credit: Getty Images)
These banks include accounts tailored to kids and teens that give them the freedom to manage their own money.
Here's a look at our top bank picks for families with children.
Disclaimer
Informa Financial Intelligence compiled the data as reported by the financial institutions that it tracks; the information is subject to change. All rates as of June 20, 2019.
1/3
BEST: Capital One 360
Why it won: Family members of all ages will find easy-to-manage, no-fee accounts.
Standout accounts: Money Teen Checking yields 0.25% on all balances. Kids savings yields 1% on all balances.
Where it is: About 500 branches in eight eastern and southern states and Washington, D.C.
Teenagers between ages 13 and 17 can get a handle on their finances with a dedicated checking account that allows them to submit checks, make direct deposits and more. As joint owner, a parent can keep tabs on the account. Once a child turns 18, he or she can roll his or her balance into a regular 360 checking account. Kids under age 18 can tuck birthday checks and other earnings into a special savings account that returns the same rate as the adult version.
Both parent and teen holders of the Money account are privy to additional features on the mobile app. Both can track activity, automatically transfer allowance money, and set up a simple budget.
2/3
RUNNER-UP: Alliant Credit Union
Why it won: Kids and teens earn the same high rates as adults with accounts created specifically for them.
Standout accounts: Teen Checking pays 0.65% on any balance. Kids Savings yields 2.1% on $100 or more.
Where it is: One branch in Chicago; otherwise online only.
Teens between the ages of 13 and 17 can get free checking and earn interest with two simple conditions: opt into e-statements and collect at least one electronic deposit per month (a parent transferring funds from an external bank qualifies). Parent joint owners get to view the account, authorize any outgoing transfers and set up alerts. At age 18, a teen can transition into the free High-Rate Checking account. Members can access more than 80,000 ATMs nationwide and get back up to $20 in out-of-network ATM costs each month with either checking account. The savings account for children younger than 13 pays the same high rate as the adult savings account, and Alliant will cover the $5 needed to open either one. (To join Alliant, the credit union will make a $5 donation to its partner charity Foster Care to Success on your behalf.)
3/3

Associate Editor, Kiplinger's Personal Finance
Miriam lived in Toronto, Canada, before joining Kiplinger's Personal Finance in November 2012. Prior to that, she freelanced as a fact-checker for several Canadian publications, including Reader's Digest Canada, Style at Home and Air Canada's enRoute. She received a BA from the University of Toronto with a major in English literature and completed a certificate in Magazine and Web Publishing at Ryerson University.