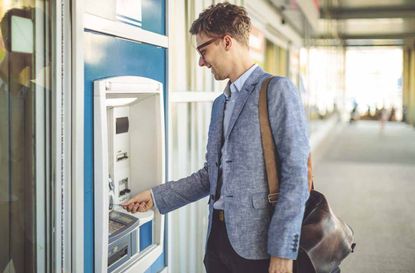 (Image credit: Getty Images)
Credit unions are not-for-profit financial institutions owned by their members, so they can reward account holders with higher rates and lower fees.
Our top credit union picks are open to anyone in the U.S. Take a look.
Disclaimer
Informa Financial Intelligence compiled the data as reported by the financial institutions that it tracks; the information is subject to change. All rates as of June 20, 2019.
1/3
BEST: Hanscom Federal Credit Union
Why it won: It offers an array of free or low-cost accounts with strong rewards.
Standout accounts: Free Kasasa Cash Checking yields 2.5% on balances up to $15,000 (0.4% thereafter). The CU Thrive share certificate (the credit union version of a CD) returns a fixed rate of 5% for its 12-month term with automatic transfers of $5 to $500 each month from your checking account.
Where it is: 22 branches as of this summer, mostly in or near Boston. You can also access an additional 5,600 branches via the CO-OP Shared Branch network.
Hanscom welcomes active-duty and retired military, employees of the federal government in Massachusetts and other eligible employers, as well as relatives of members. You can also join one of three partner organizations to qualify for membership, such as volunteer theater group Burlington Players ($12).
You can open one of Hanscom's four checking accounts with as little as $1. The basic account and two options from rewards-account provider Kasasa don't charge monthly fees. To waive the $9.95 fee attached to the Premier Checking account (0.4% yield), you'll need to maintain an average daily balance of at least $2,000. For the Kasasa accounts, you'll have to make 12 or more debit or credit card purchases, have one direct deposit and accept e-statements each month to receive your rewards and up to $20 in ATM refunds (the account is free even if you fall short).
You can choose from a variety of savings options, a money market deposit account that yields up to 1.15%, and share certificates that earn 3% on five-year terms. Members have also been granted an annual "loyalty dividend" for the past 22 years, most recently 2% of most consumer loan finance charges as well as 2% of dividends earned on savings at the end of 2018.
2/3
RUNNER-UP: Connexus Credit Union
Why it won: Three free checking accounts come with out-of-network ATM perks.
Standout accounts: Xtraordinary Checking pays 1.75% on all balances up to $25,000 (0.25% thereafter) and refunds up to $25 in ATM fees each month. The five-year share certificate recently yielded a hefty 3.35%.
Where it is: 12 branches across Minnesota, New Hampshire, Ohio and Wisconsin. Connexus also participates in the CO-OP Shared Branch network.
You can't go wrong with any of the three checking accounts offered by Connexus Credit Union, two of which offer high rates and $25 in ATM reimbursements as long as you meet a few conditions, such as receiving direct deposits and making frequent debit card transactions. Savings accounts require $100 to open and yield 0.25%. But if you're willing to lock up a chunk of cash for the long haul, look into Connexus's share certificates, which require $5,000 to open and pay spectacular rates.
Connexus is open to employees of qualifying organizations, residents of eligible communities in the states where it has a physical presence, and relatives of members. Or you can join by donating $5 to the Connexus Association.
3/3

Associate Editor, Kiplinger's Personal Finance
Miriam lived in Toronto, Canada, before joining Kiplinger's Personal Finance in November 2012. Prior to that, she freelanced as a fact-checker for several Canadian publications, including Reader's Digest Canada, Style at Home and Air Canada's enRoute. She received a BA from the University of Toronto with a major in English literature and completed a certificate in Magazine and Web Publishing at Ryerson University.