The 10 Best Stocks for GOP Tax Reform
President Donald Trump's tax agenda has finally been realized after months of talking.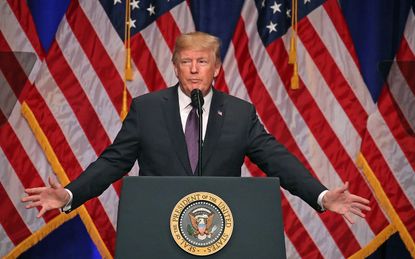 (Image credit: Getty Images)
President Donald Trump's tax agenda has finally been realized after months of talking. Sweeping GOP-crafted tax reform has been approved by the House and Senate. All that's left is a signature from the president himself, and the bill will become law, going into effect beginning in 2018.
The conjecture is over. Now is the time to start hunting down the best stocks to buy to leverage what should be a massive corporate windfall.
The GOP's tax reform legislation is more or less what everyone was expecting. Tax rates for all income brackets have edged lower. The standard deduction for individuals jumps from $6,500 to $12,000; double that for married couples. The child tax credit is cranked up to $2,000 each, and the Affordable Care Act mandate goes away. Companies won big, too. The top corporate tax rate is now 21%, down from 35%, and internationally held cash – earnings made but kept overseas – can now be repatriated at a one-time rate of 15.5%.
Wall Street has been predicting this outcome for months, but with the asterisk of potential last-minute hurdles. Well, those roadblocks have been cleared. Americans now are free to think about how the tax changes will affect their pocketbooks, and what investments will benefit most from tax cuts.
Here's a rundown of the 10 best stocks that investors can buy to gain from Republicans' tax reform. The big upside for many companies is a sharp reduction in the amount of money they usually pass along to the federal government. But in some cases, additional benefits come into play.
Data is as of Dec. 19, 2017. Stocks are listed in alphabetical order. Click on ticker-symbol links in each slide for current share prices and more.
James Brumley is a former stock broker, registered investment adviser and Director of Research for an options-focused newsletter. He's now primarily a freelance writer, tapping more than a decade's worth of broad experience to help investors get more out of the market. With a background in technical as well as fundamental analysis, James touts stock-picking strategies that combine the importance of company performance with the power of stock-trade timing. He believes this dual approach is the only way an investor has a shot at consistently beating the market. James' work has appeared at several websites including Street Authority, Motley Fool, Kapitall and Investopedia. When not writing as a journalist, James works on his book explaining his multi-pronged approach to investing.