7 Safe Dividend Stocks With Big Dividend Growth Potential
Dividend growth announcements have taken a back seat to cuts and suspensions lately. But a few dividend stocks have what it takes to up the ante going forward.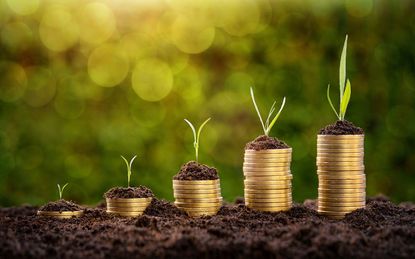 (Image credit: Getty Images)
Dividend growth might have been an investing staple of the past decade or so. But these past few months, dividend stocks have been pinching their pennies.
Dozens of companies have announced dividend cuts or suspensions since the start of March. That includes more than 5% of the S&P 500 Index. In fact, in April, more S&P 500 companies reduced or killed off their dividends than announced payout raises.
Investors – especially those nearing or in retirement – who are banking on regular cash income have been backed into a corner. The number of dividend stocks that are able to sustain their payouts is thinning, and those that can briskly grow those distributions over time are an even smaller group. (Remember: Income growth is vital; inflation erodes the spending power of stagnant dividends over time.)
So where you can you look for dividend growth? Consider the DIVCON system (opens in new tab) from exchange-traded fund provider Reality Shares. DIVCON uses a five-tier rating, from 1 to 5, to gauge companies' dividend health. A DIVCON 5 rating indicates not just a healthy dividend, but a high likelihood of dividend growth. DIVCON 1 dividend stocks, on the other hand, are the likeliest to cut or suspend their payouts.
Within each DIVCON rating is a composite score based on factors including free cash flow-to-dividends, profit growth, buybacks as a percentage of dividends and more.
Here are seven safe dividend stocks with big dividend growth potential. Not only do these stocks boast the top DIVCON rating of 5, but they generate enough cash profits to pay their dividend several times over: a good indication that dividend growth will continue well into the future.
Data is as of May 5. Dividend yields are calculated by annualizing the most recent payout and dividing by the share price. Stocks listed in alphabetical order.
Senior Investing Editor, Kiplinger.com
Kyle is senior investing editor for Kiplinger.com. As a writer and columnist, he also specializes in exchange-traded funds. He joined Kiplinger in September 2017 after spending six years at InvestorPlace.com, where he managed the editorial staff. His work has appeared in several outlets, including U.S. News & World Report and MSN Money, he has appeared as a guest on Fox Business Network and Money Radio, and he has been quoted in MarketWatch, Vice and Univision, among other outlets. He is a proud graduate of The Ohio State University, where he earned a BA in journalism.