The Safest Used Cars for $20,000 or Less
Following a principle of safety first, but not safety, only we've identified nine models that will let you put your mind at ease without breaking the bank.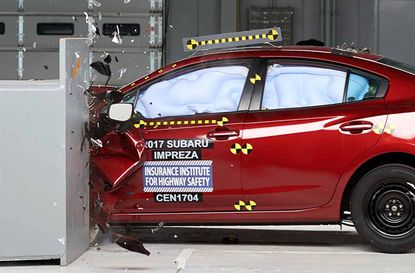 (Image credit: Courtesy Insurance Institute for Highway Safety)
Shopping for a used car? Want it to be as safe as possible? Here's the hitch: The absolute safest vehicle is almost always a brand-new model.
Each year, the latest cars boast more-effective active safety systems (such as automatic braking) as carmakers look to match evolving testing standards from the Insurance Institute for Highway Safety (IIHS). Newer models also often have invisible structural improvements to aid performance in tests meant to closely simulate real-world collisions (such as hitting a utility pole). Headlight technology is advancing as well. So newer, and thus more expensive, generally means safer.
Don't despair, though. Many of these features are available on vehicles selling for $10,000 to $20,000. We worked with IIHS's annual rankings and value data from CarGurus.com to identify the safest models in that price range. Our quest was safety first, but not safety only: We looked for cars that enjoy good reputations for reliability and are popular choices in their segments. Take a look.
1/9
Safe Small SUV Under $20,000: Hyundai Tucson
Model year: 2016
Used price: $18,283 (Limited AWD)
Small SUVs get all the attention (and sales) these days as Americans abandon sedans for a few inches of ride height and the convenience of a hatchback. That popularity means they don't tend to depreciate as quickly in the used market; our top choice flirts with our price limit, and while we also would have liked to include the popular (and safe!) Honda CR-V, it's just too pricey.
A used 2016 Hyundai Tucson is probably the most crashworthy small SUV you can put yourself in with up to $20,000 to spend. The Tucson passes the IIHS's demanding small-offset test, which forces a much smaller part of the car's structure to dissipate crash energy (imagine hitting a wall with just the corner of your car), for both driver and passenger. Among the category competitors the Tucson surpasses in this test are the 2016 Toyota RAV4 and the 2016 Subaru Forester.
We're talking crashworthiness here: how well the car's structure, air bags and seatbelts work together to protect the occupants in a collision. Any Tucson from 2016 forward meets that standard, and many are available for well under $20,000. The same goes for the Kia Sportage, built on the same platform, for models starting in 2017.
But as we mentioned, the IIHS also considers collision avoidance (systems that can slow or even stop a car if there's an obstruction ahead) and headlight performance. You'll find Hyundai's automatic emergency braking on Tucsons with the Ultimate trim level, and the best headlights on Limited or higher trim.
2/9
Safe Small SUV Under $20,000: Mazda CX-3
Model years: 2016-2018
Used price: $18,315 (2017 Grand Touring AWD)
The smallest of Mazda's SUV line, the CX-3 scores impressively for crashworthiness and collision avoidance and rates "acceptable" for headlights (if you get the i-ACTIVSENSE package). You can buy one fully loaded for less than $20,000. However, it's tiny--roughly 600 pounds lighter than the Tucson. As the IIHS notes, "Larger, heavier vehicles generally afford more protection than smaller, lighter ones." Since the laws of physics still apply, that's something to keep in mind.
3/9
Safe Large SUV Under $20,000: Volvo XC90
Model years: 2003-2014
Used price: $13,740 (2013 3.2 FWD), $17,086 (2013 3.2 R-Design Platinum AWD)
The IIHS has separate categories for midsize SUVs, midsize luxury SUVs and large SUVs. We searched all of these with our own standard: only models with three rows. Finding one of these big boys under $20,000 wasn't easy. Models that feature the collision-avoidance technology and fancy headlights that the IIHS gives weight to in recent years usually cost substantially more.
Pulling up in a 2013 Volvo XC90 will reassure the other parents in the soccer carpool that you're putting safety first; crash tests still support the Swedish brand's reputation. It was rated "good" for the driver's side small-overlap test (the passenger wasn't tested). Notably, this test rating extends all the way back to this model's introduction in 2003, so you can shop way back if you want to save some money without sacrificing any crashworthiness. On the other hand, newer, high-trim models are more likely to feature projector headlights. While the IIHS didn't actually test XC90 headlight performance, we think it's a fair bet to extrapolate from other results that the projectors are likely to be better than the old-fashioned halogen reflector beams. We provided a price range for 2013 models, from the cheapest trim to the fanciest.
Honorable mention: The 2014 Ford Flex. This huge, retro-styled SUV actually shares some DNA with the XC90, as it dates from the era when Ford owned Volvo. But it scored only an "acceptable" on the driver's side small-overlap test. Also, it's far scarcer on the used market.
4/9
Safe Sedan Under $20,000: Honda Accord
Model years: 2016-2017
Used price: $15,934 (2017 LX with Honda Sensing Package)
As the popularity of SUVs of all sizes has surged, sedan sales have suffered – to the point that the domestic manufacturers are scaling back production, or in Ford's case, dropping them altogether. But if you can stomach the social opprobrium of a sedan (we're joking, mostly), you can get yourself into a number of cars with excellent IIHS safety ratings for well under $20,000.
The eternally crowd-pleasing Honda Accord earns the IIHS's highest ranking, Top Safety Pick Plus (TSP+), for model years 2016 and 2017. Accords of these years scored "good" in small-overlap testing for both sides. A plus if you're shopping for one now: Honda made its collision avoidance system, called Honda Sensing, available across trim lines, so even an LX model with cloth seats can have the latest tech (though on the used market, Sensing will still be more common on the pricier EX and Touring trims). You could also consider the previous generation, 2013-2015. Crashworthiness is a match, but the collision system is more primitive.
Honorable mention: The Honda Civic does just as well in crash testing. However, it is smaller than the Accord, so draw your own conclusions about which is really safer. This video -- see what happens when a Smart car hits a Mercedes C-class sedan – might help.
Honorable mention: Another Honda product, the hybrid Honda Insight, has been reintroduced for 2019. Its crash scores match its stable mates. It's 200 pounds heavier than the Civic, and its headlights (rated "good") beat the Civic's ("poor"). But you'd be buying this new, and it's right on the $20,000 threshold.
5/9
Safe Sedan Under $20,000: Mazda6
Model years: 2016-2017
Used price: $16,663 (Grand Touring with Technology Package, 2016)
Mazda scaled back the "Zoom-Zoom" ad campaign ages ago, but the design ethos continues to this day. The Mazda6 both looks and drives a bit sportier than most of its sedan competitors here.
The model we're looking at here was launched in 2014, but the 2016 (and later) models benefit from some airbag reprogramming to get "good" ratings for the IIHS small-overlap test. The headlights are rated "acceptable," the same as the Honda Accord. A distinction, though: That rating only applies to the higher-trim models that have LED projector beams and other advanced features. Lower-trim halogen reflector beams are just "marginal."
The brand's smaller sedan, the Mazda3, is also worth a look. However, only the 2019 model gets the critical small-overlap tests right, and it sits right on the $20,000 bubble.
6/9
Safe Sedan Under $20,000: Nissan Altima
Model years: 2016-2018
Used price: $14,988 (SL with Technology Package, 2016)
No zoom-zoom from the Nissan Altima, but plenty of value. According to the IIHS, Nissan made changes in 2016 to the front-end structure and reinforced the junction of the door sill, hinge pillar, and footwell to get this model through the small-overlap tests. So even though this redesign dates back to 2013 (part of the reason its price is cheap), you shouldn't go older than 2016.
To get the IIHS Top Safety Pick Plus rating, you'll need to look for an SL trim level (the highest) equipped with the Technology Package (to get crash prevention and better headlights). That will push the price up, but the Altima is still on the cheaper side of this category, so you could also pick out a 2017 or maybe even a 2018 model.
7/9
Safe Sedan Under $20,000: Subaru Impreza
Model year: 2017
Used price: $18,743 (2.0i Limited with EyeSight package)
The Impreza is Subaru's smaller sedan offering, about 400 pounds lighter than its big brother, the Legacy. So why does it come first here when we put the Honda Accord ahead of the smaller Civic? Crash-test results. A 2017 redesign put the Impreza through the small-overlap testing that's the latest challenge for carmakers. The Legacy didn't pass that until a 2018 redesign. With our $20,000 price cap, that year of depreciation matters. With Subarus holding residual value well, the Legacy is north of the price limit and the Impreza squeezes under, when equipped at a level that includes the LED projector headlights and the EyeSight collision prevention system needed to earn TSP+.
The crashworthiness applies to a family of smaller Subarus: both the sedan and wagon versions of the Impreza from 2017 forward, as well as the higher-riding Crosstek wagon from 2018 forward.
Honorable mentions: Having opened the door to smaller vehicles with the Impreza, we should also mention a range of small-but-safe options from Hyundai Motor Company: the 2018 Hyundai Elantra GT (not the regular Elantra, the GT – this one is a hatchback), the 2017 Hyundai Ionique Hybrid and the 2017 or 2018 Kia Niro. All are TSP+ vehicles.
8/9
Safe Pickup Under $20,000: Toyota Tundra Double Cab
Model years: 2010-2013
Used price: $17,902 (2013, Grade 4.6L)
One thing's for sure with a pickup truck: You've got size on your side. But not many pickup trucks get good marks from the IIHS. Plus, they're expensive. To stay under our price cap, we had to reach back to 2013, when the Toyota Tundra Double Cab was named a Top Safety Pick. But remember that as you go older, testing standards weren't as rigorous. The Tundra got a good rating for the IIHS's moderate-overlap test but wasn't subjected to the small-overlap test on either side. In 2013, collision-prevention systems were not available on a Tundra, and headlights weren't tested by IIHS.
If you'd like to spend less and get more features, you can go back to 2010, when the driver and passenger front air bags and front seat belts were modified, and knee air bags for the driver and front passenger were added.
9/9
Safe Pickup Under $20,000: Ford F-150 SuperCrew
Model years: 2009-2013
Used price: $19,643 (XLT SuperCrew 4WD, 2013)
The Ford F-150 SuperCrew is an even bigger beast than the Tundra, with test scores just as good. Again, this older testing doesn't include small overlap, collision prevention or headlights. Since you can shop back to 2009 and enjoy the same crashworthiness, you can probably find yourself a fancy trim level such as Platinum and still stay under $20,000.
We should note that if you're willing to spend a bit over $20,000 (and settle for a bare-bones truck), a 2015 Ford SuperCrew is the only recent pickup truck to get "good" ratings for both driver and passenger side small-overlap testing. Prices start at $21,850 (for the XL trim, 2WD) and rise steeply as you add goodies.

Former Senior Online Editor
In his former role as Senior Online Editor, David edited and wrote a wide range of content for Kiplinger.com. With more than 20 years of experience with Kiplinger, David worked on numerous Kiplinger publications, including The Kiplinger Letter and Kiplinger's Personal Finance magazine. He co-hosted Your Money's Worth, Kiplinger's podcast and helped develop the Economic Forecasts feature.