The Safest Cars for $30,000 or Less
You want to put yourself (and your loved ones) in the safest vehicle possible, right?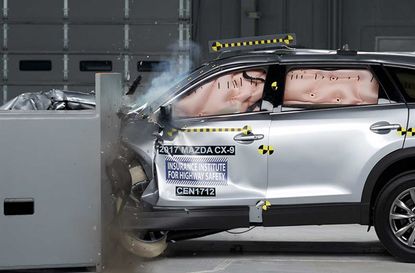 (Image credit: Courtesy Insurance Institute for Highway Safety)
You want to put yourself (and your loved ones) in the safest vehicle possible, right? Here's the hitch: The absolute safest vehicle is almost always a brand-new model, which may cost more than you can afford.
Each year, new models boast more-effective active safety systems (such as automatic braking) as carmakers look to match the evolving testing standards of the Insurance Institute for Highway Safety (IIHS). Newer models also often have invisible structural improvements that help them perform better in tests meant to more closely simulate real-world collisions (such as hitting a utility pole). Headlight technology is advancing as well. Newer models often have LEDs, which are proving more effective than traditional halogen bulbs, as well as systems that steer the light to match the direction you move the wheel. So newer, and thus more expensive, generally means safer.
But what if you need wheels, you care deeply about safety, but you aren't made of money? We worked with annual rankings from the IIHS and price data from CarGurus.com to identify the safest vehicles you can buy for $20,000 to $30,000. All but one of these vehicles got the IIHS's highest safety ranking available when tested: Top Safety Pick Plus (TSP+). However, our quest was safety first; it was not safety only. So we sought out cars that also enjoy good reputations for reliability and are popular choices in their segments. Take a look.
1/9
Safe Small SUV Under $30,000: Mazda CX-5
Model years: 2018–2019 (built after November 2017)
Price: $26,596 (2019 Grand Touring AWD)
Small SUVs are the market's hottest niche as Americans abandon sedans for a few inches of additional ride height and the convenience of a hatchback. That popularity means less depreciation in the used-vehicle market, but you can still save thousands compared with buying a new model by looking at a vehicle that's a couple of years old.
With a used Mazda CX-5, you're not giving up anything on safety: The 2018 model tested as well as the ones you can buy new. You can even go back to 2017, the first year of the current model's redesign, and get equal crashworthiness (how well the car's structure, airbags and seatbelts work together to protect the occupants in a collision). But the 2017's headlamps are only rated "acceptable," even though they share the same technology (LED projectors and curve-adaptivity) of the later models; Mazda seems to have made some tweaks to get more light down the road.
2/9
Safe Small SUV Under $30,000: Subaru Forester
Model year: 2019 (built after November 2018)
Price: $28,964 (2019 Limited)
Subaru made changes to its popular Forester in 2019 to improve its performance in the IIHS's demanding small-offset test, which forces a much smaller part of the car's structure to dissipate crash energy (imagine hitting a wall with just the corner of your car). The 2018 model had "marginal" results in this test for the passenger side; the 2019 model is rated "good."
All Foresters have the EyeSight collision-prevention system, which can slow or stop the car if there's an obstacle ahead. But to get the Top Safety Pick Plus ranking, you'll need to pay close attention to trim levels—and even the exact date the car was built. As with the Mazda, this distinction rests on the headlights. The LED projector beams on Forester models built after January 2019 get a "good" rating. How to find out the build date? It's usually on a certification sticker on the driver's door or an adjacent pillar.
3/9
Safe Small SUV Under $30,000: Honda CR-V
Model years: 2017–2018 (built after November 2016)
Price: $27,916 (2018 Touring AWD)
The huge-selling Honda CR-V, a pioneer in the small SUV category now on its fifth generation, matches the Mazda and Subaru for crashworthiness and collision avoidance. Only its headlights don't quite measure up, scoring "acceptable," and that's for the priciest Touring trim level. It's a testament to Honda's quality that these vehicles' used prices are on the higher side. If you're looking to save, don't go older than 2017, the first year of the current model's redesign and the first year it was tested for passenger small-overlap crash safety.
4/9
Safe Small SUV Under $30,000: Hyundai Tucson
Model years: 2017–2018 (built after November 2016)
Price: $27,405 (2019 Ultimate)
Any Hyundai Tucson from 2016 or later (and any Kia Sportage from 2017 or later) earns top scores from the IIHS for its crashworthiness. These Korean-made twins are now built on the same platform, so although any number of cosmetic variations exist, the crash structure is the same.
But, as we've mentioned, safety rankings are now based on more than just the performance of the vehicle in an accident itself. They include crash prevention systems as well as headlight performance. To put yourself in a Hyundai Tucson rated a Top Safety Pick Plus, you're going to have to do some careful, careful shopping. Look for a model with the Ultimate package to make sure it has the optional automatic emergency braking system and the best possible headlights. You can also go hunting for a Kia Sportage from 2018 in the SX Turbo trim that was built after June 2017 (or buy a 2019—it will still be less than $30,000).
Honorable mention: 2018–2019 Hyundai Kona. The Kona's crashworthiness and collision-avoidance measurements are every bit as good as those of its big brother Tucson (and the headlights are even better). But the Kona is tiny. As the IIHS notes, "Larger, heavier vehicles generally afford more protection than smaller, lighter ones."
5/9
Safe Large SUV Under $30,000: Mazda CX-9
Model years: 2017–2018 (built after November 2016)
Price: $26,146 (2018 Touring AWD)
Our definition of "large SUV"—one with three rows of seats—encompasses some models the IIHS categorizes as "midsize." Still, our pick in this category is the largest SUV offered by Mazda, the CX-9.
In the 2018 model year, the CX-9 came out a hair ahead of the competition because of its "good" rating for the passenger in the IIHS's small-offset test.
If you'd like to pick a 2017 model to save some money, note that Mazda made changes in the middle of that production year. Here's what the IIHS says: "Beginning with 2017 models built after November 2016, the deployment pattern of the side curtain airbags was modified to improve occupant protection in side impact, small overlap frontal, and moderate overlap frontal crashes."
Honorable mention: The 2019 Kia Sorento is a large, three-row SUV. It was given tweaks in 2019 that earned it a "good" rating for the passenger small-offset test, much like the Subaru Forester. But to also get headlights rated "good," you have to spend ore than $30,000. You can buy a used Sorento that's structurally every bit as safe for less than $30,000, but its headlights would be rated "poor."
6/9
Safe Sedan Under $30,000: Toyota Camry
Model years: 2018–2019
Price: $27,798 (2019 Hybrid XLE)
We found three sedans that score every bit as well as the much more expensive Mercedes E-Class, which has long been a standard-setter of sedan safety. In short, you can't buy a safer sedan.
First, the Toyota Camry. It has a well-deserved reliability reputation and safety to match, and its crashworthiness is solid across the line. To get headlights rated "good" by the IIHS, you'll need to get a Hybrid model equipped with the adaptive headlights; all other Camry lighting options are only "acceptable."
7/9
Safe Sedan Under $30,000: Subaru Legacy
Model years: 2018–2019
Price: $25,125 (2019 Limited equipped with EyeSight Driver Assist package)
The Subaru Legacy scores just as well with the IIHS as the Camry (and Subie fans will point to its standard all-wheel-drive as providing an edge that this testing can't capture). Again, you'll need to go no older than 2018 in order to get a model that's rated "good" for passenger-side crashworthiness, and make sure it has the EyeSight Driver Assist package for crash avoidance. The wagon version, the popular Subaru Outback, is the same vehicle from a safety perspective; it just has more room for your dogs.
8/9
Safe Sedans Under $30,000: Hyundai Sonata/Kia Optima
Model years: 2018–2019
Price: $24,450 (2018 Kia Optima SX Turbo)
These brand twins from Hyundai Motor Group are built on the same platform. To get the best crashworthiness results, you'll need to look for models built after March 2017. There are too many trims for us to list; look for "Technology Package" on the options list, as well as LED projector headlights with all the bells and whistles.
Honorable mention: 2016–2018 Lincoln Continental. Here's your bling if our three favored safe sedans seem too pedestrian for you; its safety scores are just as good. But this large luxury ride seems to have been sold mostly to livery fleets. They're scarce on the used market, which is the only way you're going find one for less than $30,000.
Honorable mention: 2017 and 2018 model years of the Audi A4, the Honda Accord, the Nissan Maxima and Altima, and the Mazda 6. These sedans finished just out of the running. Their headlights are rated "acceptable" rather than "good."
9/9
Safe Pickups Under $30,000: Ford F-150 SuperCrew, Honda Ridgeline
Model year: 2018
Price: $28,898 (2018 F-150 SuperCrew XLT AWD), $27,851 (2018 Honda Ridgeline RTL AWD)
In its 2018 rankings, the IIHS awarded a Top Safety Pick to the Ford F-150 SuperCrew and a Top Safety Pick Plus to the Honda Ridgeline. The Honda gets the higher ranking because of its headlights. But when you really dig into the ratings, the Ford is better in the small-overlap test for the passenger ("good" rather than "acceptable"). Both of these vehicles have four doors and two full rows of seating ahead of the pickup bed.
F-150s are, of course, widely available in the used market, in all sorts of trim levels. The Honda Ridgeline, though it certainly has its fans, is more of a niche offering.

Former Senior Online Editor
In his former role as Senior Online Editor, David edited and wrote a wide range of content for Kiplinger.com. With more than 20 years of experience with Kiplinger, David worked on numerous Kiplinger publications, including The Kiplinger Letter and Kiplinger's Personal Finance magazine. He co-hosted Your Money's Worth, Kiplinger's podcast and helped develop the Economic Forecasts feature.