15 Cars You Can Drive Forever
Some models just seem to keep rolling along, whistling past the junkyard. We've identified 15 cars with exceptional and sometimes surprising endurance and value.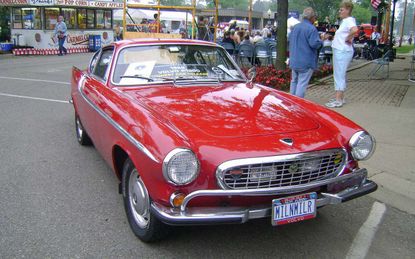 (Image credit: Doug Coldwell/Wikipedia)
Cars in general have become more reliable over the years. Yet there are some models that just seem to keep rolling along, whistling past the junkyard. Pinpointing exactly how many miles, on average, any given model has racked up is virtually impossible, but we've identified 15 cars with exceptional—sometimes surprising—endurance and value.
We bet you've seen one of these still cruising the highway recently. Oh, and if you're wondering where your beloved Ford F-150 or other truck is, note that we skipped traditional trucks altogether. Trucks are supposed to last forever. Please have a look at our choices:
Disclaimer
(Editor's note: The author has owned a couple of these cars, and he teased a full 15 years out of a VW Passat, a model that, unlike the cars featured here, has a bit of a death wish.)
1/15
Honda Accord
Model years: 1976-Present
Here's a wager: Next time you're out for a spin, watch for a nondescript, tan or silver four-door. Good chance it's a Honda Accord.
Combine reliability and best-selling status—a true virtuous cycle—and you get ubiquity. Exactly what it is about Honda that provides such durability is the subject of much debate (and much corporate envy/espionage involving Honda's design and manufacturing processes). But surely some of it has to do with the fact that Honda Motor Company puts its engines and engineering first. Look up Honda Accord in Consumer Reports' ratings and you will see a sea of red dots that indicate owners have darn few problems with these cars.
The smaller Honda Civic shares much of the quality but is more likely to be modified by its owners to look flashier and run louder, with maintenance simultaneously neglected. So the Accord gets our nod.
2/15
Buick Roadmaster Estate
Behold the last of the big American station wagons. This General Motors behemoth offers an appealing combination of reliable, modern(ish) technology and retro looks.
In the later years of its production, the Roadmaster was armed with a honking 5.7-liter V8 closely related to the Chevy Corvette's to move all that mass. Rear-facing third-row seats, wood paneling on the sides, shifter on the steering column—all the elements of the Great American Wagon are there. You can even squeeze a third passenger up front if the ruckus in back gets too loud. "Cheap to insure," says Kevin Cullinane of Bethesda, Md., who has owned two of these big boys as well as a lot of other older American iron, and "parts are cheap and plentiful." With a gentle foot on the gas, Cullinane gets 17 miles per gallon in town, and 23 to 24 mpg on the highway. "Quite a feat for a car this weight and size," he says.
The wagons seem to have outlasted their mechanically identical sedan brethren, such as the bulbous Chevy Caprice that was a fixture of police and taxi fleets in the 1990s. Lower-stress suburban living may be the reason. Closely related but scarcer: the Chevy Impala Wagon and Oldsmobile Custom Cruiser.
3/15
Geo Prizm
The Geo Prizm is one of a number of vehicles that have at their core one of the most reliable cars ever: the Toyota Corolla. But while the Corolla's longevity goes unremarked, the Prizm and its stable-mates cause head-scratching as they soldier on into their second or even third decade: What is that thing? How is it still running?
This Corolla clone (marketed as a Chevrolet at one point) also appeared as the Chevy Nova (1984-1988) and the Pontiac Vibe (2002-2010). All of these cars were the product of a Toyota-GM joint venture called NUMMI, a Fremont, Calif. factory that built nearly 8 million vehicles of Toyota's basic design before it closed down in 2010. These were the first Toyotas assembled in the U.S., and the story of how this location's jaded United Auto Workers workforce learned the "Toyota Way" and turned out cars just as good as the ones built in Japan is a fascinating one (you can listen to it in an episode of the public radio show "This American Life").
These cars get highway mileage in the 35 mpg range, which has made them Old Gold when gas prices are high. A shrewd shopper looking for a used Corolla might consider one of these instead. The seller might not realize what he's letting go.
4/15
VW Van
The VW van, which creates instant counterculture nostalgia for baby boomers, keeps finding new generations of fans. Just look at the comic strip Zits, whose 16-year-old protagonist drives one.
A combination of sheer devotion from its fans and a deep reserve of used parts (thanks in part to its sharing many components with VW Beetles) keeps the VW Vangoing and going. Many are sun-faded and seem to rely on bumper stickers and duct tape to hold them together, but some VW Vans actually attract serious collector money: The 23-window models of the 1950s can fetch six figures. And the handful of later-model Vans that were equipped with all-wheel-drive (Syncro) have a committed following in the mountain west's ski towns.
But teenagers (or their parents) looking to grab one of these on the cheap can still do so with a little hunting. "A lot of people kept them around, even when they moved on to something else," says Everett Barnes, creator of the Web site The Samba, a key resource for owners of older VWs. Very often, a backyard find just needs a fresh battery to start up, Barnes says, and getting it roadworthy may cost a relatively modest $500 to $2,000.
5/15
Volvos (Rear-Wheel-Drive Ones)
Model years: Dawn of Man-1996
Volvo's secret? It basically built one car for decades under a variety of model names. In its staid Swedish way, the carmaker eschewed fashion and focused instead on quality (and safety). About the only thing that will kill off a Volvo is rust, says Mark Bredesen, the owner of Herndon, Va., import-repair-shop Autoscandia, who's been working on Volvos since 1978—and the later models largely conquered that problem with galvanized steel. After a first round as the family truckster, these cars often devolve to being the kids' college vehicles—and sleeping quarters at jam-band shows.
Volvo has earned much press for longevity thanks to Irv Gordon, of Patchogue, N.Y., whose 1966 P1800 (a sporty model seen on the introductory page of this slide show) has more than three million miles, putting it in the Guinness Book of World Records as the car with the most mileage.
6/15
Saab 900
Let's just get this out of the way: The Saab 900 may be the Volvo 240's Swedish cousin, but it doesn't share its inherent reliability or simplicity of design. Weak transmissions are among the problems with the 900, says import expert Bredesen.
That said, this "other" Scandinavian has its own cult-like following that keeps a good number on the road, particularly in New England and Colorado, where the front-wheel-drive Saabs were popular for their great handling in snow, back before all-wheel-drive became a common feature.
"We do see a lot of them through the shop," says Chris Campbell, a technician at Swedish Solution, in Westbrook, Maine. "Their owners are pretty fanatical about their cars. We have one who drives her 1983 900 Turbo across the country twice each year, and the last time we did service on her car, a routine brake job, her car had over 435,000 miles and was still running like a top." The Wisconsin Automotive Museum near Milwaukee features a 1989 Saab 900 SPG that was driven more than a million miles before being donated.
The irony, of course, is that some of these cars have outlived Saab itself. These 900s were the last models designed by the car manufacturer before it was bought by GM, which in turn unloaded the brand in 2010 as part of its bankruptcy recovery. Saab as we knew it died shortly thereafter.
7/15
Subaru Wagons (Many of Them)
Model years: 1990-Present
The toughness of Subarus (with their standard all-wheel-drive) sometimes gets conflated with reliability, but they're not the same thing: Just ask the many owners who had cylinder-head-gasket failures.
Nonetheless, many keep on trucking, particularly for owners involved in higher education. Have a look in the parking lots of colleges and universities in the Northeast and Pacific Northwest, where they serve as the transportation of both professors and students. The only way to tell whose is whose is by the bumper and window stickers.
While Consumer Reports lists the 2005 Impreza wagon as a best buy for under $10,000, it also notes some model years of the Outback and Legacy as cars to avoid. Caveat emptor.
8/15
Mercedes 240D/300D/300TD
Model years: 1975 and beyond
If you wanted a Mercedes in the 1980s that got reasonable mileage—that is, above 20 mpg—you got a diesel. That the company sold as many as it did was largely a fluke of federal regulations; the thrifty diesels allowed Mercedes to meet fleet fuel economy standards. They also were built to run forever, with not a single bit of electronics needed under the hood.
"[These cars] are like a rocking chair made out of hickory," says Mitch Carr, who's been working on these models in his Kensington, Md., shop since 1986. "Once you get it started, you could throw out the battery and it would keep running. There's nothing to go wrong."
Generally garaged and carefully serviced by their original buyers, many of these are now with their second or third owner. They're popular among tinkerers, especially those who like to convert them to run on recycled vegetable oil.
Mercedes was one of the few manufacturers that continued selling diesels after this "golden era" of the diesel, though sales were minimal when gas was cheap. The core reliability of a diesel engine remains the same in these later models, but the later Benzes suffered the same software teething problems of their gasoline-powered counterparts in the late 1990s and 2000s.
9/15
Toyota Camry
Model years: 1992-forward
The 1992 model year marked the point where the Camry really hit its stride and went on to become a sales and endurance leader.
Two reasons: The styling, which evoked Toyota's then-new Lexus luxury line, and roominess. Camrys that Toyota had imported to the states up until then had hewed to a Japanese market restriction of being no more than 67 inches wide. For 1992, Toyota decided to build a separate model just for the North American and Australian markets that was 70 inches wide. In so doing, it created a competitor to the 71-inch-wide Ford Taurus, which it would go on to dethrone as the most popular sedan in the U.S. in 1997. It's held that honor for all but one year since.
Many, if not most, of those millions sold are still around. "You see them going 200,000, 300,000 miles all the time," says Tom Torbjornsen, author of How to Make Your Car Last Forever. "They're just very well made." Note that some of the recent black eyes the Camry (and Toyota generally) received over sticking gas pedal issues have nothing to do with the car's long-term durability.
A group of Lexus models share the Camry's roots and durability (but with plusher accomodations): the Lexus ES 300/330/350 and RX 300/330/350. Same story for the Toyota Avalon, essentially a stretched Camry.
10/15
Ford Escort
Transportation, nothing more. Reasonable reliability. Way cheaper on the used market than a Toyota of the same era.
Virtually nobody gets excited about a Ford Escort, but for people who need a way to get to work for not a lot of dough, this is a prime mover. That's why it made a crowdsourced list of the 10 Best Cars for Poor People on the car blog Jalopnik, which commented, "Everyone seemed to agree that Ford has turned out some very straightforward a-to-b automobiles that depreciation has made into solid bargain buys."
The years we're discussing mark Ford's second bid at selling a model named Escort in the U.S. It's not to be mistaken for the first, sold from 1981 to 1990, which is best forgotten. The 1991 Escort represented one of Ford's more successful collaborations with Mazda, and it owes much of its design to the Mazda Protégé. The shared DNA can also be found in the Mercury Tracer and Ford ZX2.
11/15
Chevy Camaro/Pontiac Firebird
These cars' refusal to die is not necessarily a function of inherent reliability. It's the sheer bullheadness of their owners, aging children of the '60s and '70s, who still want to drive a two-door American sport coupe with a V-8 and rear-wheel-drive and no way is it going be a Mustang (because that would be a Ford.)
They can't afford a new Camaro (or other new, hot sport-coupe offerings, such as the Dodge Challenger). And they can't afford pony cars from the actual muscle-car era of the late 1960s and early 1970s, which are now only for well-heeled collectors. So that leaves the F-Body cars, in conditions ranging from impeccably polished to primer gray.
They're an aspirational ride of sorts, says Bob Merlis, creator of the blog Feral Cars, which tracks old and interesting (but not show-quality) vehicles. "People always preserve them. They're the 'I'm going to get around to [fixing] it' kind of car. They don't get crushed."
Another factor in their favor: Used parts are abundant, given how many of these were put into a ditch early in their lives due to youthful indiscretions.
12/15
Ford Crown Victoria/Mercury Marquis
These road tanks have been doing a great job taking Granny and Grandpa to church every Sunday for decades. Even though the civilian versions lack the endurance-building parts installed in police cruisers and taxi fleets, such as oil coolers and stronger suspensions, the core components of the American sedan are all there: V-8 engine, solid rear axle, body-on-frame construction.
The Chevy Caprice held this niche as well until the mid-1990s, when GM decided to turn its production facility over to big SUVs.
A footnote: The Marquis went to the guillotine along with the entire Mercury brand with the 2011 model year, and most Crown Vicotoria sales from 2008 on were to fleets. But the vehicles are plentiful in the used-car marketplace, and as one fan put it on Jalopnik, "replacement parts number in the billions and are bought for beans." If you're dead-set on buying a former police car, there are even outfits that recondition them for sale to civilians.
13/15
Buick LeSabre
Despite the best efforts of GM marketing departments to persuade car buyers otherwise, most people realized by the 1990s and 2000s that Buicks, Chevrolets, Pontiacs and Oldsmobiles were all very similar under the skin.
And yet, it's the Buicks that got the love in this era, as reflected in the many, many awards the brand won from quality-rankers J.D. Power and Associates. The LeSabre won "most trouble-free domestic" in 1990, and the brand as a whole was the top among domestics for initial quality. Fifteen years later, the LeSabre won "most dependable full-size car." There were more honors in between those years, and Buick continues to do well in these surveys.
A reason these cars endure? Experts point to who was buying them: seniors. "It's a great little-old-man car," says Feral Cars' Merlis. "They're not pushing them hard, and they're maintaining them well." This makes the LeSabre a prime car to pick up used, says Ivan Drury, an automotive analyst for Edmunds. "If you need something cheap for [getting from] point A to point B, you can't go wrong with these."
Other Buicks (Centurys, Regals and Park Avenues) also do quite well. As with many GM cars from that era that have V6 engines, watch out for leaky or degraded intake manifold gaskets, a potentially pricey fix.
14/15
Jeep Cherokee
We're going to make an exception to our "no-trucks" rule for the Jeep Cherokee. For one thing, it's not really a truck. As the first small crossover in the U.S., it did not have traditional body-on-frame construction of a traditional SUV.
Despite that, and despite being the last gasp of the dying American Motors Corporation, it did have Jeep toughness in its DNA, excellent off-road abilities and a well-proven, durable, straight-6 engine. Many Cherokees are still roaming America's secondary roads—and Europe as well, in a turbodiesel variant. There's a caveat, says Edmunds' Drury. "It will drive," he says, "but is everything working? Probably not. A window might not go down, or a speaker might be out."
For owners willing to put up with those sorts of niggling problems (or fix them themselves), the Jeep Cherokee can be an interesting combination of a vehicle that will go just about anywhere—and keep doing so for a long time.
*The Cherokee, known in-house as the XJ, was produced beginning in 1984, but we're starting with 1987, the first year the straight-6 engine was offered.
15/15
Jaguar XJ6 Sedan
Jaguar? Really? This pick caused a lot of brow-furrowing among experts we spoke to. "If you want to make friends, you don't want to recommend that," cautioned Bob Merlis of Feral Cars.
Here's our thinking: During the 1970s, Jaguar reliability was horrid. A common solution to the car's troubles was to rip out the Jaguar motor and replace it with a good old Chevrolet V8. But in the 1980s, under the leadership of an industrial turnaround specialist, Sir John Egan, the marque started to improve. Then Ford bought the company, infusing money and development know-how. By the late 1990s, the company was scoring well on J.D. Power vehicle dependability and initial quality rankings. So that's why the last iteration of the classic Jaguar inline-6 sedan is still motoring on, often in the hands of a second owner who's always hankered for a Jag but couldn't afford one new.
"With these cars almost 20 years old now, it's death by a thousand cuts rather than catastrophic failure," says Mark Stephenson, a site administrator for Jag-Lovers.com. "But mechanically, the 1995-97 Jaguar XJ6s are the most reliable cars Jaguar has ever produced. When it comes to the basic function of getting you down the road, they refuse to die."
For aspiring owners, the usual cautions still apply: Find a Jaguar specialist, and check out Jag-Lovers buyer's resource to be a better problem spotter.

Former Senior Online Editor
In his former role as Senior Online Editor, David edited and wrote a wide range of content for Kiplinger.com. With more than 20 years of experience with Kiplinger, David worked on numerous Kiplinger publications, including The Kiplinger Letter and Kiplinger's Personal Finance magazine. He co-hosted Your Money's Worth, Kiplinger's podcast and helped develop the Economic Forecasts feature.