12 Ways to Lower Your Auto-Insurance Premiums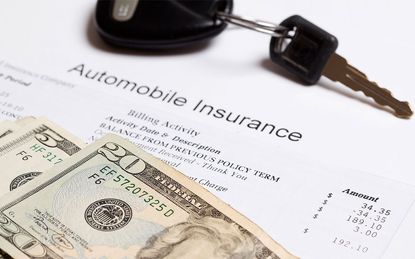 (Image credit: Getty Images)
Your car insurance bill is probably one of your largest regular expenses—especially if you have teenage drivers.
To trim your premium, ask your insurer for a list of discounts, and let it know if you qualify. For instance, some insurers offer discounts of 10% to 15% for those who make a living at certain professions, such as educators, lawyers, accountants, physicians and law-enforcement personnel. You could get a 10% discount for belonging to an alumni association or another organization, or you might receive a discount for carpooling or for having a hybrid car.
Here are 12 popular ways to help you cut your premiums by hundreds of dollars every year.
TAKE OUR QUIZ: Car Insurance: Are You Covered?
1/12
Pay Your Bills Differently
One of the easiest ways to reduce your premiums is to find out if your insurer will give you a break for paying your bill in a lump sum rather than installments. Paying for the full policy term (usually six months) rather than monthly can reduce your rates by 5% to 10%.
You may also get a discount if you set up automatic payments from your credit card or checking account. And you could save 3% to 5% on premiums if you sign up to receive bills and other information online rather than through the mail.
2/12
Boost Your Deductible
Increasing your deductible from $250 or $500 to $1,000 can reduce your premiums by up to 20%. It can also prevent you from filing small claims that could lead to a rate increase or jeopardize a claims-free discount. Add some money to your emergency fund so you'll have the cash to pay the deductible if anyone in your family has an accident.
3/12
Bundle Up
Buying your car insurance from the same company that provides your home or renters insurance can cut your rates by 5% to 20%. You may get an extra discount if you add an umbrella policy with the same insurer, too.
4/12
Get Good Grades
Most insurers offer a discount of 15% to 25% for young drivers who maintain at least a B average in high school or college. To qualify, the driver usually must be a full-time student younger than age 25.
Also, tell your insurer if your child moves more than 100 miles away from home for college and doesn't take a car. Your premiums could drop by 20% or more—but your child will still be covered when home for vacation.
5/12
Sign Up for Data Tracking
If you drive few miles and have safe driving habits, you could save money by participating in a data-tracking program, such as Progressive's Snapshot, State Farm's Drive Safe & Save or Allstate's Drivewise. You use an app on your smartphone or plug a device into your car that tracks how many miles you drive, how often you drive late at night and whether you exhibit potentially dangerous driving habits, such as braking hard and accelerating rapidly.
The average premium savings for participating is 10% to 15%, although discounts can be as high as 50%. Some insurers will raise your rates if you show risky behavior, although you can usually review your results online so you can improve your habits before your rate is set each term. See How Tracking Rewards Good Drivers (opens in new tab) for more information.
6/12
Shop Around
Car insurance premiums can vary quite a bit by company. It's a good idea to shop around for car insurance every few years, or more often if you've had any big life changes—say, if you got married, you moved or your teenager has started driving. The insurer that had the best rate for a married couple may charge some of the highest rates when you add a teen driver.
You can compare rates from several insurers at Insurance.com (opens in new tab) or InsuranceQuotes.com (opens in new tab). Or you can get help from an independent insurance agent who works with several companies (go to www.TrustedChoice.com (opens in new tab) to find agents in your area). Insurers' websites, such as StateFarm.com (opens in new tab), Allstate.com (opens in new tab) and Geico.com (opens in new tab), also provide quotes. Your state insurance department may have a list of insurers that sell auto insurance in your area (see www.naic.org/map (opens in new tab) for links).
7/12
Ask Your Insurer for a Rate Cut
If you find a better rate from another insurer, let your current insurer know before switching. It may offer to match the rate to keep you as a customer.
8/12
Drop Certain Types of Coverage on Older Cars
Collision coverage pays to fix damages to your car caused by a collision with another car or object. Comprehensive coverage pays for damages caused by other covered events, such as theft, natural disasters, collision with an animal or if an object falls on your car (such as a tree).
Even if your car is totaled, the most you'll usually get is the replacement cost for a car of its age. If your car is only worth a few thousand dollars, you may be paying more in premiums than you could ever get back from the insurer after paying your deductible. Compare the premiums for keeping the coverage with the cost to replace the car. Go to Edmunds.com (opens in new tab) or KBB.com (opens in new tab) to estimate your car's replacement cost.
9/12
Take a Driver-Safety Program
Drivers younger than age 21 who take an approved driver-education course may get a discount. Some insurers even offer their own driver-safety programs that can save you extra money.
State Farm's Steer Clear program, for example, can cut premiums by up to 15% for drivers younger than 25 who have had no accidents and participate in the training program. (The program requires drivers to watch safe-driving videos, take quizzes and record their trips, all on the Steer Clear app.) Some insurers give discounts of 5% to 15% for drivers age 60 or older who take an accident-prevention class.
10/12
Watch the Clock After an Accident or Ticket
In most states, tickets and at-fault accidents remain on your driving record for three or five years. Longtime customers with good driving records may not get a rate hike at all. But many insurers check motor vehicle records every 12 to 18 months.
If your rate does rise, shop around. Some insurers care less about accidents or tickets than others. And when an accident or ticket drops off your motor vehicle record, ask your insurer to remove the surcharge and then re-shop your policy.
11/12
Get a Safe Car
Before you buy a vehicle, find out how much it tends to cost to insure. You can find out if a car tends to have higher or lower insurance costs by using State Farm's vehicle rating tool (opens in new tab) and checking out a car's safety ratings from the Insurance Institute for Highway Safety (opens in new tab).
12/12
Improve Your Credit Score
In most states, insurers can use your credit score when setting your insurance rates. Check your credit report free at AnnualCreditReport.com (opens in new tab), and make sure there aren't any errors that can hurt your score.
Paying your bills on time, limiting new credit and keeping your charges low in relation to your available credit can also help you improve your score. See the credit-education page at MyFico.com (opens in new tab) for more information about factors that can affect your score.
Contributing Editor, Kiplinger's Personal Finance
As the "Ask Kim" columnist for Kiplinger's Personal Finance, Lankford receives hundreds of personal finance questions from readers every month. She is the author of Rescue Your Financial Life (McGraw-Hill, 2003), The Insurance Maze: How You Can Save Money on Insurance -- and Still Get the Coverage You Need (Kaplan, 2006), Kiplinger's Ask Kim for Money Smart Solutions (Kaplan, 2007) and The Kiplinger/BBB Personal Finance Guide for Military Families. She is frequently featured as a financial expert on television and radio, including NBC's Today Show, CNN, CNBC and National Public Radio.