How Big Should My Emergency Fund Be?
NFL linebacker and Kiplinger contributing editor Brandon Copeland discusses the importance of building an emergency fund.
Let's talk about how much you should save in your emergency fund and go over some ways that the savings positively impact your life.
What's up, everybody? It's your boy, Brandon Copeland, aka Professor Cope, and you are now tuned to another episode of Cope'ing With Money.
If you've been keeping up with Cope'ing With Money then I'm sure you've heard me say we've got to make our money work for us. But as important as that is, there's a crucial step we have to take before we can safely start investing: We need to build an emergency fund.
Subscribe to Kiplinger's Personal Finance
Be a smarter, better informed investor.
Save up to 74%
Sign up for Kiplinger's Free E-Newsletters
Profit and prosper with the best of expert advice on investing, taxes, retirement, personal finance and more - straight to your e-mail.
Profit and prosper with the best of expert advice - straight to your e-mail.
We're all taught from a young age the importance of saving our money, but many of us are never told what we're actually saving for. You might think that a number in your bank account isn't nearly as exciting as investing in the stock market or taking that vacation that you've always wanted. And I'm going to be honest with you: It isn't. But it is one of the most important financial steps you can take, especially when you're trying to chase financial freedom.
So today I wanted to go over some ways that an emergency fund can benefit your life right now and talk a little bit about how much you should have saved in your emergency fund.
Prepare for Emergencies
An emergency fund can be used for a variety of situations, the first of which is right there in the name. Having some money stored away protects us in the event of an emergency or unexpected expenses.
For example, let's say you're skating at Skateland in Maryland. You're a seventh-grade kid, little husky, little rough around the edges, but it's the last song playing before you gotta get to your travel basketball league game. "Game Over" by Lil' Flip comes on. So you go out and skate one more time around the ring, but you fall this time, and you happen to break the growth plate in your ankle.
Our emergency fund not only helps cover the medical expenses, but also provides for us if we're unable to work while it heals. Now, seventh-grader, not working, but you can go ahead and imagine how this story applies to your life.
Whether it's car trouble or a burst pipe, or a sudden change in our living situation, we can never predict everything that life will throw at us. But by keeping an emergency fund, we can be prepared for it.
Stay Out of Debt
Building an emergency fund also helps us stay out of debt.
Let's take the same ankle injury, for example. If we don't have the money for our medical bills, then we'd likely have to take out a loan or put it on a credit card. And if we can't pay that money back, now we're stuck paying interest on it too.
One of the major hurdles to reaching financial freedom is debt, and a lot of times that debt can be caused by the natural obstacles that life throws at us.
Our emergency fund doesn't just cover the cost of the emergency itself but allows us to stay on even ground while we get it fixed.
Allow for Career Changes
An emergency fund also allows for career changes.
Earlier this year on Cope'ing with Money, we talked about the Great Resignation and went over some ways to quit your job responsibly. One such way was to have an emergency fund handy. Having savings stored up gives you more freedom when it comes to your career trajectory.
Sometimes, in order to protect our mental health, we need to leave an unfavorable situation. In these scenarios, it helps to rely a bit on our savings, especially if we can't line up another opportunity before leaving our current one. You might also find yourself applying for a position that pays less than your current one, but will help you get your foot in the door of your dream industry.
Once again, it helps to have some financial leeway in the form of emergency fund while we're pursuing our goals.
Make Use of Compound Interest
The best part about building an emergency fund is that we can reap the rewards and the benefits even if we never use it.
Depositing money in a savings account means we can start building interest and over time take full advantage of compound interest. Although most regular savings accounts collect small amounts of interest, it's still a way to build on money that we're storing away anyway. For long-term savings, you can also look into high-yield savings accounts to grow your potential earnings.
And if you're looking to start investing, this can be a great way to get a basic understanding of growing your money through passive income.
Pursue Financial Freedom
And finally, on the same note, building an emergency fund allows us to begin taking steps toward true financial freedom.
It's like I said: We've got to make our money work for us. And creating that financial safety net is one of the first steps toward investing with confidence.
While a portion of our income remains safe in that emergency fund, we can start working with whatever is left over, and like they say, only invest what you can afford to lose. It also lets us take on slightly riskier or less liquid investments should we choose to do so. And also keep in mind: If stocks and real estate investing aren't your thing, then keep growing those savings.
The better prepared you are for life's obstacles, the better you'll feel and the more confidence you'll be able to attack those obstacles with.
How Much Should I Save?
So by now you're probably thinking, "OK, Cope, you convinced me. But how much should actually be in my emergency fund?"
A healthy emergency fund typically contains three to six months' salary or living expenses, but as always, you have to assess your situation and save as much as you reasonably can.
Try to put away a consistent percentage of your income each month. This will help you stay on track and ultimately grow those savings.
Creating your emergency fund not only helps you level the playing field financially, but also puts you in great peace of mind when it comes to your financial situation. It feels good knowing that you're protected in case of an accident, and that with a cushion stored up, you can truly begin paying down additional debts and making your money your employee through investing.
To learn more about how you can build your emergency fund or other financial topics, visit Kiplinger.com. As always, I wish you luck on saving up your emergency fund. Stay safe, stay blessed. Till next time. Cope'ing with Money. I'll see you soon. Peace.
Links and Resources Mentioned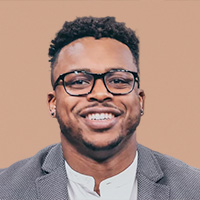 Contributing Editor, Kiplinger.com
Brandon Copeland, an active, eight-year veteran NFL linebacker, has spent the past two years teaching a class he created, and nicknamed "Life 101," at his alma mater, the University of Pennsylvania. Life 101 focuses on life's constant money decisions so that students are better prepared for the financial realities that adulthood brings. Copeland also spends time off of the field consulting and investing in real estate. He is the co-founder of a nonprofit organization, Beyond the Basics Inc., and was the recipient of the 2020 NFLPA Alan Page Community Award, the NFLPA's highest honor given for extraordinary dedication to service, social justice and equality. He is a member of CNBC's Financial Wellness Council and the NFL Players Inc. Advisory Committee. Copeland has interned for UBS and Weiss Multi-Strategy Advisers.