How to Talk About Money With Your Children
Atlanta Falcons linebacker and Kiplinger contributing editor Brandon Copeland discusses how to engage with children on spending, investing and other money topics.
What's up, everybody? This is Brandon Copeland, AKA Professor Cope. And you are now tuned in to another very special … very, very, very special … very, very, very special episode of Cope'ing With Money.
On this episode of Cope'ing With Money, it is time for us to stop beating around the bush, stop playing around, and have serious, serious conversations – serious conversations about the constants in life, the things that we know we are going to be faced with at some point: money.
We're not talking about it in school. We're not talking about it in our homes. We're not talking about it on social media. (Well, some people are talking about it, and then some people are talking about it a lot.) But what are we doing as parents to make sure that we are setting our children up for strong financial futures?
Subscribe to Kiplinger's Personal Finance
Be a smarter, better informed investor.
Save up to 74%
Sign up for Kiplinger's Free E-Newsletters
Profit and prosper with the best of expert advice on investing, taxes, retirement, personal finance and more - straight to your e-mail.
Profit and prosper with the best of expert advice - straight to your e-mail.
For me, my goal is to make sure that my son uses and understands that money is his employee and it is his tool. The work that I'm doing today is for him. (Hey, please, Bryson, if you're listening, don't spend it all in one place.)
Regardless of your income level or what tax bracket you're in, it is our job as parents and leaders of our households to equip our children with the information that they need to be successful in navigating money as an adult.
So, if you're listening now, how do we start to have these money conversations with our children?
Know Your Audience
First and foremost, we've all heard that age ain't nothing but a number, but it is very important when you're having these money conversations with your children. That conversation is going to be different depending on the age of your child.
It can be a challenge sometimes to connect over these difficult topics, especially with teenagers. What are they thinking about? How do we get in their head, especially when they don't even want to talk to us? The door's always locked. The music's always blasting. And they don't even want to give you a hug for longer than five seconds.
Sign up for Kiplinger's FREE Closing Bell e-letter: Our daily look at the stock market's most important headlines, and what moves investors should make.
But … we gotta find a way to get through.
We need to make sure that we're putting things into terms that our children can actually understand, whether that means taking it slow for younger kids or finding examples that older ones can relate to.
Recently, I had the opportunity to break bread with some high school seniors and got to pick their brains to figure out what their thoughts were about money: what they were afraid of, what they were excited about. One person brought up how they were nervous about credit. They didn't really understand it. Well, OK … let's talk about it.
Always engage your children with the topics that they are actually interested in, as establishing that communication and trust early will clear the way for topics later on.
Use Simple Depictions
In this case: What is your credit score? As my good friend Sam Parker always says, "Your credit score is pretty much your financial resume." As you're trying to say, "Hey, give me some money for this car. I promise you I'll pay you back," there are a bunch of people behind you either saying "He's good for it" or "Don't listen. He's lying. He still hasn't paid me back for those Skittles last week."
A lighthearted depiction like this is something that can really be implanted in a child's brain for a lifetime. And the biggest thing we need to make sure we emphasize here is we don't have to make this rocket science. If I give you 20 bucks, how likely are you to pay it back? A higher credit score means you're more likely to pay it back. A lower credit score means, "Uhhh, I gotta question you a bit. I got a couple more questions."
Ultimately, small conversations like this become lifelong lessons for your children.
Help Them Start Early
Now, let me help you look like the smartest parent in the room. Some students want to start building great credit now. I 100% wholeheartedly agree with it.
I want to send a shout-out to my beautiful mother, Angela Copeland, who had the foresight to get me a student credit card in college so that I could start building good credit. Strategically, she put a small limit of 200 bucks on that credit card so that her son over here could not go out and make so many mistakes and dig such a big hole that it ruined the rest of my life.
Yes, the $200 to a college student is a lot of money, but creating that good credit payment history over time by paying off that $14 monthly bill has paid off for me tremendously over time in terms of my credit score. By laying these foundations early on, you can easily gauge when your child is actually ready for a responsibility like this and they can start building good credit that will benefit them for the rest of their lives.
Teach the Fundamentals of Investing
Now, what other things should I be talking to my child about? For me, I want my son's hard work early in his life to work hard for him for the rest of his life, meaning he needs to have his money working for him. I've said it once. I've said it twice, and I'm going to say it again: We have to get him investing.
So, I like to ask kids, "Wow, those are some nice shoes. Your friend has the same pair of shoes. Did you know that you could own that company? I own that company. When you bought those shoes and when your friend's parent bought those shoes, guess what? I made some money. Hopefully if you guys continue to buy shoes, then the money I make from owning the company will pay for my next pair of shoes."
Then we can take it a step further. By opening a small investment account to monitor together, your child will have the opportunity to watch their money grow. A simple conversation like this can leave a child wondering, "Hmm, I want to learn more," and that's all we need as a parent.
Discuss Healthy Spending Habits
It's also important for you to notice your child's spending habits. "Hey, do I see my son becoming a overspender?" Well, my son tends to save a lot. Or if I'm seeing a negative trend, how do I potentially reel that in?
It's easy for a child to get caught up in all the things money can buy them. But as their parents, it's our job to make them aware of how much they have coming in versus going out. We need them to understand cash flows. It's never too late or too early to talk budgeting. And hey, you might just learn a thing or two yourself.
Make It a Conversation
We have to take off our parent hat for a second. We cannot be experts or know-it-alls when it comes to this. These have to be conversations. No one wants to be told what to do, but when you are working with someone and collaborating with someone, then you are able to let your guard down and open yourself up to growth.
Let's make sure that we take ownership over the job, and the task and the responsibility we have to take mental stress off of their lives because of money. We don't have all the answers. We'll figure this thing out together as parents, but it all starts with a conversation – a simple one at that.
At this point, you know where to find me: Kiplinger.com/cope. Shoot me a DM, a comment, an email, send an owl or carrier pigeon to get in contact with me. I want to know how these conversations go, and also, what topic you're interested in hearing me talk about on the next Cope'ing With Money.
As always, stay safe, stay blessed. I'll see you soon. Peace.
Links and Resources Mentioned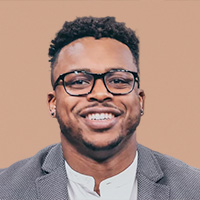 Contributing Editor, Kiplinger.com
Brandon Copeland, an active, eight-year veteran NFL linebacker, has spent the past two years teaching a class he created, and nicknamed "Life 101," at his alma mater, the University of Pennsylvania. Life 101 focuses on life's constant money decisions so that students are better prepared for the financial realities that adulthood brings. Copeland also spends time off of the field consulting and investing in real estate. He is the co-founder of a nonprofit organization, Beyond the Basics Inc., and was the recipient of the 2020 NFLPA Alan Page Community Award, the NFLPA's highest honor given for extraordinary dedication to service, social justice and equality. He is a member of CNBC's Financial Wellness Council and the NFL Players Inc. Advisory Committee. Copeland has interned for UBS and Weiss Multi-Strategy Advisers.