7 Steps to Get Your Car Ready for a Summer Road Trip
What's a bigger American tradition than the summer road trip?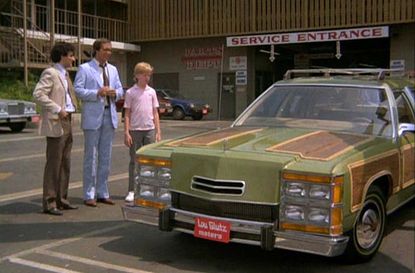 (Image credit: YouTube)
What's a bigger American tradition than the summer road trip? Before you load up Aunt Edna and hit the highway, better make sure the Family Truckster is up to the task. We've got some tips and tricks that will help ensure safe, cool and comfortable travel. Checking whether Walley World is actually open is up to you.
1/7
Catch Up on Your Maintenance
Next to making sure you have gas in the tank, following the service schedule in your owner's manual is the most critical thing you can do to make sure your car will get you to your destination. If you're caught up, good for you. But if you've let a few items slide, go get them taken care of before you head out. And if you're missing your owner's manual, look online. You'll be able to download a replacement.
If your car is older and you're worried about whether it's up for a trip far from home, consider taking it to your mechanic for a pre-purchase inspection, just as if you were a buyer checking out a used car. Paying for an hour or so of a mechanic's time could give you a good sense of what might need replacing down the road—or right now. If you don't have a mechanic you trust, consider a third-party inspector, such as Lemon Squad. They inspect but don't fix.
SEE ALSO: Tricks to Make Your Car Last for 200,000 Miles
2/7
Check the Tires
Proper tire inflation always matters—but in summer, it matters more. An underinflated tire, in addition to cutting your fuel mileage, will run hotter. Add in sun-baked roads and a heavily loaded car, and you could be at risk of a blowout, according to the National Highway Traffic Safety Administration and others. Blowouts are the most dangerous problem your tires can pose. (Check out this guide from the Tire Rack (opens in new tab) on how to react to one.)
A few more details: Remember to follow the tire pressures listed on your car, whether in the owner's manual or on a decal on the car itself (often in a door jamb or under the fuel-filler door), not the value on the sidewall of the tire, which is just the tire's maximum safe pressure. Recommended pressures are for cold tires, not ones that have been driven on for more than a handful of miles or have sat in the sun. If you do have to fill hot tires, go a few pounds high, then check them again the next time they're cold.
SEE ALSO: Get Quality Tires for the Best Price
3/7
Load Up Safely
Even with properly inflated tires, there are limits to how much your vehicle can carry. If you fill up every seat, you may have only a hundred pounds or so of capacity left for luggage. Ratings vary widely by vehicle, so consult your owner's manual to see what you can safely haul. Overloading a car can make it handle poorly or even break suspension parts.
How you load matters, too. Put the heaviest items low and toward the middle of the vehicle to avoid making your car feel tippy. If you use a roof rack, check how much weight you can put up there (and keep it to a minimum). And if you're using a hitch-mounted bike rack, keep in mind that your car has what's called a tongue weight, which limits how much you can hang out there. This metric is usually a concern only for people pulling trailers. But when a family's worth of beach-cruiser bikes are piled on a rack, you could be pushing that limit, too.
SEE ALSO: Should You File a Small Auto Insurance Claim?
4/7
Keep Your Engine's Cool
All cars, even electric ones, rely on liquid cooling for their mechanicals. We often call that liquid antifreeze, but it's also chemically structured to keep your engine from overheating. Today's coolants last much longer than they used to, so the "flush and fill" summer-prep routine is antiquated. Again, your service schedule will tell you if and when a coolant change is needed.
That said, it's still a good idea to pop the hood and look at the condition of your car's coolant hoses and reservoirs. Your own two eyes can spot damage and deterioration that could lead to that stereotypical summer woe: a car on the side of the road with steam pouring out from under the hood. If you see actual liquid (with a pink, green or orange-amber color), you've obviously found a problem. But a whitish, crusty residue, particularly where a hose connects, could be a sign of an intermittent leak or incipient failure as well. This guide from Gates (opens in new tab) (they make hoses) gives more detail on spotting problems with the hoses themselves.
SEE ALSO: 15 Cars That Refuse to Die
5/7
Keep Your Cool
If your air conditioner is blowing out only semi-cold air, take it to a professional for a checkup. It won't cost you much (Pep Boys (opens in new tab) will even do a basic check free), though actual repair costs will vary. Those with do-it-yourself inclinations might be tempted to recharge a weak air conditioner with a can of refrigerant from the car-parts store, but be careful. Among the issues: If your system has a leak, you'll just be sending the new refrigerant out into the environment after the old stuff—and HFC 134a is a potent greenhouse gas.
One thing anyone can do to maximize air flow is to make sure the cabin air filter is clean. Designed to keep pollen, dust and other crud out of your car, these filters are usually found in the glove compartment or the engine compartment and require no mechanical knowledge whatsoever to replace. Plus, filters usually cost less than $20. I guarantee it will cost less than having the dealer do it.
6/7
Keep the Peace in the Back Seat
The days of having the kids spot license plates or count cows are well behind us. Even a back-seat entertainment system running DVDs seems so 10 years ago. Your passengers want their own devices now, and they want them powered up. End squabbling over who gets the juice with a power splitter, like this one from iXCC. It plugs into your 12V socket (where the cigarette lighter used to go, remember?) and provides five USB connections. Need even more USB connections? Stick smaller converters right into its two 12V sockets.
7/7
Tune Up Your Headlights
Getting the most light at night is always a good idea. But if you're headed out of town to unfamiliar and unlit back roads, it's even more critical. So if your headlights have grown yellow and hazy with age, grab a cold beverage and a restoration kit, such as this one from 3M (opens in new tab) or this one from Turtle Wax. An hour or so later, your lenses can shine like new—and project more light down the road. A study by AAA found that a consumer kit like these, properly used, can improve the headlamp's total output by 30%.
Plus, it's a rewarding DIY operation that can add value to your car at trade-in, too. Make sure to pick a kit that includes a sealant so that your work lasts.
SEE ALSO: 6 Money-Saving Car Accessories for Everyone
Senior Online Editor, Kiplinger.com
In his current role as Senior Online Editor, David edits and writes a wide range of content for Kiplinger.com. With more than 20 years of experience with Kiplinger, he has worked on and written for a range of its publications, including The Kiplinger Letter and Kiplinger's Personal Finance magazine. He is a co-host of Your Money's Worth, Kiplinger's podcast and has helped develop the Economic Forecasts feature.