Last-minute Gifts That Save Money All Year
Supply chain issues may not have motivated you to buy early and now you're panicked. No need to worry; we've got you covered.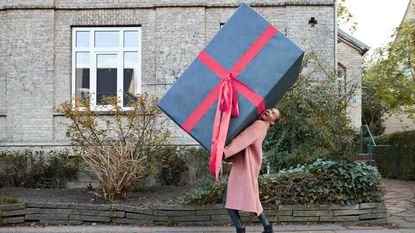 (Image credit: Getty Images)
Sure, you've heard the warnings about shopping early because of supply chain issues this year, but chances are there are still some folks on your gift list who you haven't yet figured out what to get. Have no fear. Even in the 11th hour of the holiday season, you can pull a great idea out of your Santa hat. Plus, you can give the gift of purchasing power in a way that's more fun, thoughtful (and prudent) than a stocking full of cash.
Most of the items on our annual list of personal gifts will save the recipients money in the long run—either by eliminating some of their recurring expenses or boosting their earning power. Your friends and family will be sure to remember your generosity all year long as the savings keep rolling in.
But even at Kiplinger, we know that saving money isn't the only thing in life. COVID-19 has inspired us to include some ideas that are just plain fun and activities that can be done at home.
1/17
Stocks, Funds and More
Stocks as stocking stuffers couldn't be easier with gift cards from Stockpile, a self-directed online brokerage. You pick a company like Google (GOOGL) or Netflix (NFLX) to purchase a gift card that can be redeemed for its stock. You can choose from hundreds of stocks, or give a multi-company card that comes with a list of picks available to the recipient and let your recipient build a portfolio. Cards for exchange-traded funds are another option. Or you can just gift an amount of money and let the recipient do the picking.
To redeem the card, the gift card recipient must open a free Stockpile brokerage account online. She can choose to invest in the company you picked or select another. If she redeems the gift for stock by 3:00 p.m. (Eastern) on a regular trading day, she gets the shares at that day's closing price. After that time or on a day the market is closed, the trade will be executed at the closing price on the next day the market is open. Depending on the value of the card and the stock, she may wind up with fractional shares.
But you don't have to use Stockpile to give stocks or funds. If your recipient already has their own brokerage account, you can buy for them directly—or directly gift them your own shares—if you have the account information.
Cost
At Stockpile, gift cards can be found in denominations of $1 to $1,000 and can be sent via email or text on a specified delivery date at a designated time. They can also be printed out with a redeemable QR code.
2/17
Master Class from a Master
How would the recipient of your present like to learn about science from Bill Nye, the Science Guy, or about cooking from tv chef Gordon Ramsay? How about chess lessons from Gary Kasparov or writing guidance from Margaret Atwood? Alicia Keys teaches songwriting and Herbie Hancock teaches jazz. My goodness, Itzhak Perlman gives violin lessons. And Hillary Rodham Clinton teaches a class called "The Power of Resilience."
Perhaps more on-brand for our readers, they can learn business leadership lessons from Disney's Bob Iger or former Starbucks CEO Howard Schultz or economics from Nobel Prize winner Paul Krugman. All this and much more is available through Master Class, an online platform that sells video lessons from some of the most well-known subject experts in the country.
Cost
The cost starts at $15 a month, billed annually.
3/17
Herb Garden
You can freshen up a loved one's living space while trimming their grocery costs by giving her a kitchen herb garden. Your gift recipient doesn't need a particularly green thumb in order to grow herbs. But you may want to consider the amount of sun exposure the garden's new home might get in order to pick the right herbs. For example, basil, rosemary and sage need six hours or more of full sun each day to thrive, according to Home and Garden America. Chives, coriander and mint are less demanding.
Cost
Again, prices vary. You can get a window starter kit at Amazon for about $30.
4/17
Celebrity Video Messages
If your gift recipient likes a particular celebrity, you might pay that star to record a personalised video through Cameo. Celebrity options range from Thomas the Tank Engine to Pee-wee Herman and include athletes like Olympic gymnast Gabby Douglas and football legend Joe Montana. There are also musicians like Gloria Estefan and Kenny G, some astronauts and even some political figures like Anthony Scaramucci or Donald Trump Jr. You can even get a video from Iron Chef Jose Garces for the reality show foodie in your life. Or, for those who believe, how about a phone call from Santa Claus?
Cost
Prices range all over the map from $2 for a video from stuntman/actor Preston Corbell to $10 for a conversation with Santa to starting at $2,500 for a video from Caitlyn Jenner.
5/17
Streaming TV Subscription
According to JD Power, the average U.S. household spent $55 a month on streaming tv services, up from $47 just six months before and double the amount spent last year. With so many new options becoming available and prices being hiked all the time as more people stay home for entertainment during the pandemic, it's easy to see how the cost of entertainment can drag down a family budget.
You can help your tv-watching friends and family with those costs by footing the cost of a subscription to Netflix, Apple TV, HBO Max, Hulu, Amazon Prime, Disney Plus or one of any other of the constantly emerging streaming services.
Gift cards for streaming service are available at participating retailers, including Walmart, Target and Best Buy. You can also buy them online through Amazon.com, Target.com and Walmart.com. The gift-card recipient can use it to create a new subscription or add the value of the card to his existing account.
Cost
Physical Netflix gift cards are available for $30, $60 or $100. You're free to select the amount for electronic gift cards. (Subscriptions start at $8.99 a month.)
6/17
Coffee Maker
You know that trope about how daily lattes from the coffee shop are the impediment to wealth? It's more complicated than that. But, if you'd like to press the point, give your favorite coffee lover the means to make the caffeine she craves on her own. Depending on her tastes, you could get her a French press, a drip pot, a single server or an espresso maker. If your budget allows, you might also throw into her stocking your (or her) favorite brand of joe.
Cost
Prices vary. The popular single-serving Keurig machines cost from about $55 to about $200. Tom's Guide says the best coffee makers can run $300, but you can get a really good one for much less. Tom's top overall pick, for example, a Braun BrewSense was on sale recently at Best Buy for $76, marked down from $95.
7/17
Educational Software
The gift of wisdom can pay off for a lifetime. Fortunately, you can buy some online. Educational software, such as Rosetta Stone for languages or The Great Courses for a variety of subjects including sciences and the fine arts, can be a great gift for your favorite knowledge-seeker. Fun and functional, educational applications can help her brush up on her French before a trip to Paris or add some highly desirable skills to her resume.
If your loved one would prefer learning in an actual classroom, consider getting her a gift card for a local community college. Many can be used for books and merchandise, as well as credit hours.
Cost
You can give a Rosetta Stone eGift instantly—perfect for procrastinators. The Spanish subscriptions range from $36 for three months to $179 for a lifetime subscription.
How much you spend on a community college gift card is up to you and should be based on the college's cost per credit hour.
8/17
Cooking Classes
Cooking classes can be a great way to cut your recipient's restaurant costs. Check community calendars for seminars, or look to chains, such as Williams-Sonoma and Sur La Table.
For example, in a number of Sur La Table locations across the country, you can find a holiday cookie decorating class—giving your gift recipients both a cooking lesson and a fun activity to entertain their kids for a couple of hours during the school break.
Cost
Prices at Sur La Table vary, depending on the type of class and location. The holiday cookie decorating class for kids costs $59 per person in stores around the country. Sur La Table also offers online courses recognized by the American Culinary Institute for $59 to $1,500.
9/17
Small Kitchen Appliances
Giving an appliance as a present is a bit fraught, but there are plenty of buzzy gadgets that might improve the prospect of more cooking from home. Consider an Entera slow cooker or an Instant Pot or an air fryer. These practical gifts can help the recipient easily prep meals for each week and save on restaurant and take-out bills all year long.
Other kitchen-appliance gift ideas that might encourage more eating in: a standing mixer, pizza stone, countertop convection ovens.popcorn makers, grills, pots and pans and other specialty items.
Cost
Pizza stones are available on Amazon from about $12, while the costs of other kitchen appliances can range into the hundreds of dollars.
10/17
Warehouse Club Membership
A couple of years ago, the idea of a year's supply of toilet paper as a gift would sound like a bad joke. Now, it might be appreciated. Better yet, though, is to give your recipient access to pallets of TP with a membership to a big-box store such as BJ's, Costco or Sam's Club. You'll give the recipient the opportunity to buy in bulk and save money on groceries, electronics, household wares and other items year-round.
Cost
Annual memberships for Sam's Club, BJ's and Costco range from $45 to $120 and can include discounts or gift cards as part of the membership.
11/17
Car Wash
Your gift recipient might not ever get rich at the car wash, but helping him with routine car maintenance can sure help save money. And in these times of ever-rising gas prices, every bit of savings helps.
Gift cards to the local car wash would not only foot that bill; keeping an auto fresh and clean can help maximize its life, too. Some locations might even offer unlimited washes for a monthly pass.
You could also put together a gift basket of car-cleaning supplies. Encouraging your loved one to do the dirty work can give them a chance to catch and fix any small issues and prevent any future costly repairs.
Other car-related gift ideas are a membership in AAA or a gift card for car service at a local shop or someplace like Jiffy Lube.
Cost
You're in the driver's seat—pick your gift amount. If you want to go the gift basket route, you can order a pre-assembled one on Etsy for about $50
12/17
Appointment With a Financial Planner
Make room under the tree for your financial planner. A few hours of consultation would be the perfect gift to steer anyone down the right financial path, especially any beloved college kids home for winter break.
Your best bet to give a financial planner's services for the holidays is to ask your own planner if she's open to it. You already know and trust her services and won't have to worry about giving your loved ones a dud gift. If you don't have a planner to call your own, you can find one at the website of the National Association of Personal Financial Advisors. But be sure to vet the planner properly.
Cost
According to SmartAsset.com, a financial advisor generally charges from $1,500 to $2,500 to create a full financial plan, but if that's too rich for your budget, you can check to see if the advisor can provide a few hours of consultation or a less detailed plan at a lower cost..
13/17
College Fund Donation
For even your littlest loved one, there's no better present than an investment in her future. Get her started saving for college by opening a 529 account for her. Or if she already has a college fund, you can simply make a contribution for the holidays. To ensure your generosity is earmarked for a college degree, you can make a direct payment to a 529 plan—you'll just need to know the account holder's name and address, as well as the account number. Or you can maintain the element of surprise by giving your future scholar a Gift of College gift card, which can be used to fund any 529 plan.
Cost
You can give however much you'd like. If you go the gift-card route, you'll have to pay some fees, too.
14/17
Toolkit
This handy gift can encourage its recipient to get their hands dirty and keep maintenance costs down by learning to DIY (you might be surprised to see how much you can tackle thanks to YouTube videos). It can be especially useful for anyone in your life who just moved out on their own or bought a new home and recently reached a new level of adulting.
For beginners, some toolbox necessities include a screwdriver set, tape measure, claw hammer, flashlight, pliers and other items, according to This Old House.
Cost
You can build your own kit and control the costs. Ready-made sets start at about $15 at Lowe's and Home Depot.
15/17
A Book About Investing
Learning the ropes of investing can be intimidating. Kiplinger has put together a list of the 13 best books for beginning investors to take away the mystery and empower people with knowledge about their finances on their own time at their own pace. There's a book by women for women and one written by a millennial and even one by Warren Buffett.
Cost
The range in costs is free (downloadable e-book) to about $40 for the top-end hardcover
16/17
Restaurant Gift Card
The restaurant industry has been hit particularly hard during the pandemic. One way to support local businesses and give your friend or loved one a night off from cooking is to buy them a gift card from a local restaurant.
If your friend just prefers to do their own cooking, you could also get them a gift certificate to a grocery store or a local specialty food store.
Cost
That's entirely up to you. Check your local restaurants and see what they're offering. Maybe check the menu and make sure to cover the cost of your recipient's favorite food, plus a tip and enough to cover at least one other diner.
17/17
Kiplinger's Personal Finance Magazine
Personal-finance wisdom, actionable advice and clear explanations—these are a few of our favorite things. And, hey, we're proud of what we do. A year's subscription to Kiplinger's for your friends and family members will give them both money-saving and money-making strategies.
Cost
A holiday subscription starts in January and can be had for just $19.95 for 12 monthly issues.

Online Editor, Kiplinger.com
Rapacon joined Kiplinger in October 2007 as a reporter with Kiplinger's Personal Finance magazine and became an online editor for Kiplinger.com in June 2010. She previously served as editor of the "Starting Out" column, focusing on personal finance advice for people in their twenties and thirties.
Before joining Kiplinger, Rapacon worked as a senior research associate at b2b publishing house Judy Diamond Associates. She holds a B.A. degree in English from the George Washington University.