13 Best Stocks to Buy If President Donald Trump Wins Re-Election
The 2020 election likely will be a pivot point for several areas of the market. Here are 13 of the best stocks to own should President Donald Trump win re-election.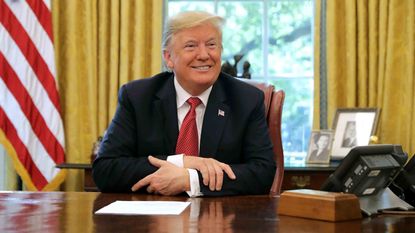 (Image credit: Getty Images)
It's best to leave your politics at the door when investing. No matter how much you like or dislike the man in the White House, presidential policies generally matter a lot less for the stock market than Federal Reserve policy or the general health of the economy.
That said, the best stocks to buy under a Republican administration are sure to be different than those under a Democratic administration.
We're currently in the homestretch of what has already been a raucous election cycle. But it's far from over. As of late October, the betting markets were pricing in a 66% probability (opens in new tab) of former Vice President Joe Biden taking the Oval Office. But at various points in 2020, it has been a dead heat or Trump was actually favored.
Meanwhile, most national polls show Biden with a roughly 9% lead. But national polls don't really matter in our electoral systems. It comes down to the individual swing states, and many of the critical swing states are within the margin of error. And in a year with record mail-in ballots and the highest voter turnout since 1908 by some measures, anything can happen.
In other words, this race is far from over.
"We're advising our clients to be cautiously optimistic going into the election," says Chase Robertson, Managing Partner of Houston-based RIA Robertson Wealth Management. "We're hedging our bets, raising a little cash and spreading our positions across sectors we think will do well regardless of who takes the White House."
Various studies have shown that stocks tend to do well following the re-election of a sitting president. After Ronald Reagan, Bill Clinton and Barack Obama won reelection, the S&P 500 was up 26.3%, 31.0% and 29.6%, respectively, over the following year.
However, those who want to try to generate additional returns by front-running the election should know that the prospective winners under a second Trump administration are a very different mix than those that might shine with Biden in office.
Read on as we take a look at 13 of the best stocks to buy for the re-election of President Donald Trump. Or, you can also learn more about the best stocks to buy if Joe Biden wins the election.
Data is as of Oct. 26. Dividend yields are calculated by annualizing the most recent payout and dividing by the share price.
Contributing Writer, Kiplinger.com
Charles Lewis Sizemore, CFA is the Chief Investment Officer of Sizemore Capital Management LLC, a registered investment advisor based in Dallas, Texas, where he specializes in dividend-focused portfolios and in building alternative allocations with minimal correlation to the stock market.