11 Best Stocks to Buy for a COVID-19 Vaccine Pop
A COVID-19 vaccine would sharply alter the trajectory of several U.S. industries. These are among the best stocks to harness that pivot ... but handle with care until then.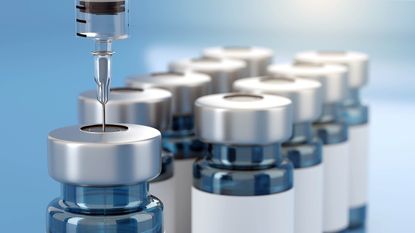 (Image credit: Getty Images)
Every couple of weeks or so, news about a COVID-19 vaccine sets the market's tone for a day. There's no secret as to why – whole industries still are being held down by the pandemic, just waiting to explode on some sort of "all-clear." The best stocks to buy ahead of such a vaccine are in these same industries, but they might be painful to hold in the short-term.
Consider this: The world is starting to look and feel a little closer to normal these days. Football has returned to TV, kids are in school in at least parts of the country, and it seems traffic in a lot of cities is picking back up.
But social gathering and events are still largely frowned upon, and large swaths of the world are still under varying degrees of lockdown. New York City recently re-closed schools and nonessential businesses in parts of Brooklyn and Queens. And overseas, both the United Kingdom and France are considering new restrictions due to exploding case counts.
It might be a while before we truly get our old lives back. As JPMorgan CEO Jamie Dimon recently commented, "I don't expect normality until summer 2021. We're going to have to live with this."
Even then, once COVID has come and gone, life likely will be permanently changed. A larger percentage of meetings will be virtual, and more people will work from home. However, group experiences are a big part of what it means to be human, and most of us long to be able to go to a packed stadium for a concert or sporting event, or even to something as mundane as a movie.
A safe, effective COVID-19 vaccine could get us there.
It's still unclear when and even if that will happen. Pfizer CEO Albert Bourla recently indicated in a CBS Face the Nation interview that we could know if Pfizer's vaccine is effective as soon as the end of October. But even then, it still would take time to get the vaccine into the bloodstream of Americans. CDC Director Robert Redfield told Congress that he didn't expect a vaccine to be mass produced and distributed until the second or third quarter of 2021.
So, it might be a while until a viable vaccine is available. But investors should always plan well ahead, including compiling "wish lists" of potential buys.
Here, we'll look at 11 of the best stocks to buy for when a COVID vaccine gets the green light. Just remember: Every day that COVID continues, these companies likely will continue to suffer, and a couple are at real existential risk. Thus, investors should only consider them if they're comfortable shouldering an elevated amount of risk.
Contributing Writer, Kiplinger.com
Charles Lewis Sizemore, CFA is the Chief Investment Officer of Sizemore Capital Management LLC, a registered investment advisor based in Dallas, Texas, where he specializes in dividend-focused portfolios and in building alternative allocations with minimal correlation to the stock market.