10 Best Cloud Stocks to Buy for Rapid Growth
The cloud is evolving, and the industry's investments are too. Here are 10 high-growth cloud stocks to buy to leverage this technology in your favor.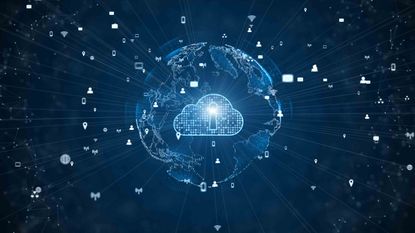 (Image credit: Getty Images)
Cloud computing – and thus investing in cloud stocks – is becoming more sophisticated by the year.
More than a decade ago, the "cloud" mostly was just basic infrastructure. Then it eventually became the platforms on which companies built applications and software used directly by workers.
But increasingly, applications are written for the cloud, that live entirely in the cloud, and/or even serve the cloud. Some companies – think Microsoft (MSFT (opens in new tab)) and its Office productivity suite – use cloud-based business models for older applications. Others assure that the speed and reliability of the cloud is maintained, from hyperscale data centers to phones, TVs and PCs.
This is a high-growth industry that's being bid up to the … well, clouds. Valuations are sky-high, and pullbacks across the space certainly are possible. But the technology has staying power; companies won't quickly ditch the benefits they're capturing from cloud apps after offices re-open, if they ditch them at all. Thus, many cloud stocks' opportunities should extend well into the future.
Here are 10 of the best cloud stocks to buy. While you might be able to jump in at better prices down the road, each of these companies represents a promising business that many analysts think has long-term legs.
Contributing Writer, Kiplinger.com
Dana Blankenhorn has been a business and technology journalist since 1978. His work has appeared in newspapers including the Chicago Tribune and magazines such as Interactive Age. But he has spent most of his career online, spotting future trends in over a dozen beats from e-commerce to open source, and from renewable energy to blockchain, working for such publishers as TheRegister.com, ZDNet, InvestorPlace, TheStreet.com and Yahoo Finance.