The Best ESG Stocks in the Dow
Only a third of the stocks in the Dow rank as industry leaders according to MSCI's ESG rankings. Fortunately, most of those who do also are favored by Wall Street analysts.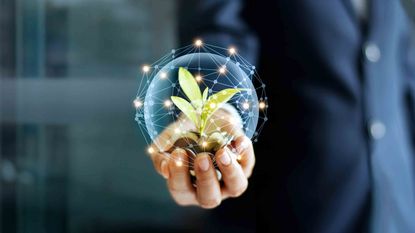 (Image credit: Getty Images)
Here's something for investors to celebrate on Earth Day 2021: Environmental, social and corporate governance (ESG) matters have never been more important to shareholders and, by extension, the folks leading the nation's publicly traded companies.
As investors' focus on ESG stocks has grown, sustainability reporting has gone mainstream. Bank of America Securities recently found that 90% of companies in the S&P 500 publish corporate social responsibility (CSR) reports, up from 20% in 2011.
And that's not just because corporations are bending to societal pressures. It turns out that taking ESG issues seriously is good for the bottom line.
"It pays to be green," say Bank of America Securities equity and quant strategists Savita Subramanian and Marisa Sullivan. "We see higher multiples for low emissions, net zero targets, and water efficiency."
Even members of the Dow Jones Industrial Average – that old and elite bastion of just 30 blue-chip companies – are increasingly concerned with how they measure up when it comes to ESG matters. However, it might come as a disappointment to some investors that only a third of the Dow's constituents rank as ESG leaders in their respective industries.
MSCI, the investment research firm specializing in indexes, portfolio analysis and various analytic tools, has set itself up as a leader in ESG ratings. The firm maintains MSCI ESG ratings on nearly 3,000 companies, and it has become a go-to provider of information for investors who hold ESG issues close to their investment processes and hearts. We decided to see where all 30 Dow companies rank as ESG stocks using MSCI ratings, which range from industry leader (AAA, AA), to average (A, BBB, BB) to laggard (B, CCC), and found that just 10 of them are considered "leaders."
So read on as we look at the 10 best ESG stocks within the Dow 30. Happily, in many cases, it does indeed pay to appear to be green. Dow stocks with high ESG scores often happen to be some of analysts' favorite blue-chip stocks to buy, too.
Data is as of April 20, courtesy of S&P Global Market Intelligence, MSCI and YCharts, unless otherwise noted.