PODCAST: Where to Invest in 2021 with Anne Kates Smith
Kiplinger Executive Editor Anne Kates Smith joins us to talk about her 2021 outlook for stocks, market sectors, and even some specific stocks. Also, hosts Sandy Block and David Muhlbaum discuss raises for next year as well as staying on the road and out of the ditch this winter.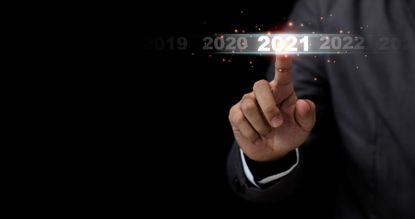 (Image credit: Getty Images)
Listen now
Subscribe FREE wherever you listen:
Transcript
David Muhlbaum: 2021, the year ahead, people have pinned a lot of hopes on it, but how will it play for stock investors? Kiplinger Executive Editor, Anne Kates Smith joins us to give her forecast. We'll also get back to the outlook for raises next year and talk about cars and winter.
David Muhlbaum:Welcome to Your Money's Worth. I'm Kiplinger.com Senior Editor David Muhlbaum, joined by Senior Editor Sandy Block. Sandy, how are you?
Subscribe to Kiplinger's Personal Finance
Be a smarter, better informed investor.
Save up to 74%
Sign up for Kiplinger's Free E-Newsletters
Profit and prosper with the best of expert advice on investing, taxes, retirement, personal finance and more - straight to your e-mail.
Profit and prosper with the best of expert advice - straight to your e-mail.
Sandy Block: Doing great, David.
David Muhlbaum: Well, a few weeks ago here, we were talking about the 2021 cost of living increase. And we mentioned that we would get back to the prospect of raises next year and well, that's what I want to do. So the cost of living, which is inflation basically, is a factor in those raises, but it's not the only one. So the two are connected, but let's go into raises.
Sandy Block: Right. If you're looking at a raise number, the first 1.3% of that is just to get you back to where you were in 2020, that keeps your purchasing power the same. Anything above that is well, an actual raise as in, you're going to get paid more than you were before.
David Muhlbaum: Assuming you're an employee with a job.
Sandy Block: Right, right. And that's an important pre-qualifier these days.
David Muhlbaum: Okay. And what should someone who meets those qualifications expect to get as a raise in 2021?
Sandy Block: Well, we're only going to be able to deal in averages and forecasts here because the fates and fortunes of industries vary, as well as individual job performance.
David Muhlbaum: But not everyone can do as good a job as you, Sandy.
Sandy Block: Good job. This was your week to pay the compliment. And I think you're underpaid too.
David Muhlbaum: You're welcome. Yes, log-rolling in our time. So, the average raise forecast, the average-average-average, forecast-forecast-forecast. What's the number?
Sandy Block: Well, The Kiplinger Letter is forecasting a 2.5% increase for 2021, up from 2% this year. It would likely have been more, but you know, there's a pandemic, recession, high unemployment, all the fun factors of what you call Our Blessed Year of 2020, and both that number and the cutback are consistent with a study from the consultancy Willis Towers Watson. They ran this in September. So it's COVID-aware. Their forecast is 2.6% for all employees, but executives. For the executives, the survey indicates a 2.5% raise.
David Muhlbaum: I don't suppose we have to break out the world's tiniest violin for the executives' slightly lower raise since so much of their competition is non-salary, stock grants, and such.
Sandy Block: Cars, yeah. Cars, all those good things. That's true. I wouldn't get hung up on the tenth-percent difference here between them, but when the number drops a few tenths of a percent and then another few tenths of a percent, then you have a trend. And what I'm talking about here is that between May and June, when Willis Towers Watson ran an earlier version of the survey, the average wage increase for 2021 was forecast to be 2.8%, and pre-pandemic, the number was 3%.
David Muhlbaum: Okay. Yeah. So, I hear a trend: low-single digits and lowering. And I guess that's why the news that I saw that Starbucks was going to raise barista pay for its U.S. employees by 10% caught my eye. I mean, that's a pretty big bump.
Sandy Block: Percentage-wise it's a big bump, but remember that their pay isn't very high to begin with. Starbucks rates pretty well as a place to work on sites like Glassdoor and the like, but their average hourly pay is $11.47 cents. And so part of what's going on here is that they're getting ahead of a possible increase to a $15 federal minimum wage. That was a Biden campaign promise.
David Muhlbaum: Right. But as we discussed last week, campaign promises and Washington reality are two very different things. Without getting too deep into using words like filibuster, it's not very likely to pass, is it?
Sandy Block: Yeah, I know. Here we are at politics again. As a piece of legislation that gets put on the floor by Mitch McConnell, I don't think so. But there are moves Biden can make on his own that will create upward pressure on the minimum wage. Plus we're seeing a lot of activities in the states. I know that Florida, not exactly a liberal bastion, voted for a $15 minimum wage a few weeks ago.
David Muhlbaum: All right, well, Starbucks employees, enjoy your boost. Starbucks customers, keep tipping your barista, and I hope that everyone gets the raise they have coming. Ahead in our main segment, the 2021 outlook for stocks.
David Muhlbaum: For our main segment today, we're joined by Anne Kates Smith, the Executive Editor of Kiplinger's Personal Finance magazine and the woman who took on the challenge of forecasting 2021 for investors. Welcome Anne, and thank you for this annual exercise in sticking your neck out.
Anne Kates Smith: Yeah, I'm happy to be here. And it is an annual exercise in doing that because the market is a moving target and we had a ton of news this year, including the election and news of the vaccine and then news of another vaccine. So it was a challenge.
David Muhlbaum: Yeah. So give us, before we move into year 2021, give us your best précis of 2020, such as it is so far.
Anne Kates Smith: As bad, as horrible a year as 2020 is in almost every respect. It was not as bad as you'd think for the stock market. There was a bear market, after the 11-year-old bull market ended in February. But the bear market that ensued was the fastest on record. It took 34% off the S&P, but as of now, we're up like 60% from that low up about 12% for the year today the calendar year. And from the time we've published our last outlook to publishing this one, the S&P is up 17%. So that's a tough act to follow, actually.
Sandy Block: Yeah. Well, since David mentioned sticking your neck out, Anne, I'm just going to go ahead and ask you to give us the hard forecast right off the bat. What do you think the benchmark S&P 500 will do in 2021?
Anne Kates Smith: Well, we think it's going to return, as we said in our outlook, it's going to return high single digits, low double digits. If we're wrong on that forecast, it's because we're being too conservative. You know, there could be a pause in our healing economy because of the COVID surge this winter, but we're at an inflection point and you have to remember that the market in 2021 is looking ahead at 2022. And, hopefully, a lot of these challenges that we're facing now will be behind us. So I think low double digits, or even mid to high double-digit returns are possible. In short, I think it's going to be a good year for stocks.
David Muhlbaum: That gives me some hope. And tell me how an individual investor should translate that into portfolio changes they might make now.
Anne Kates Smith: Well, it's almost going to be a tale of two markets in 2021. The leaders — we're all aware that large U.S. growth-oriented stocks have been the leaders for years, especially that handful of tech behemoths. And while the recovery is still nascent and very uneven, those stocks still have a lot to recommend them and many of them are in industries that you want exposure to long-term, but 2021 is the year you want to bet on the economic recovery. And that means economically sensitive stocks, smaller and mid-sized companies shares. And instead of, we all have a home country bias, but this year you really have to look overseas and particularly at emerging markets.
Sandy Block: One thing that's going to be different in 2021 is that we will have a new president, Joe Biden. Although there continues to be a bunch of political noise about that, the stock market seems convinced that he will be inaugurated in January. What bearing does a Biden administration have on the 2021 outlook and individual investors?
Anne Kates Smith: Well, look, here's one of the challenges of doing the outlook this year. We were all captivated by the U.S. election because it was an election season like no other. And guess what? It still is. But as investors, it's really important to remember market fundamentals. And when I say fundamentals, I'm talking about the trajectory of the economy, where corporate earnings are headed. They just matter far more than who lives in the White House and those fundamentals this year and in 2021 are inextricably intertwined with the course of COVID and the race to a vaccine.
Anne Kates Smith: That said, if it turns out that we have a divided government, that's the scenario that Wall Street tends to like best. There's less likelihood of big, surprising policy moves when you have a divided Congress. And in fact, Yardeni Research, which is a stock research firm, looked at this going back to 1933 and found that during seven periods of divided government, the S&P rose 60% on average. It's pretty good. The next best case is the only other possibility after these runoff Senate elections in Georgia. And that's a blue wave. During six blue waves, stocks were up almost as much, 56%. So, the lesson here is that over the long-term stocks tend to move higher, and who's in the White House, matters on the margin.
David Muhlbaum: Huh. So to some extent, investors still need to keep an eye on the Georgia runoffs. Well, I sure don't have a forecast for that, but we do have forecasts for earnings, a metric that does lie at the heart of stock market performance, more so than politics, as you said. So 2021 earnings, what are we going to see there?
Anne Kates Smith: Well, again, this is an inflection point and when you're changing direction, the market looks for better or worse, rather than absolutes of good or bad. But when the books are closed on 2020, Wall Street analysts are looking for earnings to be down about 16% from 2019 levels. For 2021, they're looking for growth, forecasting growth of about 23% with the lion's share of that growth coming in these economically sensitive stocks that we've talked about.
David Muhlbaum: The cyclicals.
Anne Kates Smith: The cyclicals. 78% jump in profits for industrial companies is the forecast, 61% for consumer companies that provide non-essential goods and services. Those are your restaurants, your travel companies, retailers, although retail is very bifurcated now with e-commerce surging ahead and brick and mortar retailers suffering. And then almost 30% from materials firms, those are the people that process the raw materials like metals, wood, chemicals, those kinds of companies. So that's where the strength in earnings is this year.
Anne Kates Smith: Now I'll just say one other thing on earnings, 2020 was a very low bar to surpass. As 2021 progresses, these dazzling improvements are going to be harder to come by. And in the meantime, stock valuations are high and rising. The S&P is selling at 22 times earnings right now, which is higher than the five-year average, which is 70 and the 10-year average, which is 15. So there's not a lot of wiggle room for error. If earnings don't beat expectations as much as was expected or even worse.
David Muhlbaum: People aren't going to be able to say "oh, well, pandemic, you know...."
Anne Kates Smith: Right. And the bar is set high now, in other words. And so, disappointments are not met very well on Wall Street.
Sandy Block: Well, and speaking of high bars, you mentioned the tech firms, especially biggies like Amazon, Apple, Apple beats Google had such an outsize impact on the market in 2020, both on the amount of news and the actual indices. Are they going to hog the bandwidth in 2021 as well?
Anne Kates Smith: Yeah, those companies are never going to disappear. We've said a couple of times if you were loaded to the gills in those big-cap, dominating tech stocks, pat yourself on the back and take some profits. We're not saying dump them completely, even with antitrust concerns on the horizon, because these are market leaders in industries that you want to exposure to. But that said, we're advising people to go down the scale a little bit in terms of market cap, and look at some of the smaller tech companies. One way you can do that is with a broad index ETF that looks at smaller companies in the S&P index in the tech sector. And one that does that is Invesco S&P Small Cap Information Technology ETF. And that's just a broad swath, but you have to give the small fry a chance here, because this is an environment where they could do well.
David Muhlbaum: Anne, also as part of your reporting for what's in the January copy of Kiplinger's Personal Finance, you also talked to Stephanie Link, the chief investment strategist portfolio manager at Hightower Corporate. In fact, she's on the cover of the magazine. We'd love to have her join us today, but she's not here. So can I get a little bit about what you guys talked about or what she had to add to the conversation?
Anne Kates Smith: Well, she was a delight to interview and I'm happy to say that we see eye to eye on where the market is headed. She is also looking for an economic rebound, but she sees an uneven economy ahead. For instance, housing, autos, manufacturing, they're in a V-shaped recovery now. There's still travel, leisure and hospitality that are sort of struggling, waiting on this vaccine news. One thing that she told me that just reiterates the point about market fundamentals in her career — what she said was, "I've learned over my career that stocks follow profits. And if profits are going higher, stocks will too." So she's looking for even faster earnings growth in 2021. And her advice is to find good companies with high market share, good balance sheet, blue chip companies. These companies are benefiting from the economic stimulus that we've already gotten.
David Muhlbaum: That we might get some more of.
Anne Kates Smith: Right. Now everybody's waiting with bated breath for the next round of fiscal stimulus. And we think it's going to come. It's going to be smaller. That's one impact of the Biden presidency. It's going to be smaller than it might've been otherwise, but that's going to help these companies that Stephanie Link likes, these blue-chip, strong balance sheet companies. And in the meantime, here's the other thing. She makes the point that a lot of these companies have adjusted during the pandemic. They have cut costs. They've gotten lean and mean. They've gotten more efficient. They've been incredibly agile. So when the profit rebound comes, when revenues start increasing, that's going to drop to the bottom line and make a big impact.
David Muhlbaum: And that is something to hope for in 2021. I had one more thought since you've been talking with Stephanie, you've mentioned the V-word, vaccine, and that's not something we, I know you've touched on in your forecast, but we didn't talk about yet today. I mean, a lot of the big news is already out and the companies in question are already up, but there could be more, right?
Anne Kates Smith: Well, that was one of the things. The vaccine news came out in the late stages of reporting our 2021 outlook. And that news was a game changer for 2021. So again, there's another inflection point. The stocks that have done very, very well in 2020 are those resilient COVID stocks that benefit from working from home, things like that. And some of those are going to be permanent changes. There's going to be a lot more working from home. There's going to be a lot more empty offices for instance, which has an impact on real estate investment trusts.
Anne Kates Smith: But we think that some of the stocks that were slammed by COVID deserve a second look here. For instance, medical device companies, they've been under pressure because a lot of elective procedures have been put on hold and the rates of those procedures are going up now. And so that benefits stocks like Boston Scientific or Stryker, say. Biotech firms, for instance, should do well because they'll be able to focus on clinical trials for diseases besides COVID for starters, as well as these medical device companies that are benefiting from an acceleration in elective procedures. Online travel services, one fellow I spoke to was very bullish on those. And that would be stocks like Booking Holdings.
Sandy Block: Is that that's the whole idea of pent-up demand, like everybody's going to want to go?
Anne Kates Smith: Yes. And those stocks have already bounced a little bit. They bounced right away on the vaccine news. Banks should do very well. They've suffered greatly in 2020, but when the economy snaps back, that's going to redound to their benefit. Now that said, well, like I mentioned, some of these changes that COVID brought to the way we do things are going to be permanent. And when the pandemic is no longer with us, those trends still will be.
Anne Kates Smith: So, there are a couple of beneficiaries of those trends that we still like. One is all of this spending on home and the move out to the suburbs from the cities that should benefit stocks like Pool Corp., for instance. They build swimming pools. And the great thing about swimming pools is that they deliver this recurring revenue to Pool Corp. Because they supply maintenance and upkeep.
David Muhlbaum: Ah, vertical integration.
Anne Kates Smith: Right. So, some of these trends have legs and will be with us a little longer. Another stock is Twilio, and I'm not even sure if I'm pronouncing that correctly, but that's a dicier play for speculative investors, but it enables all digital communication. Think like when you get a text for a restaurant reservation, for instance, or you get a prompt for two-factor authentication, they enable their customers to embed these text and video and other forms of communication into their own customer communications. That accelerated during the pandemic, but that's a high growth area regardless.
David Muhlbaum: Were they one of your picks to buy?
Anne Kates Smith: They were.
David Muhlbaum: Yes. Okay. I'm just going to point out for our listeners that we have actual specific stocks to buy and some to sell from Anne and from others writing for Kiplinger. And we will post those as soon as we can.
Anne Kates Smith: That'd be great, David.
David Muhlbaum: Anne, thank you so much for joining us today. We appreciate your insights.
Anne Kates Smith: My pleasure. Anytime. Thanks, you guys.
David Muhlbaum: So Sandy, I understand you had snow under your tires last week.
Sandy Block: Yes, I did. I spend a lot of time driving back and forth between the D.C. Area and West Virginia that takes me right through some very mountainous parts of Western Maryland. And it seems like, once September comes sometimes even earlier, no matter what is happening in the rest of the drive, once I get to Frostburg, there's going to be snow. And sure enough, I got up in the mountains and all of a sudden there was snow, not a lot, but enough to be concerning because I could see my temperature dropping below freezing, and that's always creating the risk of sliding. So I guess my first question to you, David, when it comes to winter car maintenance, is should I be getting winter tires?
David Muhlbaum: Well, I was about to ask you, what kind of car you had. What kind of car do you have?
Sandy Block: I have a Subaru Outback Sport, and it is all-wheel drive. And I have always assumed, and maybe you can tell me differently that with all-wheel drive, I don't need to worry about winter tires, that those wheels can handle anything. And I have to say that it's done pretty well over the past, over 10 years that I've owned the car.
David Muhlbaum: Well, you haven't put it into the ditch. So that's a good thing. The thing is, I mean, you had an all-wheel drive car for 10 years and of course, almost all Subarus are all-wheel drive. The thing about all-wheel drive, the really core thing people need to remember with all-wheel drive is that all that all-wheel drive helps you do on slippery surfaces is to get going faster. It doesn't do squat for slowing you down or going around turns. And as a result, and often, particularly with people who pick up an all-wheel drive car, because they're like, okay, "this is it. I'm good to go now. I have something for the snow! It has all-wheel drive!" It breeds this kind of overconfidence where like, you could get up to speed, but then maybe you can't get it back down or can't stay out of the ditch. Anecdotally, I will say a lot of times when I'm out in snowy weather and I see someone in the ditch, I like look over and it's an-
Sandy Block: Subaru.
David Muhlbaum: ... all-wheel drive vehicle, often a recent one. No, no, no, not Subaru, but to really get into the nitty-gritty, a lot of times it's like a newer crossover with all-season tires or even summer performance tires, basically something that's just not good for snow. When it comes down to good grip in the winter, there's no substitute for a proper winter tire. And if you put the proper winter tires on an all-wheel drive vehicle, well, now you've really got something. So yes, I've been an evangelist and people have heard this on this podcast even before, I've been an evangelist for winter tires pretty much since I was a college student in Vermont and found myself in the proverbial ditch.
Sandy Block: Okay. But I always envision winter tires as like these huge knobby things that look like they belong on a bus and maybe even have changed. I mean, is that what we're talking about here?
David Muhlbaum: It used to be that a winter tire would have to compromise more on things like wet traction to have better snow traction. Those compromises are getting better rather the gap is getting closer and they're getting quieter. I can't say they're getting cheaper, but it's really still, it's getting to be a better option and one I think one more people should be considering, especially as people trend towards all-wheel drive cars, as winter catch-all.
Sandy Block: We're looking at a piece you did on winterizing car maintenance tips, and we'll put this in the show notes, but one of the tips that you have that I should be paying more attention to as I venture out back into West Virginia, which I do quite often, is wiper maintenance. What should I be doing about my wipers?
David Muhlbaum: Well, you should make sure they're in good shape, basically. Now, speaking of things from the past, there used to be this sort of thing called a winter wiper blade. And it was a blade coated in a rubber boot so that the frame wouldn't freeze up. It was like a windshield wiper blade with a galosh on it. They might still be available, but they're not really relevant. Nowadays people either have equipped their car, or can equip their car with what's called a beam-style blade where there's no longer the metal structure above. It's just one singular piece. And those are much less likely to freeze up. Now they're a bit more expensive, but as long as your wipers are in good shape, you're probably in good shape. But yes, it's important to check and of course, it's also important to check the wiper fluid, which I think is the single most important thing perhaps for winter driving, other than the tires.
Sandy Block: Oh yeah. I have had the experience when you hit that button and nothing comes out and snow is coming. Yeah. You do not want to be in that situation. We carry around very large containers of wiper fluid in our cars just for that reason.
David Muhlbaum: You know, I saw something recently that gave me pause. I saw something on a social media feed that suggested that there was going to be a shortage on windshield washer fluid with this being a pandemic-driven issue again. But I checked it out as best , and as best as I can tell, you're all right. There will definitely be some washer fluid out there.
Sandy Block: Good.
David Muhlbaum: It comes down to color. The blue washer fluid, there was some concern that there would be a shortage on that. I don't think that's for real, anyway.
Sandy Block: Oh, good. Okay. We won't have to stockpile it then.
David Muhlbaum: Make sure you have it.
Sandy Block: All right. The other thing you mentioned that I think is really important is making sure that your battery is juiced. Why do you need to double check your battery as it gets colder?
David Muhlbaum: Well, one of the things that we've learned over the years is that cold weather isn't actually what damages your battery, it's hot weather that damages your battery, but it's in cold weather that you need every last amp that you can squeeze out of your battery. And so it's in cold weather, that you go, "Oh God, dead battery." So when your battery is going to fail is not necessarily, like I said, a consequence of cold weather coming. It's just that this is a good time to check to make sure it isn't going to fail. Most of the car parts stores will check your battery for you. There are also ways for a very cheap cost to have it checked. The point is do it ahead of time. And that way you can shop for your battery at your leisure and for a good price and not in the freezing cold while you're late to something. Just get ahead of that.
Sandy Block: Exactly. And sort of on that same topic, David, and this actually one is sort of close to home for me is your survival kit. On my last trip back, I must have had good karma or a guardian angel because I drove several hundred miles and I noticed that there was a strange sound. So I did what all good car people do. I turned up the radio and then I got home and hours later, my husband turned on the car and smoke came pouring out of the hood. And it turned out that, I think you've diagnosed it, it wasn't a fan belt, because the car didn't overheat, but one of the belts broke. And if that had happened a few hours earlier, I would have been on some very, I could have potentially been on a somewhat abandoned mountain road without even cell service, because that's even true for some of the places I drive. So, I don't have a survival kit and reading this, I realized I should. So what do I need for my survival kit in case this ever happens again?
David Muhlbaum: Okay. Well, the easiest part of a survival kit is to have a passenger, because then you have snacks. It's true. Sorry.
Sandy Block: I thought you were going to say to have someone to talk to.
David Muhlbaum: I can't start out with a cannibalism joke?
Sandy Block: Well, it is pretty remote out there.
David Muhlbaum: You're looking very tasty. Yeah. Okay. No, but realistically, what my guidance for survival kit is that survival kits are, again, this gets into regionalism, it can vary. Like if you drive in downstate Connecticut, it's different or for pete's sake, Florida, it's very different from South Dakota or well, Western Maryland for that point. However, I think there's a sort of basic survival kit. And I encourage people to look at the link because I detail what's in it. And if you're really, really nice to me, I might even make you one. But basically my point with a survival kit is I tell people and, well, I tell people to whom I give this to keep it up front in the car. Don't put it in the trunk. This is a real worst case survival kind of kit sort of thing.
Sandy Block: Oh, interesting.
David Muhlbaum: And you want it in the console or the glove box or something that you could reach if you were upside down in a snowbank and getting out was not possible. And it doesn't contain a whole lot. It contains one of those silverized emergency blankets like you get at the end of a running race.
Sandy Block: I got a bunch of those for running races. I've got a pile of them.
David Muhlbaum: Yeah. Right. It's all stored in a metal coffee can like, the sort of traditional coffee can like from Chock full o'Nuts in the old days, or the Italian brands. And the reason it's stored in that metal coffee can is because of the other things that it contains is a bag, a plastic bag, which is to gather snow, a candle, a plumber's candle, a lighter, and then what you could do, because other than warmth, which is what the blanket is for, the next need you have is water. So the idea is you could get some ice or snow or and put it into the can, heat it with the candle, which you lit with the lighter, and have water. And you could go on from there, put an energy bar in there, put in a long classic novel you never got around to.
David Muhlbaum: Another thing I put in there, and this gets back to passengers and whatnot. I have a single edge razor blade, not to help eat my passengers, but I remember when I was a kid reading this story in like, Reader's Digest about some kids in a school bus who got caught out in the cold and the driver popped out his utility knife and cut up the upholstery to make blankets for them.
Sandy Block: Oh, my goodness.
David Muhlbaum: That just stuck with me. A single-edge razor blade costs nothing and weighs nothing. Put it in there. You never know.
Sandy Block: And you also mentioned here some snacks, a small flashlight, a backup power source for your phone. I should definitely get that, given that I do drive through some dead areas. So these are all great tips. And as said, we will put these in the show notes. It's definitely good advice. I am learning a lot. Any parting thoughts in terms of what people should be doing as winter is coming so that they and their passengers are safe?
David Muhlbaum: Very basic one, find the darn scraper.
Sandy Block: Oh yes, yes. Scraper. It's never there when you need it.
David Muhlbaum: Old-timers will know you could use the cassette case, but who listens to cassettes anymore? Thank you, Sandy.
David Muhlbaum: And that will just about do it for this episode of Your Money's Worth. I hope you enjoyed it. And I hope you'll sign up for more, if you haven't already, wherever you get your podcasts. When you do, if you or if you already have, please give us a rating. We've mentioned some links in our show. To see them and for more great Kiplinger content on the topics we discussed on today's show, visit kiplinger.com/podcast. There are transcripts there as well. And if you're still listening because you want to give us a piece of your mind, you can stay connected with us on Twitter, Facebook, or by emailing us at podcast@kiplinger.com. Thanks for listening.
Subscribe FREE wherever you listen:

Senior Editor, Kiplinger's Personal Finance
Block joined Kiplinger in June 2012 from USA Today, where she was a reporter and personal finance columnist for more than 15 years. Prior to that, she worked for the Akron Beacon-Journal and Dow Jones Newswires. In 1993, she was a Knight-Bagehot fellow in economics and business journalism at the Columbia University Graduate School of Journalism. She has a BA in communications from Bethany College in Bethany, W.Va.