12 Things You Must Know About Grocery Shopping at Publix
If you're going grocery shopping in Florida, you're probably headed to Publix.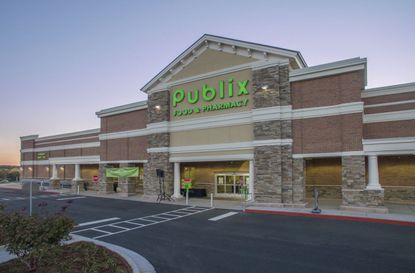 (Image credit: iStockphoto)
If you're going grocery shopping in Florida, you're probably headed to Publix. With more than 750 locations, the regional chain isn't just ubiquitous across the Sunshine State, it is popular, too. The grocer ranks #2 (and has done so for four straight years) in research firm Market Force Information's annual "loyalty index" that measures shopper satisfaction; in 2016, only Wegmans, which doesn't operate any stores in Florida, ranked higher.
Based in Lakeland, Fla., Publix is the largest employee-owned grocery chain in the U.S.-- it has more than 350 locations outside Florida, for a total of 1,100 -- and it is one of Fortune's 100 Best Companies to Work For. If you're not from the Southeast and have ever wondered what all the Publix fuss is about, you may soon get a chance to see for yourself. The chain is slowly migrating up the East Coast. Find out what Floridians have known for ages. Here are 12 things you need to know about shopping at Publix.
1/12
1. You Can Save Big With Coupons
If you're a coupon clipper, you'll get more mileage at your local Publix. "Publix has a very generous coupon policy compared with so many other grocery retailers across the country," says Josh Elledge, chief executive of SavingsAngel.com, a money-savings website.
Manufacturer's coupons, internet coupons and coupons from nearby competitors are good at Publix. (Look for a list of acceptable competitors at your local store.) Publix also allows you to "stack" your coupons, using more than one coupon per item, including a competitor's coupon.
"The best deals almost always involve stacking multiple discounts," says Elledge. "If you can stack a BOGO [buy one, get one] sale, a manufacturer's coupon and a store coupon, you just might walk out of Publix with your groceries at 80% off or better."
Filling a prescription? The Publix pharmacy also accepts prescription coupons from all local retail pharmacies.
2/12
2. It May Not Be the Cheapest Grocery Store In Town
Hold on to all of those coupons -- you might need them.
We compared prices for a basket of store-brand grocery items -- including a jar of peanut butter, a jar of pasta sauce, a box of spaghetti, a can of tuna, a half-gallon of milk, a cup of plain yogurt, one dozen grade A eggs and a bag of frozen corn -- at a Publix, Trader Joe's and Walmart in the Jacksonville, Fla., area. Total cost: $12.30 at Publix, $11.62 at Trader Joe's and $9.24 at Walmart.
A similar exercise conducted by Charlotte Observer reporters as Publix expanded in North Carolina in 2014 revealed Publix to be about 2% cheaper than Harris Teeter but 20% more expensive than Walmart.
3/12
3. Publix Makes It Easy to Locate Items
There's no need to wander the aisles at every location in town if you're looking for, say, a specific type of cake mix for Junior's birthday party. Publix, as do some other grocers such as Wegmans, makes it easy to see if your preferred location stocks a specific item before you leave the house. Check the online product catalog at Publix.com, which lists products that are carried by each store.
Already at your local Publix? Use the store's app to identify the aisle in which any item you seek is located.
4/12
4. You Can Return Anything
Yes, even if it has already been brought home and opened. Food, too. That's the Publix guarantee: "If for any reason a customer is not satisfied with their purchase, he/she can return the item and we will cheerfully refund them the entire purchase price," says Maria Brous, director of media and community relations for Publix.
5/12
5. The Shelf Tags Are Written In Code
At Publix, those little tags under each item are meant to do much more than simply relay the price of each item. Using a variety of icons – look for the colored circles – the labels will tell you such things as if the item is organic or made with organic ingredients; if the product is made without artificial preservatives, flavors or colors; if the item is eligible for Women, Infants and Children (WIC) funds; and if the item is eligible for flexible spending account (FSA) funds.
6/12
6. The Deli Will Make You a Sandwich Your Way
If there's one thing that makes Publix so beloved among its devotees, it's the made-to-order deli sandwiches. The menu of "Pub subs" includes typical cold-cut options, as well as subs featuring the store's popular chicken tenders.
But the staff will make a sandwich out of anything in the deli area, including the vast array of prepared salads or cold cuts not listed on the menu. This sandwich-lover's secret isn't advertised in stores or online, but Publix's Brous says: "Publix is all about customer service. And, yes, our deli associates are known to go that extra mile to make our customers happy." So go forth and design the sub of your dreams.
7/12
7. New Parents and Pet Owners Can Enjoy Extra Savings
Whether you're a new parent or a pet parent, there's a savings club for you. Join the free Publix Baby Club to score coupons on baby products (until a child turns two), as well as a free copy of the book "Caring for Your Baby and Young Child" for first timers.
If your child is of the furry variety, there's also the Publix Paws club. Members receive monthly coupons for pet food, toys, treats and more. You'll also get a heads-up on sales of pet products.
8/12
8. There's No Savings Club
Unlike other grocers, Publix does not offer a loyalty card that triggers extra savings at checkout on select items. "We do not have a loyalty program, as we believe every customer should be entitled to the same shopping experience," says Brous. "[Publix is] all about saving our customers money with our programs, including our weekly BOGOs… and competitive pricing."
9/12
9. You Can Get Free Prescription Medications
Save a trip to the drugstore, not to mention a few bucks, by picking up certain commonly prescribed medications at no charge at Publix. Shoppers with prescriptions can stop by the pharmacy for free 14-day supplies of several oral antibiotics including amoxicillin, ampicillin and penicillin VK. As well, 90-day supplies of such drugs as lisinopril (an ACE inhibitor for high blood pressure and certain heart conditions), metformin (for diabetes) and amlodipine (a calcium-channel blocker for high blood pressure and angina) are available for free. Publix says it filled more than 50 million free prescriptions for customers over eight years.
10/12
10. You Can Shop With a Dietitian
If shopping for healthy foods feels overwhelming, Publix dietitians are there to help. Currently, four stores in the Tampa Bay, Fla., area have licensed, registered dietitian nutritionists in-house who will meet with customers to offer personal shopping assistance, grocery store tours, nutrition counseling, meal planning, food journal reviews and more. Some services are free; others require a small fee. There are also a number of multi-week packages the dietitians offer for a fee such as customized weight loss help, and heart health or diabetes guidance. For those not in the area, Publix also has three corporate dietitians who will provide feedback by email for customers' nutrition-related questions.
11/12
11. Employees Are Really Friendly
Publix calls itself the place "where shopping is a pleasure," and in our experience the customer service backs that up. For instance, if you can't find something in the store, employees won't just tell you an aisle number, but will take you exactly to where you can find what you're looking for. Cashiers will wait at the end of an open checkout lane to guide you to the shortest line. And, baggers will always ask if you need help out to your car – even if you just have one bag. Tipping is neither expected nor accepted.
It seems unsurprising that employees are so friendly when a company is so employee-friendly. In addition to the aforementioned distinction of being one of Fortune's best companies to work for, Forbes named Publix one of America's best employers and Indeed.com, a job-search website, ranked the company No. 3 for job security.
12/12
12. You Can Buy Liquor Next Door
Why make separate trips for food and adult beverages when you can make just one? And we don't just mean the aisle or two of beer and wine at your average grocery store. Publix has stepped up its game with more than 200 locations of Publix Liquors, offering spirits, beer, wine, mixers and such all in one place. At these stores, which are usually located next to or near a Publix supermarket, customers can receive a 10% bulk discount on purchases of at least eight bottles. Public Liquors also have their own weekly savings circulars with discounts and coupons.

Contributing Writer, Kiplinger.com
Before joining the Kiplinger team as Online Community Editor in 2013, Rebecca was associate travel editor at the Huffington Post, where she also handled the travel section's social media. She landed at AOL/HuffPost after earning an MS in journalism at Northwestern University's Medill School, with a concentration in health and science journalism. Prior to that, she covered lifestyle at Jacksonville Magazine, in Jacksonville, Fla., preceded by a stint at American Cheerleader magazine. She holds a BA from the College of William and Mary.