Travel Is Cheap: Where to Go, What to Expect
Kiplinger's staff writer Emma Patch joins the Your Money's Worth podcast to talk about travel deals, cancellation policies, new sanitation protocols on the road, and more. Also, our hosts Sandy Block and Ryan Ermey break down the Kiplinger Dividend 15 and dish on get-rich-quick schemes.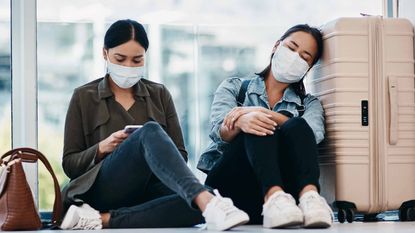 (Image credit: Getty Images)
Ryan Ermey: Travel is cheap right now. But what's it actually going to look like in the coming months? Kiplinger staff writer Emma Patch joins the show to talk trains, planes, RVs and more in our main segment. On today's show, I break down changes to the list of our favorite dividend stocks. And a new edition of Deal or no Deal covers credit cards and "get rich quick" YouTube ads. That's all ahead on this episode of Your Money's Worth. Stick around.
Ryan Ermey: Welcome to Your Money's Worth. I'm Kiplinger's associate editor Ryan Ermey, joined as always by senior editor Sandy Block. And, Sandy, when was the last time that you had McDonald's?
Sandy Block: Not that long ago actually, because I've been on the road a lot this summer for family reasons. And if I need some coffee... although, I did bail out of the drive-thru line one time. All I wanted was a cup of coffee and it took so long. I decided it's just not worth it. And I left, which tells you something about the kind of business that McDonald's is doing these days.
Subscribe to Kiplinger's Personal Finance
Be a smarter, better informed investor.
Save up to 74%
Sign up for Kiplinger's Free E-Newsletters
Profit and prosper with the best of expert advice on investing, taxes, retirement, personal finance and more - straight to your e-mail.
Profit and prosper with the best of expert advice - straight to your e-mail.
Ryan Ermey: Well, certainly a lot of drive-thru, curbside pickup. We'll get to that in a second. I will say that road trips, airports, none of those calories actually count. You can eat whatever you want when you're in transit. I did a little bit of a weekend trip. And I think we got Popeye's on the way down and Wendy's on the way back.
Sandy Block: Ooh, Popeye's. All right. All right.
Ryan Ermey: It was a successful trip. And I bring up McDonald's, because it's the newest addition to the Kiplinger Dividend 15. So a quick overview of what that is: It's a list of our favorite dividend paying stocks that we separate into three baskets. And before I get into the three baskets, I should mention it's a list that I maintain, Sandy.
Sandy Block: Okay, it's your list.
Ryan Ermey: And update every quarter. Now I inherited this list, so don't come after me if you don't like all of these. But the three baskets that we separate them into -- one of them is dividend stalwarts -- these are companies that have raised dividends for at least 20 consecutive years. Those include 3M (MMM), Air Products & Chemicals (APD), Emerson Electric (EMR), Johnson & Johnson (JNJ), Proctor & Gamble (PG) and Walmart (WMT) -- so a lot of household names there. The next is dividend growth. These are companies that we expect to continue a history of robust dividend increases. These include Abbvie (ABBV), Home Depot (HD), Lockheed Martin (LMT), Texas Instruments (TXN). And then we have some high yielders. These have a five-year average yield of 5% or more. These include Blackstone Group (BX), Enterprise Products Partners (EPD), Realty Income (O) and Verizon Communications (VZ). So if you are keeping count there, Sandy, that was actually only 14.
Sandy Block: Uh oh. Uh oh.
Ryan Ermey: Because-
Sandy Block: We're back to the big 10 here.
Ryan Ermey: I review the list on a quarterly basis and I occasionally make a change. And in this case, I jettisoned Exxon Mobil -- which was somewhat of a controversial choice if my reader mail is to be believed.
Sandy Block: It sure was.
Ryan Ermey: So I have a couple reasons for this. And we'll get back to McDonald's in a second, because that's the company that I've chosen to replace Exxon. But low oil prices have wreaked havoc on Exxon's finances. And we remember they even went negative earlier this year. But in general, Wall Street expects Exxon to lose about $1.24 a share this year. And we don't know if oil prices are going to bounce back, but the longer that the pandemic persists, the longer demand for oil is likely to stay low and the longer things will look bad for energy firms. Some analysts say that Exxon's break even point is around $60 a barrel. And at last check, things were still hovering around $40.
Sandy Block: Whoa, okay.
Ryan Ermey: So not great.
Sandy Block: Not good.
Ryan Ermey: So Exxon's losing money in this regard. But they're committed to their dividend, and this is where the controversy comes in. The CEO has actually come out and said that about 70% of Exxon shareholders are invested for the dividend. So if you hold Exxon for the yield, then it's a very juicy yield right now, Sandy -- 7.8%. I think that generally, you can put your head on the pillow at night knowing that they're not going to cut their dividend. They're really committed to maintaining it at all costs. But that's the question. Right? What are the costs?
Sandy Block: Right. What are they giving up?
Ryan Ermey: Exactly. And so really, and this sort of gets back to do I think Exxon's going to cut? No. And so you can still get that yield. But this is supposed to be our list of our favorite dividend stocks and two things are kind of troubling me on that front. One is this issue of profitability. It could potentially cripple the balance sheet. The company could -- in order to pay its dividend -- rather than battening down the hatches because what they're doing is raising... they're borrowing. They're raising debt and they're selling assets in order to meet that dividend payment. And if oil prices bounce back and this is just a short-term thing, then maybe I was too cautious. But if prices stay low for a long time, Exxon could be putting itself in a bad financial position for the long-term. And even if they keep raising the dividend, it'll probably be by a penny or two.
Ryan Ermey: And the other thing that's worth noting is that they might not raise this. Even if they don't cut, they might raise this year, which would disqualify them for our list anyway because it would break their streak. It's just worth noting that they usually historically have raised in the second quarter. They didn't do that this year, opting instead to sort of maintain things. So it makes me queasy, so I took it out. And replacing it, despite your wait at the checkout line, is McDonald's (MCD).
Sandy Block: I think my wait at the checkout line supports your decision, because it shows how many people are lining up to get food from McDonald's. They seem to be somewhat inoculated against the pandemic.
Ryan Ermey: In some sense, they are. And we think it's going to reemerge well as things continue opening up. So sales for one thing have been trending in the right direction. They were down 5.1% in May from May 2019, which isn't so bad, and certainly better than the 19% decline in April, so things are sort of trending in the right direction. They're getting back to normal. 95% of their locations as of June were open, also very good news. And much of their business is drive through, delivery, and curbside pickup.
Sandy Block: Right. Because you don't go to McDonald's for the dining experience. You go there to get your food and leave.
Ryan Ermey: So the company's balance sheet is really strong. And it's part of a larger theme of stocks that have gone to a franchise model, so they don't own all of their land. They don't own all of their stores that they have to maintain. That's on the franchise.
Sandy Block: Which is really expensive to get that franchise, believe me. They make a lot of money.
Ryan Ermey: Right. So they have a really strong and resilient balance sheet. And because their food is affordable, they've historically done a really good job of maintaining demand during recessions. Right? Even when money's tight, you can still afford to take the family out, take the kids out for happy meals.
Sandy Block: Coffee is like a $1 there, yeah.
Ryan Ermey: Right. So right now, the shares yield 2.6%, which is pretty reasonable, -- especially when you look at the sub 1% yield on say 10 year treasuries. And the dividend has grown pretty quickly, about 8% per year over the last five years. So go online, we have updates for the entire Kiplinger Dividend 15 on the website. I will put it in the show notes. And yeah, go check it out. We recommend a sort of mix and match approach, pick and choose. Maybe some kind of steady dividend growers, maybe some primed for faster growth to really give yourself a stream of income here, especially with other income producing investments offering such paltry yields. Coming up, get the lowdown on everything from airfare to hotels to cruises in our interview with Emma Patch.
Ryan Ermey: We are back and we are here with Kiplinger staff writer Emma Patch. It is her first appearance on the podcast, so Emma, thank you so much for coming on.
Emma Patch: Thank you so much for having me.
Ryan Ermey: So you have a story in the August issue of Kiplinger's all about sort of the new rules for traveling. So let's just start with the kind of general stuff. What kind of travel can we expect to see opening up first, and to what sorts of destinations?
Emma Patch: So certain kinds of travel will certainly emerge before others. Travel for leisure will come back before travel for business most likely. And business travel will precede group travel most likely. Warmer destinations where travelers can relax outside and feel safer against exposure to the coronavirus will be popular choices. And among those who do take trips in the near future, domestic trips to U.S. national parks will likely also be a popular choice. If you're looking to book an international trip for the holidays or for 2021, some destinations are more promising. South America is home to some of the world's strictest travel bans, but destinations such as Iceland have made an effort to welcome tourists significantly sooner, inviting them as early as June 15th or July 1st for travelers from the U.S. And they are providing COVID-19 tests, which are required in the first phase of reopening and free upon entry.
Sandy Block: So Emma, obviously if you want to go anywhere far, you have to get on a plane and that's been a big issue. So if you are game for that, are tickets cheaper now? And how have the strategies for booking air travel changed as a result of the coronavirus?
Emma Patch: So with demand for flying still very low, fares are at record lower prices, yes. Typically, you'd begin tracking your prices for holiday travel in July and book by September. But for now, there's no strict timeline to follow to book a flight, although you can use tools such as Google Flights or apps to track when fares to your destination drop. So then the idea would be to book when your price point comes up, instead of trying to pinpoint the best time to buy a ticket. And to make future bookings more palatable, airlines are offering unprecedented flight flexibility if travelers want to cancel or postpone a trip. For example, tickets for flights on Delta Airlines for travel through September 30th can be re-booked until September 30th, 2022 with no change fees.
Ryan Ermey: So your story says that hotel rates are likely to be cheaper, as well. But how should you go about keeping yourself safe at hotels or vacation rentals. I know a lot of people like to do VRBO or Airbnb. And generally, how can folks expect the hospitality experience to be different?
Emma Patch: So many big hotels have announced new sanitation protocols to ensure the safe reopening of their locations. The Hilton Hotels have partnered with the Mayo Clinic to upgrade their sanitation practices, for example. And a number of other hotels, such as Choice, Best Westerns, Omni, just to name a few, have also done some more new cleaning programs. You're likely to find social distancing signs, seals identifying the room has been disinfected, plexiglass partitions between you and the hotel staff. And you should definitely be on the lookout for an emphasis on digital check-ins, as well as contactless delivery of food and other items. And as they open, vacation rentals, as well as hotels, may offer fewer amenities, access to fitness centers, steam rooms, saunas, things along those lines, may certainly be limited.
Sandy Block: Well, that kind of makes sense. Emma, back before the coronavirus I always loved taking the train. I would take the train to New York or wherever. But I believe Amtrak shut down a lot of service. Is it back? And are Amtrak trains running at full capacity?
Emma Patch: So trains are back. As stay-at-home orders began to lift back in May, Amtrak announced a limited schedule of trips. And now those trips have increased generally, but they're still operating on somewhat reduced schedules. They're now also limiting bookings on reserved trains to allow for more physical distancing in seating areas. So if you're traveling alone, for instance, the seat next to you would be left empty for your belongings. But if you're with your family or a small group of friends, you can sit together. And then similar to airlines, Amtrak is also waiving change fees for the time being. But as of right now, that will only be through August 31st.
Ryan Ermey: Yeah. Sitting next to the empty seat on the Amtrak really is a dream, so I can finally relax on the Washington to Philadelphia corridor that I often take. So another aspect of travel that you touch on here is cruises, which is certainly a fraught space at the moment. But you note that people who like cruises are saying they'd be willing to go back on them. And at this point, there is unprecedented flexibility, you say. What does that mean?
Emma Patch: Yeah, so a number of cruise lines have introduced new flexible cancellation policies. One, Azamara Cruises, is allowing cancellations as late as 48 hours prior to sailing. And though that's just for cruises sailing through July 31st, it's that kind of flexibility that's unheard of for the cruise industry. It's a huge change from their normal policies. And many lines, you'll typically lose at least part of your money if you cancel a cruise within 90 days of departure. And generally, if you cancel within a few weeks of sailing, then you'll lose all of your money. And several other cruise lines are also offering flexible policies for bookings well into next year.
Sandy Block: Which kind of makes sense, because people might think, "I'd like to take a cruise, but I'm not sure I want to commit." And that seems to give you the option to do that. Now finally, Emma, one of the things you talk about, this makes me laugh because when I was a kid, this was the only way you went on vacation was a road trip because nobody could afford to fly in those days. But you're saying that the road trip is back. Why might an RV rental hold appeal for folks looking to travel safely and I guess cheaply? Although with gas being cheap as it is, I suppose so.
Emma Patch: Yeah. For sure. The all-American road trip is making a comeback. National parks are free to enter. And wide open spaces are really conducive to social distancing. So venturing into the outdoors promises relatively low cost, low risk travel option. And for many Americans, the best way to do that is with a recreational vehicle a.k.a. an RV. So interest in renting a RV has definitely spiked. It allows you to prepare your meals and sleep in a safe place. But it is worth considering that even with cheap gas, it might cost more than $300 to fill an RV's 150-gallon tank. But renting a RV may be more cost effective than driving and paying for lodging if you would otherwise stay at hotels going for more than $130 to $150 a night.
Sandy Block: Plus, you've got to drive that thing and park it.
Emma Patch: That's for sure.
Ryan Ermey: Right. And you have to have your kids sitting next to each other in the backseat. Well, listen, Emma, thank you again so much for coming on. Make sure if you're listening, to check out her story on newsstands. We will be putting it in the show notes, as well. And come back soon, Emma, we really enjoyed having you on.
Emma Patch: Thank you so much for having me.
Ryan Ermey: Can you really earn $8,400 a month sitting at home? We think not, well, not with the company advertising to me on YouTube anyway. Deal or No Deal is next.
Ryan Ermey: We are back. And before we go, Sandy and I wanted to play one of our favorite games, Deal or No Deal. And Sandy, what do you have for us?
Sandy Block: Our guest today, Emma Patch, talked about people traveling again. But we know that a lot of people are staying home. And that raises an issue for people who have travel rewards cards that charge an annual fee. When you're traveling a lot, and you're getting access to the airport lounge and credit, so you get upgrades at your hotel, these fees may be well worth it. But if you're not going anywhere, are these credit cards a deal? Well, the answer is often they still are because these credit card companies are pretty smart. And they have been shifting some of their rewards to things that people are actually buying or using, specifically groceries, takeout and Hamilton, if you want to subscribe to Disney+.
Ryan Ermey: If you want to get Disney+.
Sandy Block: And we've got in our September issue, we've got a story with a ton of examples. And I'm not going to give them all, but I'll just reel off a couple. Chase Sapphire Reserve will allow grocery store and gas station purchases to qualify for the $300 annual travel credit. That's through December 31st. Existing Citi Premier cardholders will earn three points for every $1 spent, which is triple the usual rewards, for spending at supermarkets and restaurants. And then I mentioned Hamilton. Through September 30th, Capital One Savor cardholders will see 4% cash back on select streaming services, including Netflix, Disney+ and Hulu.
Sandy Block: So if you have a travel rewards card, give it a look. Go through the terms and find out if you can actually use those rewards on things that you actually are using if you're not going anywhere. And the final takeaway I want to add is, and this is from CreditCards.com, is if you really don't think you're getting value for your annual fee, call up your credit card company. Credit card companies want to keep your business. And they have a pretty good record of waiving or reducing fees for people what say, "You know what, I'm just not going anywhere. I'm not happy with this." You very well might get a break. So don't feel like just because you're paying an annual fee on a travel rewards card and you aren't going anywhere, that you're wasting your money. You do have options, and that would be a deal.
Ryan Ermey: Absolutely a deal. And also, if you're a longtime listener, you may remember that Lisa Gerstner, a few weeks ago talked about the best rewards cards and touched on some of these themes. So if you're in the market for a credit card, and you haven't listened to the episode, be sure to go back and check that out. And Sandy, did you watch Hamilton on Disney+ when it came out?
Sandy Block: No. I have not had, have honestly not had two hours to sit down and watch it. But I have been, I'm such a sheep, Ryan, I've been listening to the soundtrack while I'm working. And I really am kind of hooked, I have to say.
Ryan Ermey: We listened to it... listened to it, we watched it July 3rd when it came out.
Sandy Block: It's so good.
Ryan Ermey: I had saved listening to any of it until I watched it. A lot of people listened to it, but the tickets were a gazillion dollars.
Sandy Block: Right. Right. Right. Yeah.
Ryan Ermey: But I had saved it. I wanted the whole experience at once. And all these people offering contrarian Hamilton things on Twitter, get out of here.
Sandy Block: It's so good.
Ryan Ermey: It is unbelievable.
Sandy Block: It's so good.
Ryan Ermey: It's an unbelievable achievement. I can't believe it. It's an American treasure. I mean, there's a reason that they won the MacArthur Genius Grant.
Sandy Block: Yes. That's what I kept thinking. This is so smart.
Ryan Ermey: Presidential medal of freedom, all this stuff. So I mean, it was really amazing. And all I could think of was how incredible it would've been while I was taking U.S. history if someone could've shown this to the class. I mean, it would've been unbelievable.
Sandy Block: This is, and not to be too pro-Hamilton or too Disney+, but it is a deal because you can subscribe to Disney+ for seven bucks for one month, watch Hamilton and then unsubscribe. So you're getting Hamilton for $7.
Ryan Ermey: They did take off the free trial. You see that?
Sandy Block: Oh, no.
Ryan Ermey: They rescinded the free trial.
Sandy Block: But you can sign up, but $7. Come on. You sign up for a month.
Ryan Ermey: Give me a break.
Sandy Block: You watch Hamilton, and then you unsubscribe. And you've seen Hamilton for $7 versus $500 if you're lucky. So anyway, enough Hamilton talk. What's your Deal or No Deal.
Ryan Ermey: Hamil-talk.
Sandy Block: Hamil-talk. What's your deal?
Ryan Ermey: It is a no deal. And it falls into the category of things that Ryan has been advertised and is suspicious of, which I believe was our first Deal or No Deal, I'd been seeing commercials.
Sandy Block: Earnin.
Ryan Ermey: That's right for Earnin. And so I've been doing a lot of late night YouTube-ing lately. And you combine that with the fact that I use my computer to research and write investing stories. And I've been getting served up a lot of advertising for day trading systems and various online get rich quick kind of things. The one I've been getting a lot recently I think is particularly disturbing and I wanted to talk about it on the podcast. So the little logo in the corner of the ad says, "JBW Online Income."
Ryan Ermey: Now when I searched this, practically nothing of use comes up except some consumer complaints, but seemingly for a different kind of company that was supposed to be mailing them things. Anyway, the video tells you that you can earn thousands a month online. And I assumed, every time I just kind of, the five seconds was up and I clicked away from it, that it was another kind of options trading system or something like that. But I watched several minutes of this ad and I couldn't tell you what is actually supposed to be the money-making thing. All it was is videos of people, apparently testimonials, receiving FedEx envelopes, opening them up and then not pulling it out, but then separately showing either fanning out $100 bills and telling you how amazing and easy it is, or showing checks for kind of mid-four digit amounts.
Ryan Ermey: But already, the really sketchy thing is that none of the checks looked the same. Some of them are handwritten and some of them are typed on a typewriter and some of them look digital. None of them look the same. But what really concerned me is that it was a lot of elderly people in the testimonials saying, "I couldn't even make a newfangled video like this, but I just felt it so important to tell people." It was sort of like going out of their way to tell you what the deal is. And it never tells you what it is, it's just that it's basically a passive income stream they tell you. So I clicked on the thing, on the link, to get rich right now.
Sandy Block: And you didn't.
Ryan Ermey: So the page says, "Want the automated online system that is paying non-techy people $8,440 plus a week, even during a recession?"
Sandy Block: Oh my God.
Ryan Ermey: Sign up for free training. Enter your details for instant access to the info. So it asks for your name, your phone number, and your e-mail address. So obviously, the first thing I did was click the disclaimer, which says, "Any earnings, or income statements, or earnings or income examples, are only estimates of what we think you could earn. There's no assurance you'll do as well. If you rely upon figures, you must accept the risk of not doing as well. Where specific income figures are used and attributed to an individual or a business, those persons or businesses have earned that amount. There is no assurance you'll do as well. If you rely on our figures, you must accept the risk of not doing well."
Ryan Ermey: I mean, not doing well, not doing well, not doing well. Look, you're not going to make any money. They're telling you. And if you drill down into what these businesses do, basically, they're going to sell you on some kind of courses first that are-
Sandy Block: Right. I figured it had to be some classes you have to sign up for and pay for.
Ryan Ermey: Right. And those are going to cost you money. And then they're also going to take all of the information that you're giving them-
Sandy Block: And sell it.
Ryan Ermey: And sell it to other scammers, who are going to pitch you on all sorts of things. But the thing is, I looked at this and to me, it's an obvious scam. Also, I'm still working. I'm not facing eviction, which is another huge issue that we should probably see if we can get someone on here to talk about. And I'm hot hard up. But some people, and especially elderly people, you might have elderly people in your family who aren't very literate on the internet and may not be as adept at spotting this kind of scam. So the FTC has a list of work-from-home scams that we will put in the show notes. And like I said, these people... if something seems too good to be true -- it's the classic advice -- if something seems ... if someone tells you that you can make $8,000 a week by not actually doing anything, I mean, use your head. But especially if you have someone in your family who you think is vulnerable, make sure that you know what these scams look like, so you can head them off at the pass because it can be really damaging for people.
Sandy Block: Sure, it can.
Ryan Ermey: So we'll put it up in the notes. Make sure you take a look, prepare yourself. And if you come across of elderly people fanning out $100 bills, chances are it's not the real McCoy.
Sandy Block: It's not real, not real.
Ryan Ermey: That'll do it for this episode of Your Money's Worth. For show notes and more great Kiplinger content on the topics we discussed on today's show, visit Kiplinger.com/podcast. You can stay connected with us on Twitter, Facebook or by e-mailing us at podcast@kiplinger.com. And if you like the show, please remember to rate, review and subscribe to Your Money's Worth wherever you get your podcasts. Thanks for listening.
Links and resources mentioned in this episode:
Senior Editor, Kiplinger's Personal Finance
Block joined Kiplinger in June 2012 from USA Today, where she was a reporter and personal finance columnist for more than 15 years. Prior to that, she worked for the Akron Beacon-Journal and Dow Jones Newswires. In 1993, she was a Knight-Bagehot fellow in economics and business journalism at the Columbia University Graduate School of Journalism. She has a BA in communications from Bethany College in Bethany, W.Va.