Know Why Your Credit Score Changes: 9 Money Moves to Consider
Your credit score is a key indicator of your financial well-being and of the risk you pose to lenders. How good is yours?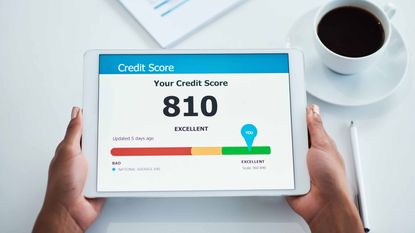 (Image credit: Getty Images)
Your credit score is a key indicator of your financial well-being and of the risk you pose to lenders. The score that lenders most commonly check, known as a FICO score, typically ranges from 300 to 850. Generally, a score of about 700 or higher means you're managing your credit well. A score of 760 or higher is often what you need to get the lowest interest rates on loans.
Along with making moves to keep your credit score high, you'll want to avoid actions that could set it back. You're probably aware that paying bills late can wreak havoc on your score. But do you know what else can drag down your score -- and what has no effect?
1/9
Opening Multiple New Lines of Credit at Once
Imagine you're on a shopping spree and decide to open credit-card accounts at several of your favorite stores to snag discounts of 10% or 15% off. You're saving a bundle -- but you may be chipping away at your credit score.
For one thing, multiple inquiries from lenders for your credit reports in a short period can trim your score, especially if you don't have many credit accounts or you have a short credit history. Why? FICO says that people with six or more credit inquiries on their reports in a short period are eight times more likely to declare bankruptcy than those with no inquiries.
What could be more damaging to your score is how much you charge to your new cards. If your balances approach the cards' limits, you'll likely increase your credit-utilization ratio -- the amount of debt you have relative to your credit limits. The higher your ratio, the greater the negative impact on your score. If you don't charge a lot on the cards, you pay them off quickly and you keep balances low, your score could eventually benefit from the higher credit limits. But in general, you should take on credit sparingly.
2/9
Applying for a Mortgage Loan Through Multiple Lenders
Now imagine you're shopping for a mortgage, and several lenders make inquiries for your credit report within a month of each other. Will that put your score at risk -- just as applying for multiple credit cards at once can ding your score?
Nope. You have 30 days to shop for mortgages, student loans and auto loans with no effect on your FICO score. And all inquiries for one of those types of loans within 45 days of each other are counted as a single inquiry.
3/9
Marrying a Spouse With a Low Credit Score
Just because your wife's or husband's credit score may be 200 points lower than yours, it won't directly impact your score and vice-versa.
However, if you take on a loan or open credit cards together, or if you put your name on any of your spouse's accounts, you're both responsible for the debt. As long as you make payments for any joint accounts on time and don't load up with too much debt, your own credit score should stay high.
4/9
Closing an Old Credit Card Account
The average age of your accounts is included in your credit score. Maintaining positive, longstanding relationships with lenders will help your score. But what happens to your credit score when you eventually close one of those accounts?
Even after you close an account in good standing, it continues to be included in the calculation of the average age of all your accounts for about ten more years. Your score could drop, however, if closing the account hurts your credit-utilization ratio.
5/9
Closing Multiple Credit Card Accounts at the Same Time
In an effort to declutter your finances, you might be inclined to close several zero-balance credit-card accounts. Lightening your wallet feels good now, and it could really pay off if you're easily tempted to overspend or if the card issuer imposes an annual fee. But before you close all those accounts, consider once again your credit-utilization ratio.
Say that each of the three cards you closed had a limit of $10,000, that you have three remaining cards with limits of $5,000 each, and that you have $7,500 in debt on the remaining cards. By eliminating the three cards with $10,000 limits -- for a reduction of $30,000 in your total credit-card limits -- you slash your overall limit from $45,000 to $15,000. And your credit-utilization ratio for all accounts jumps from a desirable 17% to a problematic 50%. In that case, you'd be better off keeping the accounts open and leaving the balances at zero.
6/9
Paying Off Overdue Bills
You failed to pay your credit card, utility or cell phone bill for several months and the account went to collection, causing a heavy hit to your credit score. Paying off the balance should get debt collectors off your back, but will it improve your credit score?
There's good news and bad news. Newer versions of the FICO score ignore a collection account if it has a zero balance -- so paying up could help your score. What's more, with recent score models, unpaid collection accounts related to medical debt have less of a negative impact. But some lenders are still using older scoring models that make no such distinctions.
7/9
Carrying a Large Balance on a Store Credit Card
Some retailers will try to get shoppers to sign up for store credit cards by offering a number of incentives including delaying payments until months later. However, charging thousands of dollars worth of appliances to a store card that doesn't require an initial payment for, say, six months can make your credit score tick lower. That is even more likely to happen if the balance is near the card's limit, says credit expert and author John Ulzheimer (opens in new tab). That's because your credit-utilization ratio is calculated for balances on individual cards as well as overall. And the longer the debt sits, the heavier the impact on your score.
In addition, store cards tend to charge steep interest rates that may be retroactive to the day accounts are opened. So if you don't pay the balance before the interest-free period is over, you will rack up big charges.
8/9
Getting Laid Off From Your Job
Your income and employment status have no direct effect on your FICO score, although new lenders will consider them when deciding whether to extend credit to you.
Of course, unexpectedly being let go from your job can be traumatizing and could lead to financial trouble if you aren't careful. If you start to make late payments because money is tight, that could damage your score.
9/9
Cutting the Limit on Your Home-Equity Line of Credit
The scenario: The limit on your home-equity line of credit (HELOC) has been reduced, perhaps because your home's value has fallen or you've encountered financial difficulties, leading your lender to believe that you may not be able to keep up with payments. That causes the amount of debt you have compared with the limit to shoot up. Could that spell bad news for your credit score?
Like credit cards, HELOCs are considered revolving debt -- you can continuously borrow money and pay it off up to a specified limit. But the FICO calculation categorizes home-equity lines of credit differently than credit cards. So even if a reduced HELOC limit results in a higher ratio of debt, your credit score will not be affected, says Ulzheimer.
Contributing Editor, Kiplinger's Personal Finance
Lisa has spent more than15 years with Kiplinger's Personal Finance and heads up the magazine's annual rankings of the best banks, best rewards credit cards, and financial-services firms with the best customer service. She reports on a variety of other topics, too, from retirement to health care to money concerns for millennials. She has shared her expertise as a guest on the Today Show, CNN, Fox, NPR, Cheddar and many other media outlets around the nation. Lisa graduated from Ball State University and received the school's "Graduate of the Last Decade" award in 2014. A military spouse, she has moved around the U.S. and currently lives in the Philadelphia area with her husband and two sons.