Why You Should Check Your Credit Report
If you've ever had difficulty getting incorrect information removed from your credit report, you've got plenty of company.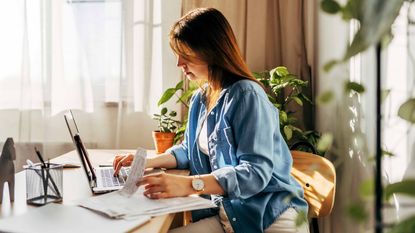 (Image credit: Getty Images )
A recent report from U.S. PIRG Education Fund, a consumer advocacy group, found that complaints filed with the Consumer Financial Protection Bureau about credit-report companies nearly doubled between 2021 and 2022. In fact, complaints about problems with credit bureaus totaled 69% of all consumer grievances in the CFPB's consumer complaint database, U.S. PIRG found.
The Consumer Data Industry Association, a trade group that represents the credit bureaus, attributes the rise in complaints to the rise in credit-repair companies that falsely claim they can remove negative but accurate information from credit reports.
However, in a report released earlier this year, the CFPB said that while consumers continue to report problems with errors on their credit reports, there was a significant increase in resolved complaints in 2022. That suggests many of those disputes were legitimate, says Mike Litt, consumer campaign director for U.S. PIRG.
Subscribe to Kiplinger's Personal Finance
Be a smarter, better informed investor.
Save up to 74%
Sign up for Kiplinger's Free E-Newsletters
Profit and prosper with the best of expert advice on investing, taxes, retirement, personal finance and more - straight to your e-mail.
Profit and prosper with the best of expert advice - straight to your e-mail.
Be Proactive
The consequences of negative information on your credit report can be far-reaching. You could end up paying higher interest for a mortgage or car loan. You could also have difficulty renting an apartment or, in some cases, getting a job.
Your best defense against inaccurate information on your credit reports is to be proactive. Reviewing your credit reports regularly will enable you to catch errors early. You can review your credit reports from the three major credit bureaus once a week for free by going to www.annualcreditreport.com after a pandemic-era program was made permanent. Make sure you go through this website; other websites that may show up in an online search use the promise of "free" credit reports to charge you for services or, worse, steal personal information.
If you find an error on one of your reports, file a dispute with the credit-reporting company. The CFPB provides instructions and a template letter you can use at www.consumerfinance.gov/ask-cfpb/how-do-i-dispute-an-error-on-my-credit-report-en-314. You can mail the letter or use the credit bureau's online form. Explain why you believe the information is incorrect and provide supporting documents if you have them.
Once a credit bureau receives your dispute, it's required to conduct an investigation and contact the lender. After the lender responds, the credit bureau is required to tell you the results of its investigation. If the lender corrects the error, that should resolve the dispute.
If you're unable to get a satisfactory response from a credit bureau, file a complaint with the CFPB at www.consumerfinance.gov/complaint. "We've seen people get relief when they complain to the CFPB when they're unable to get a resolution on their own," Litt says.
Note: This item first appeared in Kiplinger's Personal Finance Magazine, a monthly, trustworthy source of advice and guidance. Subscribe to help you make more money and keep more of the money you make here.
Related Content

Senior Editor, Kiplinger's Personal Finance
Block joined Kiplinger in June 2012 from USA Today, where she was a reporter and personal finance columnist for more than 15 years. Prior to that, she worked for the Akron Beacon-Journal and Dow Jones Newswires. In 1993, she was a Knight-Bagehot fellow in economics and business journalism at the Columbia University Graduate School of Journalism. She has a BA in communications from Bethany College in Bethany, W.Va.