4 Regional Bank Stocks Rooting for More Rate Hikes
Rate-sensitive regional bank stocks could be among the top beneficiaries of the Fed's hiking cycle, especially if the U.S. manages to avoid a yield inversion.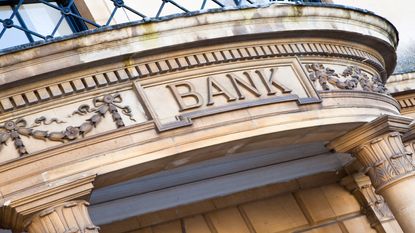 (Image credit: Getty Images)
The Federal Reserve recently announced a much-anticipated hike in interest rates – a 25-basis-point uptick that's expected to be just the first of several this year. The Fed's hawkishness is largely expected to be a boon for the financial sector, including a wide swath of America's regional bank stocks.
The Fed's March rate hike was its first since 2018. But it almost certainly won't be its last. The central bank signaled the possibility of six more hikes in 2022 to fight off inflation, in line with Kiplinger's interest-rate forecast.
Bank stocks can, of course, enjoy a windfall from higher interest rates. The bank compensates the depositor at one interest rate, and then lends that money out at a slightly higher interest rate. The difference, or net interest margin, is an important source of revenue. (The risk, of course, is that too-high rates snuff out loan demand.)
And while some are worried about the possibility of a yield-curve inversion (where longer-term rates fall below shorter-term rates), Morgan Stanley Research Analyst Betsy Graseck says a shallow inversion shouldn't noticeably weigh on the space.
"Banks generated positive loan growth in each of the 11 periods of (two-year/10-year) curve inversions since 1969," she says, adding that she expects loan growth to accelerate from -2% in 2021 to roughly 7% in 2022, even if the curve inverts in line with her views.
Today, we'll look at a group of companies that are more likely than other financial stocks to benefit from rising rates: Namely, regional bank stocks. Regional banks often are more rate-sensitive than their larger peers because they don't have other businesses, such as trading desks, that are less connected to interest rates.
Using the TipRanks database, we have shortlisted four regional bank stocks that are heavily favored by their covering analysts.
Data is as of March 21. TipRanks consensus price targets and ratings are based on analyst opinions issued over the past three months. Stocks listed in reverse order of 12-month price targets.
Contributing Writer, Kiplinger.com
Shrilekha Pethe has been extensively covering and writing about the U.S. financial markets since 2015. Prior to writing about the world of finance, Shrilekha worked as an equity research analyst for a bulge-bracket client in investment banking, Credit Suisse. Her sole objective is to help investors make better and informed decisions. Her core competency lies in analyzing stocks across different sectors, from technology to mining, and banking to oil and gas. She holds a postgraduate degree in finance from ICFAI Business School, Pune, and is currently on her way to becoming a Certified Financial Planner. Shrilekha has been writing for TipRanks since January 2021. You can contact Shrilekha on LinkedIn.