7 Defense Stocks to Buy as Geopolitical Risks Rise
The war in Ukraine is sparking accelerated spending across the defense industry. These top-rated stocks could capitalize on the growth.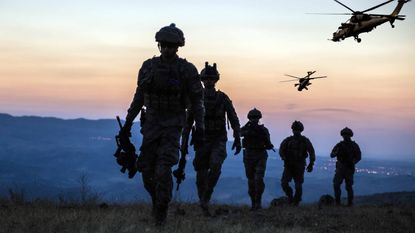 (Image credit: Getty Images)
Russia's invasion of Ukraine has, among other things, unsettled much of the stock market. However, one corner of the market has experienced a lift as a result, and stands to keep benefiting should this conflict continue or other geopolitical risks rise: defense stocks.
"Even before the Russia and Ukraine conflict became front-page news, there was a clear shift in military spending aimed at thwarting potential near-peer threats," says Stifel analyst Bert Subin.
Indeed, the fiscal 2022 omnibus spending bill signed into law by President Joe Biden in mid-March includes $728.5 billion for defense – a 4.7% increase over fiscal 2021 – as well as $13.1 billion for humanitarian, military and economic assistance to Ukraine. And Biden's fiscal 2023 budget earmarks another $813 billion for defense spending.
In addition to these catalysts, defense stocks might be even more compelling in the face of a possible economic slowdown as the Federal Reserve kicks off its first rate-hiking cycle in years. Unlike other areas of the market, the defense industry has a steady and reliable revenue source in the U.S. government.
With that in mind, here are seven of the best defense stocks poised to benefit from this spending build. This includes some familiar names as well as some under-the-radar picks – and each stock is well-liked by the analyst community, sporting consensus Buy or Strong Buy ratings.
Disclaimer
Data is as of March 29. Dividend yields are calculated by annualizing the most recent payout and dividing by the share price.