7 Impressive International Stocks Set to Fly
With the S&P 500 trading near record highs, U.S. stocks are looking pricey these days. This list of international stocks could provide a better value for buy-and-hold investors.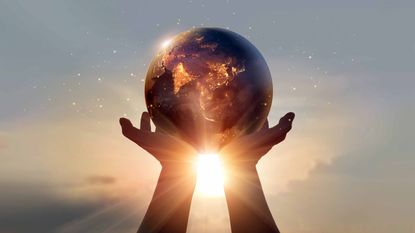 (Image credit: Getty Images)
U.S. markets are looking mighty expensive these days, but there are still plenty of investing opportunities available out there – especially in international stocks.
In July, the S&P 500 Index booked its sixth straight month of gains. The index that tracks the performance of 500 of the largest companies listed on U.S. stock exchanges is now up 18% year-to-date and trading in record-high territory. In contrast, the MSCI All Country World Index, excluding the U.S., is up 5.3% over the same period.
International stocks have lagged for a variety of reasons, including delta variant headwinds and reopening concerns, as well as a recent drubbing in Chinese stocks as the government tightened regulations on tech and private-tutoring companies.
However, this outperformance in the S&P 500 now has BofA's sell-side indicator pointing to a lot of optimism in U.S. stocks – so much, in fact, that it's nearing a market "sell" signal. The indicator is at the closest it has come to a "sell" signal since May 2007, during the financial crisis. "We have found Wall Street's bullishness on stocks to be a reliable contrarian indicator," says Savita Subramanian, equity and quant strategist at BofA Securities.
With U.S. markets potentially poised for a pullback, it seems like an attractive time to search for better values in international stocks.
We screened companies according to estimated earnings per share (EPS) growth over the next two years, low forward price-to-earning (P/E) ratios – indicating the shares may be undervalued – analyst ratings, and whether they are traded on a major U.S. stock exchange.
Here are seven international stocks that could be solid buy-and-hold investments. With the caveat that Chinese stocks have been volatile lately amid a rash of governmental regulation, we included two high-growth, high-quality stocks from China that nonetheless look attractive over the long run.
Data is as of Aug. 20. Forward P/E ratios, annual EPS estimates and analyst ratings courtesy of S&P Global Market Intelligence, unless otherwise noted.