14 Best Tech Stocks That Aren't on Your Radar
These are 14 of the best tech stocks (and tech-adjacent companies) that don't see as much sunlight as some of Wall Street's beloved story stocks.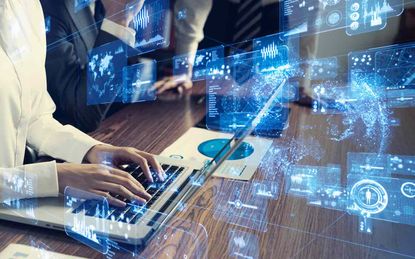 (Image credit: Getty Images)
Tech stocks have spent the past few years really separating themselves from the market pack. As technology has become more ingrained into every aspect of life – work, play and everything in between – the companies developing and providing those technologies have delivered explosive growth.
The Technology Select Sector SPDR Fund (XLK (opens in new tab)) has delivered a 139% total return (price performance plus dividends) over the past five years, well more than double the S&P 500's 57% return. The five largest companies trading on U.S. markets are either tech stocks or, as is the case with several of the companies we'll highlight below, technology-intensive companies in other sectors. Think Amazon.com (AMZN (opens in new tab)), a consumer discretionary company, or Facebook (FB (opens in new tab)), which is technically a communications stock.
Wall Street remains aggressively bullish on tech and tech-like stocks. According to data from TipRanks (opens in new tab), which tracks the industry's leading investment analysts, the pros are still very optimistic about the sector. Of the 573 tech stocks TipRanks includes in the sector, 129 (23%) had "Strong Buy" consensus ratings, with another 303 (51%) earning "Moderate Buy" ratings.
Some of the analyst community's top tech stocks are well-worn names such as Microsoft (MSFT (opens in new tab)) and Apple (AAPL (opens in new tab)). But many more tend to get second billing despite having equally exciting outlooks. Here, we'll look at 14 of the best tech stocks and other technology-adjacent companies that you might not hear as much about.
Data is as of May 28. Consensus rating is based on calls by TipRanks-tracked analysts over the past three months.
Contributing Writer, Kiplinger.com
Lisa currently serves as an equity research analyst for Singular Research covering small-cap healthcare, medical device and broadcast media stocks.