10 Stocks to Buy on Any Trade War Dip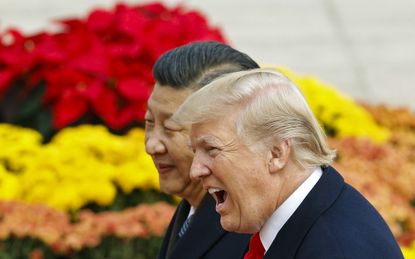 (Image credit: Getty Images)
How do you know in advance which stocks to watch for potential buyable declines sparked by fears about a China trade war?
For one, look for the ones that have a lot of sales in China. Several tech companies fit the bill. And given China's fascination with American brands, big U.S. consumer-products companies pop up on the short list, too. The second option is to go with companies in industries singled out by China as targets.
If you are of the belief that tariff bluster between China and America is mostly just that – bluster – then the following are 10 stocks to buy on any dips sparked by trade war headlines.
Even without the added plus of a favorable entry price, these companies look attractive as long-term plays on rapid growth in China because they do such a large portion of their business there. They also benefit from synchronized global growth, popular consumer trends and big-picture themes like greater use of cloud computing by businesses.
Data is as of April 5, 2018. Data on China sales exposure comes from FactSet and company filings. Click on ticker-symbol links in each slide for current share prices and more. Michael Brush is the editor of the stock newsletter Brush Up on Stocks (opens in new tab).
Contributing Writer, Kiplinger.com
Michael Brush is an investor and market commentator for MarketWatch who also publishes a stock newsletter called
Brush Up on Stocks
. Brush is a graduate of the Columbia Business School Knight-Bagehot Fellowship Program, and the Johns Hopkins School of Advanced International Studies in Italy. He has also covered business and investing for The New York Times, The Economist Group and MSN Money, and he has won several journalism awards. He is the author of Lessons From the Front Line, a book about investing published by John Wiley.