Ranking the Top Democratic Presidential Candidates for 2020
The 2020 Democratic presidential nominating contest has attracted unprecedented interest.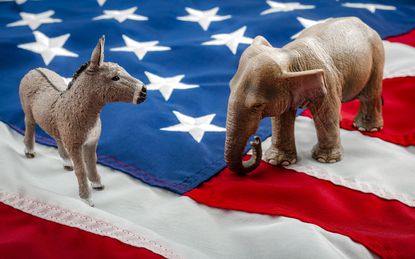 (Image credit: Getty Images)
The 2020 Democratic presidential nominating contest has attracted unprecedented interest. Although there are more than 30 politicians, executives and celebrities running or weighing a bid, former Vice President Joe Biden led the pack from day one, months before he officially threw his hat in the ring.
His delayed entry gave the long list of dark horses time to prove that they could be the next Barack Obama, ready to catch fire and run away with the nomination. But that didn't happen. Instead, a handful of candidates have had their turn in the spotlight, but none has become The One.
Now, with first official party debates coming up, the race begins in earnest as the leaders pull away from the massive herd.
1/8
#1 Joe Biden
The former vice president easily tops all early polls of Democratic voters. Skeptics say that's as much the result of having been in the public eye for nearly 45 years as voters' actual desire to see the 76-year-old former Delaware senator top the ticket next year. Biden has said: "I'm the most qualified person in the country to be president." Now that the Pennsylvania native is seeking the presidency for the third time, the clear front-runner has the chance to prove himself right.
Many Democrats, particularly Obama loyalists and party veterans, wanted Biden to challenge former Secretary of State Hillary Clinton in 2016. He has quickly assembled a top team of consultants and advisers and is locking in some of the party's biggest donors. Access to Obama's fundraising mailing list gives him another distinct advantage, as does his ability to tap the organization that their 2008 and 2012 campaigns built for vital ground-game work.
Two months into his campaign, he enjoys the support of twice as many primary voters as his closest rivals.
2/8
#2 Sen. Bernie Sanders
The Vermont lawmaker started his 2020 run with fresher donor and volunteer bases than Biden, as his network never really disbanded since his 2016 loss to Clinton. He remains popular with young voters and the liberal activists seeking to shift the Democratic Party to the left and inspired many of last cycle's first-time candidates to seek office.
One of Sanders' biggest strengths is that he has proven he can attract the type of voter that shunned Clinton and backed President Trump: white working-class men. Overall, 12% of Sanders' supporters defected to Trump on Election Day. They provided enough votes in key states that, had they voted Democratic or even just stayed home, Clinton would have won. However, Biden's ability to appeal to that demographic is considered one of his biggest assets. Where Sanders has a major leg up on Biden is small donors. Sanders has raked in an impressive $21 million already, most from supporters who chipped in $200 or less each. And Sanders, now 77, has a formidable base of grassroots activists ready to do battle for the self-proclaimed socialist.
3/8
#3 Sen. Elizabeth Warren
Warren, like Sanders, is a darling of the party's progressive wing. The 69-year-old's fierce criticism of Wall Street and big banks put her on the map and made her that industry's No. 1 enemy. Her role in creating the Consumer Financial Protection Bureau — it was the then-Harvard professor's brainchild — particularly irks the industry.
While cruising to reelection as Massachusetts' senior senator in 2018, she amassed a large campaign war chest that can be transferred to her presidential account. Her PAC was also one of the most active on behalf of other candidates. She weathered the controversy over her claims of Native American heritage that dogged her official entry into the race. Her steady introduction of detailed policy initiatives while many of her competitors are still spewing platitudes has catapulted her into the No. 3 spot nationally, after spending months limping along in single digits in the polls.
4/8
#4 South Bend, Ind. Mayor Pete Buttigieg
It's hard to say what's more improbable: that a 37-year-old is now a top contender for the nomination or that a mayor of what's not even a midsized city is. But that's where we are.
Buttigieg's entire political career has been improbable. Most 29-year-olds don't get elected mayor, especially not gay ones in Middle America. Buttigieg isn't running as "the LGBTQ candidate." And he's even gotten flak for not having a diverse enough base of supporters. But as many of the names on this list pander to the party's far left, Buttigieg has picked up steam for being a fresh face with a thoughtful, pragmatic agenda.
5/8
#5 Sen. Kamala Harris
California's Harris was liberal Democrats' darling before Alexandria Ocasio-Cortez burst onto the national scene last cycle. However, since the 29-year-old political novice won't be old enough to run for president in 2020, they'll have to settle for Harris, Warren or Sanders. Harris has taken heat recently for her tenure as California's attorney general, costing her much-needed support from the party's liberal wing.
Harris, 54, consistently ranks in the top five polling wise, but has been stuck at No. 5 for months, while the two spots above her have churned, but never with her name. Her current trajectory has her more on the path to also-ran status than to the White House, at least this cycle. But a stellar performance in next week's debate could give her the bounce she needs.
6/8
#6 Beto O'Rourke
The former three-term Texas congressman's high-profile attempt to unseat GOP Sen. Ted Cruz in 2018 garnered him national headlines and the adoration of Democrats across the country and catapulted the 46-year-old to near rock star status within the party.
O'Rourke shattered fundraising records in what officially became the most expensive Senate contest ever weeks before Election Day. He raised $38 million in the third quarter, breezing past the old $22 million record ($31 million in today's dollars) set in 2000. And he did so without dollars from corporate and labor political action committees.
In that two-year cycle, he amassed a national donor base and list and built a loyal army of volunteers from both inside and outside the Lone Star State that would happily help march him to the Democratic nomination. But the excitement generated by his Senate run has faded. After initially polling as high as third, O'Rourke has continually slid down the early rankings amid reports of erratic behavior and unimpressive stump speeches. Buttigieg has been the main beneficiary of O'Rourke's inability to transfer his 2018 momentum to a national campaign.
7/8
#7 Sen. Cory Booker
The 49-year-old Rhodes scholar and former Stanford football player (who entered early) was expected to make a big splash. Comparisons to Obama were immediate when Booker came onto the national scene, after winning his first mayoral race in 2006. But such comparisons can cut both ways and so far, he hasn't generated anywhere near the kind of energy that Obama did in 2008.
His presidential bid increasingly is becoming a case of unmet high expectations. And now a Republican (Hirsh Singh) has declared his Senate candidacy in the Garden State, pressuring Booker to either forego seeking a second term next year or split his energy between keeping his day job and going for the big prize.
8/8
(Barely) On the Debate Stage
The end of June brings the first culling of the field—seven months before a single primary vote is cast. The first official Democratic debates are June 26-27 in Miami. Candidates must be either polling at 1% or have 65,000 donors to make it on to the stage. (Only two "major" candidates didn't qualify: New York Mayor Bill de Blasio and Mont. Gov. Steve Bullock.)
The following are headed to Miami but are only polling at 1% or less at this early stage. Colo. Sen. Michael Bennet. Former HUD Secretary Julian Castro. Former Md. Rep. John Delaney. Hawaii Rep. Tulsi Gabbard. N.Y. Sen. Kirsten Gillibrand. Former Colo. Gov. John Hickenlooper. Wash. Gov. Jay Inslee. Minn. Sen. Amy Klobuchar. Mass. Rep. Seth Moulton. Ohio Rep. Tim Ryan. Calif. Rep. Eric Swalwell. Venture for America founder Andrew Yang.
Senior Editor, The Kiplinger Letter
Nicole Duran is a senior editor overseeing government and political coverage. She previously was the managing editor for Congress at National Journal, where she was also executive editor of National Journal Daily, and a deputy managing editor for Foreign Policy. She's also been a White House correspondent for the Washington Examiner and a Washington-based reporter for The Deal, Roll Call, the American Banker and Congressional Quarterly. She holds a bachelor's degree in journalism from Marquette University.