Best Rewards Credit Cards
Our top picks offer cash back, miles or points you can use to buy groceries or gas, pay for travel or boost savings.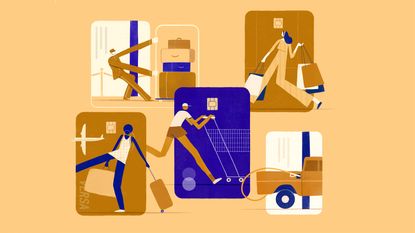 (Image credit: Illustration by Maarten Peeters)
As high inflation rears its head, consumers are looking for ways to offset painful increases in the price of groceries, gas and other budget staples. One strategy is to use a rewards credit card that pays you cash back, points or miles on every purchase you make. In our annual review of the best rewards cards, we've found rebates as high as 6% on supermarket spending and 5% on gas. For leisure spending, we've uncovered rewards of up to 5% on dining out, travel and shopping. If you want a no-fuss card that pays a solid rate on every purchase, you'll find options here that offer 2%.
Fortunately, qualifying for a great rewards card is easier than it was a year or two ago, when issuers tightened lending standards in response to the economic disruptions the coronavirus pandemic caused. In the third quarter of 2021, new-card issuance hit a record 20.1 million, a 63% increase from the same period a year earlier, according to credit bureau TransUnion. A credit score of about 670 or higher should put you in the ballpark for card approval, says Ted Rossman, senior industry analyst for CreditCards.com.
Interest rates will be on the rise throughout the year (opens in new tab), so it's as important as ever to avoid carrying a balance (opens in new tab) from month to month on your credit card—interest payments will stamp out any benefit that you get from rewards. Extended 0% interest introductory windows on balance transfers are making a comeback after dwindling in the pandemic's aftermath, and issuers are even offering such deals to existing customers, not just new applicants, says Sara Rathner, credit cards expert for NerdWallet.
Read on to see our 51 credit card picks in 17 categories.
Contributing Editor, Kiplinger's Personal Finance
Lisa has spent 15 years with Kiplinger's Personal Finance and heads up the magazine's annual rankings of the best banks, best rewards credit cards, and financial-services firms with the best customer service. She reports on a variety of other topics, too, from retirement to health care to money concerns for millennials. She has shared her expertise as a guest on the Today Show, CNN, Fox, NPR, Cheddar and many other media outlets around the nation. Lisa graduated from Ball State University and received the school's "Graduate of the Last Decade" award in 2014. A military spouse, she has moved around the U.S. and currently lives in the Philadelphia area with her husband and two sons.