11 Dividend Growth Stocks Delivering Double-Digit Increases
Dividend growth stocks with even so-so current yields can become powerful income holdings thanks to payout hikes over time and price-upside potential.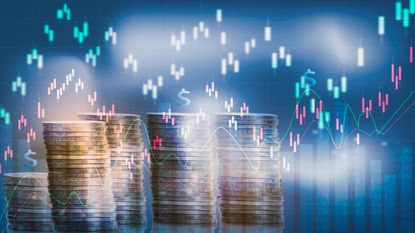 (Image credit: Getty Images)
One common trap that dividend investors can fall into is chasing stocks with high yields when they should be buying dividend growth stocks that can promise years of steady income raises.
Thanks to the magic of compounding, a dividend stock with a low yield but increasing annual payouts can deliver superior returns to a high-yield stock where the payout remains flat. A high current yield also increases the stock's interest rate risk, says Argus Research, while an unusually lofty yield can also be a sign that the company is struggling and the dividend is in jeopardy.
"Though the income appears attractive, the share prices of high-yield stocks may be at risk," write Argus Research's John Eade, director of portfolio strategies, and Jim Kelleher, director of research. "Indeed, if interest rates drift higher, risk-averse equity investors could be drawn to the relative safety of bonds and may sell their high-yield stocks."
The dividend-growth stocks that Argus Research typically likes have lower yields, often in the 1.0% to 2.5% range (with some exceptions, of course). Although the yields are not particularly high, management teams may be more likely to boost the payouts over time, as earnings grow. The objective is to find companies that are growing their dividends faster than the market average over time. Such firms are poised for outperformance, Eade and Kelleher say.
"We expect select high-quality, well-managed companies to continue to raise their dividends at aggressive (read: double-digit) rates, as part of their value proposition to investors," the duo writes.
Argus Research taps dozens of companies for its dividend growth model portfolio. We dove into 11 names that represent the highlights of the group. Have a look at some of the best dividend growth stocks you can buy.
Data is as of Oct. 29. Dividend yields are calculated by annualizing the most recent payout and dividing by the share price. Stocks listed in reverse order of dividend growth rate.