Apple (AAPL) Headlines Busy Week of Tech Earnings
Our preview of the upcoming week's earnings reports includes Apple (AAPL), Amazon.com (AMZN), Alphabet (GOOGL), Meta Platforms (META) and Microsoft (MSFT).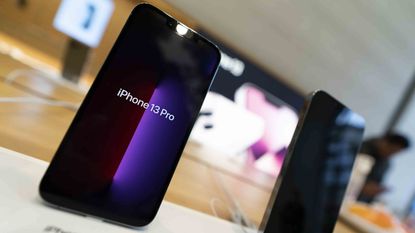 (Image credit: Getty Images)
The busiest week of second-quarter earnings season is upon us. Wall Street will be privy to results from some of the biggest names in technology, with Apple (AAPL (opens in new tab), $155.35), Amazon.com (AMZN (opens in new tab), $124.63), Alphabet (GOOGL (opens in new tab), $114.34), Meta Platforms (META (opens in new tab), $183.17) and Microsoft (MSFT (opens in new tab), $264.84) among those on this week's earnings calendar.
"With the major U.S. tech names set to start reporting, traders will be poised to see how margins are holding up in the previous stock-market darlings, and hoping they paint a prettier picture than the underperformance from U.S. banks," says Sophie Lund-Yates, equity analyst at U.K.-based financial firm Hargreaves Lansdown.
Apple Margins Expected to Stay High
CFRA Research analyst Angelo Zino (Buy) expects Apple to report gross margins between 42% and 43% when it unveils its fiscal third-quarter results after the July 28 close.
Subscribe to Kiplinger's Personal Finance
Be a smarter, better informed investor.
Save up to 74%
Sign up for Kiplinger's Free E-Newsletters
Profit and prosper with the best of Kiplinger's expert advice on investing, taxes, retirement, personal finance and more - straight to your e-mail.
Profit and prosper with the best of Kiplinger's expert advice - straight to your e-mail.
"AAPL's gross margins remain elevated, benefiting from the ongoing shift towards services and better mix within products," says Zino. "Positive tailwinds ahead will include more favorable selling prices and mix towards services while unfavorable forex is expected to act as a headwind over the next several quarters."
Overall, analysts, on average, expect AAPL to report earnings per share (EPS) of $1.16, down 10.8% year-over-year (YoY), and revenue of $82.6 billion (+1.5% YoY).
Analyst: Amazon Remains a Top FANG Stock
Amazon.com will release its second-quarter earnings report after Thursday's close. Consensus estimates are for AMZN to unveil earnings of 15 cents per share (-80% YoY) and revenue of $119.1 billion, up 3.4% over the year-ago period.
BofA Global Research analyst Justin Post (Buy) recently lowered his Q2 revenue outlook for AMZN amid forex headwinds. "Key topics for the quarter will likely be inflation impact on the consumer spend, retail gross margins given Target's (TGT (opens in new tab)) second-quarter guidance update, still elevated gas prices and labor cost impact on operating costs and forex pressure," Post says.
Sign up for Kiplinger's FREE Investing Weekly e-letter for stock, ETF and mutual fund recommendations, and other investing advice.
But while "inflation and recession risk clouds the near-term revenue and margin trajectory," Amazon remains Post's top pick among FANG stocks. Indeed, following its roughly 25% year-to-date decline, AMZN stock is one of the best deals around.
Alphabet Faces Tough Comps in Q2
Alphabet enjoys a Buy rating from CFRA Research analyst Angelo Zino due to its "valuation versus large-cap tech peers, free cash flow potential and [the] belief that GOOGL can sustain a 10%-plus long-term EPS growth pace." However, Zino admits that there are risks ahead, including currency headwinds and regulatory issues.
Another potential drawback for GOOGL in Q2 are tough year-over-year comparisons. The company saw Google search revenue jump 63% YoY in Q2 2021, while YouTube ad revenue was up 83%. This time around, Zino expects those figures to come in closer to 10% and in the high-teens percentage, respectively.
GOOGL will report its second-quarter results after Tuesday's close. Analysts, on average, see Alphabet's total revenue growth moderating to just 13.1% YoY to $70.0 billion, while earnings are expected to decline 4.4% to $1.30 per share.
Meta Earnings Will Be "Better Than Feared," Say Analysts
Meta Platforms reports its second-quarter earnings after Wednesday's close. Fellow social media stock Snap (SNAP (opens in new tab)) reported dismal results on July 21, missing on both the top and bottom lines and saying it will "substantially slow our rate of hiring, as well as the rate of operating expense growth" amid a challenging macroenvironment.
SNAP stock sold off sharply as a result, raising the question: Does the same fate await META shares?
Deutsche Bank analysts Benjamin Black and Lee Horowitz (Buy) believe the Facebook parent will post Q2 results that will be "better than feared." True, macro headwinds and engagement trends driven by the rise of TikTok have sparked concerns, but "our intra-quarter checks point to slightly more benign challenges. As such, we think an outcome better than feared should suffice to support shares, particularly with the company signaling perhaps even more cost discipline over the next 6-12 months," the two say.
Analysts' consensus estimates are for Meta Platforms to report second-quarter earnings of $2.61 per share (-38.3% YoY) and revenue of $29.0 billion (+3.9% YoY).
Microsoft Expected to Post Modest Growth in Q2
Microsoft is one of a number of Dow Jones stocks making an appearance on this week's earnings calendar, with the tech giant slated to unveil its fiscal fourth-quarter results after Tuesday's close.
Analysts, on average, believe MSFT will report earnings of $2.30 per share (+6.0% YoY) and revenue of $52.5 billion (+13.7% YoY) for the three-month period.
Morgan Stanley analyst Keith Weiss admits that multiple crosscurrents could impact Microsoft's results, including declining PC shipments, forex headwinds and easing consumer demand. However, thanks to strong feedback on the resiliency of MSFT's consumer business and data gathered from a recent management survey, Weiss has confidence the company can sustain its growth going forward. The analyst has an Outperform rating on MSFT, which is the equivalent of a Buy.
Karee Venema was long AAPL, AMZN and GOOGL as of this writing.
Contributing Editor, Kiplinger.com
With over a decade of experience writing about the stock market, Karee Venema is an investing editor and options expert at Kiplinger.com. She joined the publication in April 2021 after 10 years of working as an investing writer and columnist at Schaeffer's Investment Research. In her previous role, Karee focused primarily on options trading, as well as technical, fundamental and sentiment analysis.