Stock Market Today: Stocks Start the Week Sluggishly, But Earnings Await
Investors and traders had little to focus on, and equities traded lethargically as a result. That could change as Q3 earnings get underway.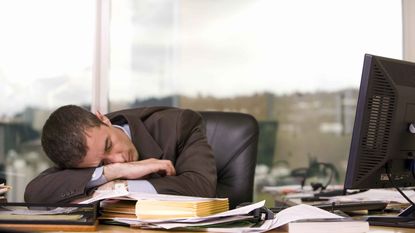 (Image credit: Getty Images)
The stock market was indeed open for Columbus Day, but it sure didn't do much. Equities were mixed for most of Monday amid a slow news day with no significant economic data.
U.S. crude oil prices tagged $84.60 per barrel at one point -- their highest price since late 2014 -- before settling at $83.78, up 2.0%. Although the bump in crude prices helped oil stocks such as Halliburton (HAL, +3.1%) and Schlumberger (SLB, +2.5%), the energy sector actually finished 0.4% in the red.
An afternoon swoon sent the Dow Jones Industrial Average 0.7% lower to 34,496. The S&P 500 declined 0.7% to 4,361, and the Nasdaq Composite slipped 0.6% to 14,486.
Subscribe to Kiplinger's Personal Finance
Be a smarter, better informed investor.
Save up to 74%
Sign up for Kiplinger's Free E-Newsletters
Profit and prosper with the best of expert advice on investing, taxes, retirement, personal finance and more - straight to your e-mail.
Profit and prosper with the best of expert advice - straight to your e-mail.
Potentially spicing things up later this week: The start of the third-quarter earnings season, including reports by JPMorgan Chase (JPM), Delta Air Lines (DAL) and UnitedHealth Group (UNH). FactSet Senior Earnings Analyst John Butters says the S&P 500 is expected to report year-over-year profit growth of 27.6%.
"We think earnings growth will be strong again this quarter," adds LPL Financial Equity Strategist Jeffrey Buchbinder. "But those looking for massive upside surprises and big increases in estimates will probably be disappointed. The COVID-related supply chain disruptions and labor and materials shortages have held corporate America back some in recent months."
Sign up for Kiplinger's FREE Investing Weekly e-letter for stock, ETF and mutual fund recommendations, and other investing advice.
"Beyond those widely-reported supply chain challenges facing corporate America, there are other reasons to expect results this quarter to be closer to expectations," he continues. "The latest batch of company pre-announcements has been less positive than in recent quarters, and estimates have stopped rising."
Other news in the stock market today:
The small-cap Russell 2000 was off 0.6% to 2,220.
Southwest Airlines (LUV, -4.2%) shares slipped Monday as the carrier has been forced to cancel more than 2,000 flights since Saturday amid a slew of issues. Southwest cited air traffic control issues and inclement weather. However, its pilot union said in a statement that "(Southwest Airlines) has claimed that the immediate causes of this weekend's meltdown were staffing at Jacksonville Center and weather in the southeast U.S., but what was a minor temporary event for other carriers devastated Southwest Airlines because our operation has become brittle and subject to massive failures under the slightest pressure." Now, LUV is considering making additional cuts from a fall flight schedule it has already trimmed.
Gold futures settled with a modest 0.1% decline to $1,755.70.
The CBOE Volatility Index (VIX) climbed 6.8% to 20.05.
Bitcoin prices bucked equities' trend, climbing 5.2% to $57,494.47. (Bitcoin trades 24 hours a day; prices reported here are as of 4 p.m. each trading day.)
Don't Turn Your Gaze Away From Washington
One thing we'll likely hear less about in the days ahead: The debt ceiling.
Last week, the Senate agreed upon a stopgap bill that will effectively push the issue off into December, with the House expected to vote on the measure Tuesday. As a result, Democrats should be able to concentrate on one of their top priorities.
"Democrats have yet to unify behind their multitrillion-dollar spending plans on infrastructure, social policy and climate change, [but] the temporary debt ceiling increase will likely allow the Democratic Party to focus on rallying its members in Congress around the spending plans – key legislative priorities ahead of the 2022 midterm elections," write analysts at BlackRock Investment Institute.
While BII notes that "the $3.5 trillion price tag of the bill on social policy and climate change is being scaled down to help ensure the support of party moderates," any progress on that is likely to add more fuel to green energy and electric-vehicle plays.
Investors no doubt are also looking for a positive conclusion to infrastructure-bill negotiations, which have gone through various fits and starts for months. But if Congressional momentum picks up once more, expect the market to return yet again to the infrastructure trade -- which investors can hop on via a few exchange-traded funds (ETFs), as well as these 14 appropriately positioned stocks.
Kyle Woodley is the Editor-in-Chief of WealthUp, a site dedicated to improving the personal finances and financial literacy of people of all ages. He also writes the weekly The Weekend Tea newsletter, which covers both news and analysis about spending, saving, investing, the economy and more.
Kyle was previously the Senior Investing Editor for Kiplinger.com, and the Managing Editor for InvestorPlace.com before that. His work has appeared in several outlets, including Yahoo! Finance, MSN Money, Barchart, The Globe & Mail and the Nasdaq. He also has appeared as a guest on Fox Business Network and Money Radio, among other shows and podcasts, and he has been quoted in several outlets, including MarketWatch, Vice and Univision. He is a proud graduate of The Ohio State University, where he earned a BA in journalism.
You can check out his thoughts on the markets (and more) at @KyleWoodley.