America's Worst CEO-to-Worker Pay Ratios
These 10 S&P 500 firms boast sky-high CEO-to-worker pay ratios that see their executives making thousands of times more than their median employee.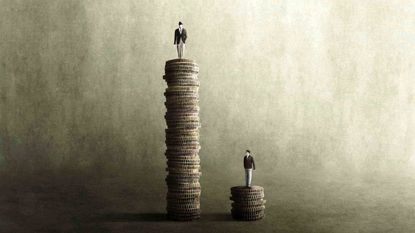 (Image credit: Getty Images)
Nothing, it seems, can burst the bubble of America's highest-paid chief executive officers. Even as the economy recorded its worst year for job losses since 1939, CEO pay continued to grow apace in 2020. At the same time, worker pay – for those lucky enough to remain employed – lagged even farther behind what the nation's top executives raked in.
CEOs of S&P 500 companies received average total compensation of $15.5 million in 2020, according to a new study released by AFL-CIO Executive Paywatch. That was up from $14.8 million in total compensation in 2019. But employee pay continued to stagnate.
As a predictable result, the gap between CEO pay and what workers made continued to widen last year. Indeed, the average S&P 500 company's CEO-to-worker pay ratio stands at 299-to-1. That's up from 264-to-1 a year ago.
With that in mind, we decided to take a different tack when it comes to ranking the S&P 500's highest-paid CEOs. Rather than solely rank the chiefs in absolute terms – that is, who made the most – we ordered them in terms of which CEOs received the highest compensation when compared to their employees.
Publicly traded companies are required to disclose their highest-paid executives' total compensation* annually in regulatory filings. The firms also are required to disclose the pay of their median employee, which they calculate according to SEC rules.
With that information in hand, AFL-CIO Executive Paywatch was able to rank American publicly traded companies by their CEO-to-worker pay ratio.
Thanks to those rankings and our own deep dive into the regulatory filings, we were able to find the highest-paid CEOs in the S&P 500 relative to what their workers make. Read on to see the top 10 best-compensated chief executives as measured by CEO-to-worker pay ratio:
Data is as of July 21, 2021, courtesy of AFL-CIO Executive Paywatch, companies' Form DEF 14A regulatory filings made with the Securities and Exchange Commission, S&P Global Market Intelligence and YCharts. Companies listed in order of CEO-to-pay ratio.
* Total compensation includes salary, bonus, all other compensation, stock and option awards, non-equity incentive plan compensation, change in pension values and non-qualified deferred compensation earnings.