8 Stock Picks That Could Get a Child Tax Credit Bump
The expanded 2021 child tax credit is expected to put more money into Americans' pockets ... and, eventually, these eight stock picks.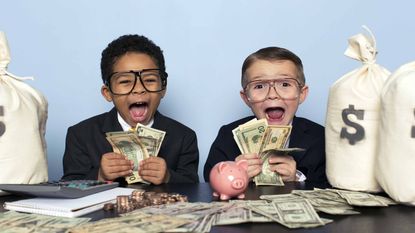 (Image credit: Getty Images)
The 2021 child tax credit (CTC) will deliver a hefty economic boost this year, and naturally, that's welcome news for the estimated 35 million American families that qualify for it.
Just as naturally, that money is going to be spent somewhere. And so, Wall Street's pros have been evaluating their universes of stock picks to determine which ones will benefit the most from this year's tax windfall.
You can get the full scoop with our child tax credit FAQs, but in short, 2021's credit has grown to $3,000 per child (and $3,600 if they're younger than 6) from $2,000 last year. Additionally, this year's credit includes 17-year-olds, and it will be partially paid out in advance monthly payments that start on July 15.
While each family's benefits will differ (our child tax credit calculator can show you how), a number of analysts have cited the expanded CTC as a tailwind for stocks broadly … and a reason for optimism in several specific names.
Here are eight stock picks that the pros believe could earn a child tax credit bump. This is hardly a list of equally lovable equities, however. Although some of these companies are generally beloved by Wall Street's "smart money," a couple are viewed as riskier opportunities that just happen to look a little more attractive thanks to the boosted CTC.
Disclaimer
Data is as of July 14.
Kyle Woodley is the Editor-in-Chief of Young and The Invested, a site dedicated to improving the personal finances and financial literacy of parents and children. He also writes the weekly The Weekend Tea newsletter, which covers both news and analysis about spending, saving, investing, the economy and more.
Kyle was previously the Senior Investing Editor for Kiplinger.com, and the Managing Editor for InvestorPlace.com before that. His work has appeared in several outlets, including Yahoo! Finance, MSN Money, Barchart, The Globe & Mail and the Nasdaq. He also has appeared as a guest on Fox Business Network and Money Radio, among other shows and podcasts, and he has been quoted in several outlets, including MarketWatch, Vice and Univision. He is a proud graduate of The Ohio State University, where he earned a BA in journalism.
You can check out his thoughts on the markets (and more) at @KyleWoodley.