Buy Cruise Line Stocks? The Pros Aren't So Sure
Cruise line stocks have performed well so far in 2021, but analysts are still sitting on the sidelines amid cloudy reopening plans.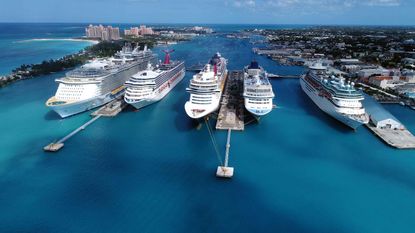 (Image credit: Getty Images)
Cruise line stocks have been sailing higher in 2021 on expectations the major lines will hit the open waters again this year. And they earned a boost earlier this month after the U.S. Centers for Disease Control and Prevention (CDC) issued much-anticipated reopening guidelines for travel ship operators.
More recently, though, some of the wind has been taken out of cruise stocks' sails.
CDC guidelines have failed to provide a specific reopening date for cruise operators. Concerns that rising debt levels could negatively impact shareholder value are another hurdle.
And cruise line stocks recently took another recent hit after the U.S. Food and Drug Administration (FDA) and CDC suggested halting the use of Johnson & Johnson's (JNJ (opens in new tab)) single-dose COVID-19 vaccine after six women developed blood clots within two weeks of getting their shots – potentially tapping the brakes on the pace of immunization.
The concern could be short-lived, considering nearly 7 million people in the U.S. have received the JNJ shot. And in a joint statement issued by the two federal agencies, they said they are "recommending a pause in the use of this vaccine out of an abundance of caution," adding that the "adverse events appear to be extremely rare."
Michael Reinking, senior market strategist at the New York Stock Exchange, adds that "The White House has said that there will not be a 'significant impact' on vaccinations overall" due to the recommendation.
While valuations for these recovery stocks might be elevated given their run higher this year, the recent pullback in cruise line names could be a potential entry point for those looking to ride out the choppy waters.
So, is it time to jump in? Read on as we look at three cruise line stocks to see which ones, if any, analysts like ahead of a possible summer restart.
Data is as of April 13. Stocks are listed in order of best year-to-date returns.
1/3
Carnival
Market value: $33.4 billion
Year-to-date return: 28.4%
Miami-based Carnival (CCL (opens in new tab), $27.82) operates 87 ships in both the U.S. and abroad that dock at roughly 700 ports, and it does so under several brand names, including Carnival Cruise Line and Princess Cruises. Carnival, which typically sells its cruises through travel agents and tour operators, has paused all operations from its U.S. ports until June 30.
CCL shares traded above $50 in January 2020 before plunging into single digits just two months later. The cruise line stock has recovered about half of its pre-pandemic value, and is up more than 28% so far in 2021.
Stifel analyst Steven Wieczynski is confident there are calmer waters ahead. He rates the stock a Buy with a $35 price target, implying upside of more than 26% over the next 12 months or so.
"We expect CCL to emerge from this crisis as a leaner, more efficient company, which, combined with our continued confidence in the resilience of global cruise industry demand, strengthens our conviction in owning shares," Wieczynski says.
But the broader analyst community has mixed feelings on this cruise line stock. Of the 18 analysts covering CCL tracked by S&P Global Market Intelligence, six call it a Strong Buy, one says it's a Buy, seven maintain a Hold rating and four believe it's a Strong Sell. Perhaps more worrisome: Their average 12-month price target of $26.78 translates into 4% downside from current levels, suggesting it might be better to wait for a substantial dip before considering Carnival shares.
2/3
Royal Caribbean Cruises
Market value: $22.1 billion
Year-to-date return: 15.9%
Royal Caribbean Cruises (RCL (opens in new tab), $86.53), also headquartered in Miami, visits more than 270 destinations across 72 countries, operating under the Royal Caribbean International, Celebrity Cruises and Silversea Cruises brands. Combined with its 50% interest in a joint venture, TUI Cruises, RCL boasts a 61-ship fleet with another 15 on order.
Like Carnival, Royal Caribbean shares plunged during the COVID bear market. The cruise line stock dropped from around $135 in February to below $20 by late March. Shares have more than quadrupled off this pandemic-era low, however. Buoying hopes are the resumption of sailing in Singapore onboard its Quantum of the Seas ship, and plans to get its broader operations up and running by July 1.
Wedbush analyst James Hardiman rates RCL stock at Outperform (equivalent of Buy) with a 12-month price target of $115, implying 33% upside from here.
"We believe our August restart assumption [for cruise lines] remains reasonable, and that under this scenario, cruise stocks represent significant value, with RCL our favorite in the group," he says.
But the bulk of analysts tracked by S&P Global Market Intelligence are fairly complacent when it comes to RCL stock. While five of the 18 following the stock maintain a Strong Buy rating, and two say it's a Buy, seven believe Royal Caribbean is a Hold, two believe it's a Sell and two rate it a Strong Sell. Their anticipated upside is telling, too; a PT of $86.23 suggests RCL shares are fairly priced at current levels.
3/3
Norwegian Cruise Line Holdings
Market value: $10.9 billion
Year-to-date return: 15.7%
Miami is a hot spot for cruise line companies, with the main offices of Norwegian Cruise Line Holdings' (NCLH (opens in new tab), $29.41) located there, as well. The company operates 28 ships globally across several brands, including its namesake Norwegian Cruise Line, as well as Oceania Cruises and Regent Seven Seas Cruises. NCLH is planning to resume limited global operations in early July.
NCLH was trading just shy of the $60 mark in early 2020 before the cruise line stock crashed all the way down to $7 by mid-March. Shares have since been recovering from record-low territory, and hit a year-to-date high near $35 early last month.
Argus Research analyst John Staszak is tepid on both RCL's shorter- and longer-term outlooks, and maintains a Hold recommendation on the cruise stock.
"While Norwegian Cruise Lines offers travelers an attractive value proposition, it must still compete with other types of vacations (i.e., flights and land-based trips) that many believe to be safer choices as a result of the pandemic," he says. "We thus believe that cruise operators will have to work hard to lure customers back, which could mean lower net yields."
Again, this echoes the broader sentiment seen among the analysts tracked by S&P Global Market Intelligence, though NCLH does have the smallest bear camp of the three major cruise line stocks. Of the 17 analysts following NCLH, four call it a Strong Buy, two say Buy, 10 call it a Hold while just one deems it a Strong Sell. And an average price target of $31.00 implies at least some (albeit modest) upside of about 5% over the next 12 months or so.
Contributing Editor, Kiplinger.com
With over a decade of experience writing about the stock market, Karee Venema is an investing editor and options expert at Kiplinger.com. She joined the publication in April 2021 after 10 years of working as an investing writer and columnist at Schaeffer's Investment Research. In her previous role, Karee focused primarily on options trading, as well as technical, fundamental and sentiment analysis.