5 Restaurant Stocks Rising Above the Rest
Inflation and labor shortages are just two challenges facing restaurant stocks, but these five picks are well-positioned to ride out the storm.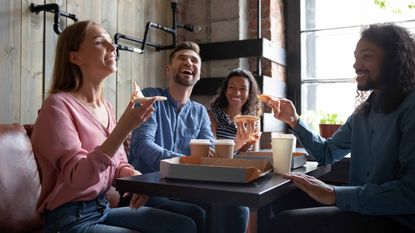 (Image credit: Getty Images)
Restaurant stocks could be growthy comeback play in 2022, though they're hardly a slam dunk.
Restaurants are pulling numerous levers to resuscitate sales of on-premise dining, drive-thru pickup and delivery channels to recover from some of the ill-effects COVID-19 had on consumers' patronage. And their efforts are only being further complicated by inflationary pressures, supply-chain issues and labor shortages.
Raising menu prices, eliminating menu items, reducing serving sizes and opening more restaurants in new and existing markets are just a handful of the options being weighed by industry players, large and small, to help with their recovery.
Exacerbating these ongoing pandemic-related issues is the war in Ukraine. Blue-chip restaurant stock McDonald's (MCD (opens in new tab)) joined a number of companies pulling out of Russia when it announced it was temporarily shutting all 850 of its restaurants in the country in response to the attack. This is likely to impact MCD's top line, considering around 9% of its annual revenues are derived from Ukraine and Russia.
The geopolitical issues abroad and rising food and gas prices in the U.S. have the potential to slow the restaurant industry's recovery. A consumer survey conducted by research firm Stifel found that 53% of respondents would cut back on dining out and 42% would reduce takeout/delivery if they had less money to spend.
Still, analysts contend there are opportunities out there for investors with an appetite for restaurant stocks, especially in companies with solid top-line growth or those that are perceived as offering higher values to cash-strapped consumers, says research outfit Stifel. Not to mention, a recovery in vacationing as COVID cases cool would lift most travel stocks, restaurants included.
Here are five restaurant stocks that stand out to us among the crowd. Each name featured here is broadly viewed bullishly by Wall Street's analyst community and is making moves to mitigate risks facing the industry at the moment.
Data is as of April 4. Dividend yields are calculated by annualizing the most recent payout and dividing by the share price. Analysts' opinions courtesy of S&P Global Market Intelligence. Stocks are listed by analysts' consensus recommendation, from lowest to highest.
Contributing Writer, Kiplinger.com
Riccardo is an award-winning business journalist who has covered Fortune 500 companies for news organizations across the United States.