Stock Market Today: Fed Frazzles Stocks, But Buffett Scores Big
The Federal Reserve spooked stocks Wednesday by painting a gloomy picture of the economy, but the sun shined on a norm-breaking Buffett investment.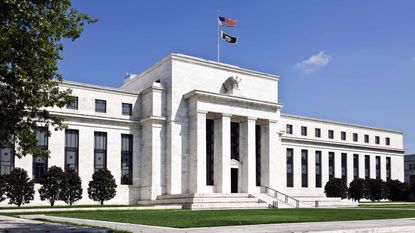 (Image credit: Getty Images)
Wall Street saw an uneven day of trading Wednesday despite the announcement of continued accommodative policy from the Federal Reserve.
The Fed indicated that it was unlikely to raise rates above current near-zero levels until at least the end of 2023, which investors initially cheered. It also effectively set two conditions – "maximum employment" as well that has inflation that "has risen to 2 percent and is on track to moderately exceed 2 percent for some time" – that could lead to difficult compromises down the road.
"In the period ahead, the Fed will face two choices," says Rick Rieder, BlackRock's chief investment officer of global fixed income. "It could either: 1) keep monetary policy easy for years in hopes of hitting its elusive 2% inflation target, while risking a bubble in financial conditions as equities outpace the economy and depressed bond yields feed overzealous risk-taking, or 2) it can seek to normalize policy alongside of eventual labor market healing.
Subscribe to Kiplinger's Personal Finance
Be a smarter, better informed investor.
Save up to 74%
Sign up for Kiplinger's Free E-Newsletters
Profit and prosper with the best of expert advice on investing, taxes, retirement, personal finance and more - straight to your e-mail.
Profit and prosper with the best of expert advice - straight to your e-mail.
"We think that once growth and employment momentum show enough progress, tying policy to an inflation goal that may never be sustainably reached could result in unnecessary stimulus policies that last for far too long."
But Fed Chair Jerome Powell also painted a picture of a damaged economy that still needs help from Washington. "Fiscal policy response had a really positive effect but more is likely to be needed," he said, adding that "11 million unemployed Americans may need more support."
"The Fed must thread a narrative needle," says Danielle DiMartino Booth, CEO and chief strategist of research firm Quill Intelligence. "Powell has the obligation to talk up the economy and its amazing recovery while he implicitly pleads Congress to pass a massive stimulus bill the Fed in turn monetizes because it's failing on its second mandate to maximize employment with nearly 30 million workers collecting unemployment benefits in some form."
"That's quite the tricky task – to communicate that the U.S economy is strong enough to stand on its own and at the same time so weak that it needs fiscal stimulus."
Industrial stocks such as Boeing (BA, +2.4%) performed well, as did energy stocks like Chevron (CVX, +2.9%), the latter fueled by a 4.3% jump in U.S. oil prices amid falling crude inventories. But overall, Powell's commentary appeared to spook the market. The Dow Jones Industrial Average finished far off its highs, gaining just 0.1% to 28,032.
Other action in the stock market today:
The S&P 500 declined 0.5% to 3,385.
That was helped by FedEx (FDX, +5.8%), which provided one of the few notable earnings reports of the week. FDX shares surged after the company reported a 60% pop in quarterly profits amid continued "strong demand."
The small-cap Russell 2000 improved by 0.9% to 1,552.
The Nasdaq Composite dropped 1.3% to 11,050 on a weak day for the technology sector.
Snowflake IPO: A Hot Start for a Young Buffett Investment
But it wasn't a universally bad day for tech. Just ask Warren Buffett.
Cloud infrastructure company Snowflake (SNOW) hit the markets today in the largest software initial public offering (IPO) in history, raising $3.4 billion at a price of $120 per share.
Well, Buffett's Berkshire Hathaway (BRK.B) had made deals to buy more than 6 million shares at the IPO price … and those shares proceeded to rocket 111.6% in value, to $253.93 per share, by the end of their first session of trading.
It's not just a refreshing contrast to all of the selling Buffett was doing during the second quarter – it's also unprecedented. Berkshire has never bought into an initial public offering like this before, and Buffett has previously been vocally dismissive of IPOs, leading many to believe this decision was prompted by one of his lieutenants: Ted Weschler or Todd Combs.
Indeed, if you scour the Berkshire Hathaway portfolio, as we regularly do, you'll notice a growing number of stocks that have multiple fingerprints on them. Here, we look at every single Warren Buffett stock – including the ones that aren't necessarily the work of Buffett himself.
Kyle Woodley was long BA as of this writing.
Kyle Woodley is the Editor-in-Chief of Young and The Invested, a site dedicated to improving the personal finances and financial literacy of parents and children. He also writes the weekly The Weekend Tea newsletter, which covers both news and analysis about spending, saving, investing, the economy and more.
Kyle was previously the Senior Investing Editor for Kiplinger.com, and the Managing Editor for InvestorPlace.com before that. His work has appeared in several outlets, including Yahoo! Finance, MSN Money, Barchart, The Globe & Mail and the Nasdaq. He also has appeared as a guest on Fox Business Network and Money Radio, among other shows and podcasts, and he has been quoted in several outlets, including MarketWatch, Vice and Univision. He is a proud graduate of The Ohio State University, where he earned a BA in journalism.
You can check out his thoughts on the markets (and more) at @KyleWoodley.