5 ESG Stocks to Buy for Earth Day 2022
We explore five highly rated ESG-friendly stocks that act as standouts in five key environmental areas.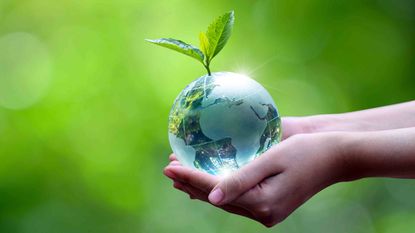 (Image credit: Getty Images)
Earth Day – celebrated on April 22 in 2022 – is a time to celebrate environmental wins, especially for investors who focus on environmental, social and governance (ESG) investing. So today, we're going to examine several ESG stocks that act as industry leaders in several key environmental areas.
No company has a perfect ESG profile, just as no company has a perfect balance sheet. In fact, many companies that now lead environmental efforts started out at the back or the middle of the pack. ESG investors can take some credit for many of these glow-ups, filing shareholder proposals on thorny environmental issues, demanding better ESG disclosure and creating an investing milieu that favors sustainability for long-term growth.
But therein lies the rub of ESG investing. This approach focuses on long-term issues such as climate change and biodiversity. Capital markets often revolve around much shorter-term thinking, however, with even quarter-to-quarter earnings changes demanding the utmost scrutiny. Thus, finding ESG stocks that are able to effectively manage both is difficult – but ultimately rewarding to both portfolio and planet.
Here, we look at five ESG-friendly stocks as we head into Earth Day 2022. We have teed up companies that act as standouts in five key environmental areas – climate change, water stewardship, clean transportation, biodiversity and safer chemicals – while also earning high marks from Wall Street equity researchers.
Analysts' recommendations and other data as of April 18, courtesy of S&P Global Market Intelligence and YCharts, unless otherwise noted. S&P surveys analysts' stock calls and scores them on a five-point scale, where 1.0 equals a Strong Buy and 5.0 is a Strong Sell. Stocks are listed by analysts' consensus recommendation, from highest score (worst) to lowest (best).
Contributing Editor, ESG, Kiplinger.com
Ellen writes on environmental, social and governance (ESG) investing and sustainability. She was an ESG manager and analyst at Calvert Investments for 15 years, focusing on climate change and consumer staples. She served on the sustainability councils of several Fortune 500 companies, led corporate engagements, and filed shareholder proposals.
Prior to joining Calvert, Ellen was a program officer for Winrock International, managing loans to alternative energy projects in Latin America. She earned a master's from University of California in international relations and Latin America. She is fluent in Spanish and Portuguese.