5 Great Green Stocks Making a Direct Impact
These green stocks are working on solutions to climate change and are good buys now.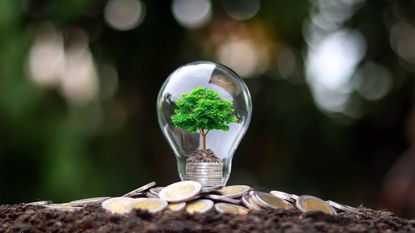 (Image credit: Getty Images)
It's the end of business as usual. To save the planet, consumers, companies and governments all over the world are stepping up their sustainability game, or at least pledging to do so.
That's important, because it will take all parties working to fight climate change if we are to get to a net zero-world – when carbon emissions are balanced by absorption – by 2050, which is part of the goal of the Paris Agreement, an international treaty to tackle climate change that came into force in 2016.
Nearly 200 countries have committed to the agreement and set targets to reduce carbon emissions.
Companies are vital players, too. One-fifth of the world's largest 2,000 companies have committed to net-zero target emissions. And 90% of the companies in the S&P 500 Index now release sustainability reports, up from 20% a decade ago. Setting targets and measuring progress, says Katherine Collins, Putnam's head of sustainability investing, is an important step.
Consumers are changing their ways, too. Shoppers are sending a clear signal: Sustainability is no longer the exception, it's the expectation, especially for frequent, essential purchases such as groceries, household and personal care items, and clothing.
According to a 2020 U.K. study by accounting and consulting firm Deloitte, buying locally produced vegetables, cutting down on the consumption of meat and animal products, and reducing the purchase of products sold in single-use plastic packaging were top concerns for shoppers.
Where there's change, there's opportunity. It may take years for investors to see the benefits, and there will be bumps along the way. After logging stunning gains in 2020, environmentally focused investments – especially renewable energy stocks – are taking a beating.
"We have a long road ahead of us," says Haim Israel, of BofA Global Research. But the revolution is happening "because it must," he adds.
For those who want to join the fight as an investor and can deal with temporary tumbles, we've found eight innovative companies – three of them part of the so-called blue economy, focused on ocean sustainability. Some of our picks are more established than others, but each is poised to play an important role in finding solutions in this climate-challenged world.
But first, bear in mind a few guiding principles when you invest in climate-change fighters.
No company is perfect. China is the world's biggest maker of solar panels, but many of its plants are coal fired. Even so, if we use those solar panels to power our homes, we're helping the environment in the long run. "It's a life-cycle analysis," says Gabriela Herculano of iClima Earth, an impact-oriented investment firm. "You look at the manufacturing phase and the end-user phase. Solar panels have a lifespan of 30 to 35 years – time you're not using fossil fuels."
Be patient. Whether a company is a consumer-products giant or a pure-play green firm, any significant environmental benefits from their goods or services could take years to realize. Athletic-wear company Lululemon (LULU), for instance, is trying to come up with a synthetic textile that can be recycled. (The global fashion industry produces 58 million tons of material every year. Much of that ends up in landfills or on a bonfire; less than 1% is reused to make new clothes.) It's early days, but "it's a great example of forward thinking about how to make a direct, sustainable impact" and an indication of potential long-term growth at the firm, says Putnam's Collins.
Stay open-minded. It would be wonderful to invest only in pure-play green stocks that are making direct, positive environmental impacts, but currently those opportunities are either too few or too nascent. Meanwhile, many large companies, which have the resources to explore and innovate, are making solid strides to combat climate change. These efforts may not impact their revenues or earnings much – for now – but they are notable.
Procter & Gamble (PG), for instance, developed a technology that PureCycle Technology is using to turn discarded carpets and drinking cups into ultra-pure polypropylene that is used to make other recyclable plastic products. Ford (F) is already taking orders for the F-150 Lightning, the electric version of its best-selling truck. The Lightning's battery is bidirectional, which means it can also serve as a generator that can power a home for up to three days when fully charged.
And Nvidia's (NVDA) computer chips helped scientists map rain forests in Peru. By studying the maps, researchers learned there were 36 different types of rain forests; they previously had thought there were only three. The discovery changed the government's strategy for protecting animals and the rain forests, says Andrew Niebler, a comanager of Karner Blue Biodiversity Impact fund. "Nvidia is a game-changer in terms of scientific advancement in biodiversity and nature."
In short, climate-change fighters, direct and indirect, are everywhere. Here are five green stocks making a direct impact to consider now.
Disclaimer
Returns and other data, unless otherwise noted, are as of Feb, 4.

Senior Associate Editor, Kiplinger's Personal Finance
Nellie joined Kiplinger in August 2011 after a seven-year stint in Hong Kong. There, she worked for the Wall Street Journal Asia, where as lifestyle editor, she launched and edited Scene Asia, an online guide to food, wine, entertainment and the arts in Asia. Prior to that, she was an editor at Weekend Journal, the Friday lifestyle section of the Wall Street Journal Asia. Kiplinger isn't Nellie's first foray into personal finance: She has also worked at SmartMoney (rising from fact-checker to senior writer), and she was a senior editor at Money.