The "Who's Who" of Streaming Video Stocks
In just a few years, streaming video has exploded from just a couple of serious contenders to dozens of players. Here are nine of the space's biggest stocks to watch.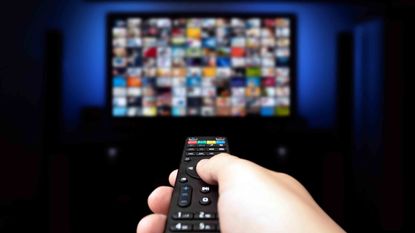 (Image credit: Getty Images)
We waited years for the video streaming war to begin.
Well, it's here. It's heated. And it involves a host of well-backed streaming video stocks vying for relevancy amid a jam-packed crowd.
Netflix (NFLX (opens in new tab)) largely had its way over the past decade. It licensed popular content from other media companies and supplemented that with its own shows, becoming the undisputed industry leader along the way. Netflix started offering its streaming video service in 2007, and by the end of 2018 it claimed 139 million subscribers. In that time, the company faced a few half-hearted attempts to grab a piece of the pie.
But in the past 18 months or so, the video streaming war has really gotten legs. Netflix has been losing content from its library as new streaming services bring their TV shows and movies back under their own umbrella as exclusives.
Apple (AAPL (opens in new tab)) launched Apple TV+ on Nov. 1, 2019. Just two weeks later, Walt Disney (DIS (opens in new tab)) launched Disney+. In May 2020, AT&T (T (opens in new tab)) launched HBO Max followed by Comcast's (CMCSA (opens in new tab)) NBC Peacock, which went live in July 2020. The latest big entry took place in January of this year, when Discovery (DISCA (opens in new tab)) launched its Discovery+ streaming service.
And given very recent news, HBO and Discovery+ could soon become an even bigger threat.
These represent just a few of the now dozens of video streaming services competing for consumer dollars and threatening to upend the traditional TV viewing industry. We're reaching the point where at least a few clear winners and possible losers are beginning to come into focus. After all, consumers first switched to Netflix to save on their cable bills. Even if fragmented content convinces many viewers to have multiple subscriptions, few are going to pony up to all the streaming services.
Here's a look at the major streaming video stocks, and how their offerings appear poised in the current content landscape.
Data is as of May 16.
Contributing Writer, Kiplinger.com
Brad Moon is a tech industry veteran who contributes to a range of publications including Forbes, InvestorPlace and MSN Money and is an original member of the award-winning GeekDad blog. Over the past decade, he has also written about technology for Wired, Gizmodo, Shaw Media, About.com, The Winnipeg Free Press and others.