Kiplinger Q&A: Laila Ali
The former professional boxer-turned-entrepreneur shares why giving back to the community is a top priority, as well as the money lessons she's learned that enabled her career transition.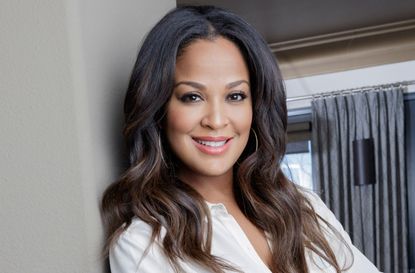 (Image credit: Allen Cooley Photography LLC)
Giving back is something that comes naturally to retired (and undefeated) professional boxer-turned-entrepreneur Laila Ali. Born the daughter of the late legendary boxer and activist Muhammad Ali and Veronica Porché Ali, she grew up listening to her father say "service to others is the rent that you pay for your room here on Earth," Ali shared with Kiplinger.com. With his words as a constant reminder, the 40-year-old has made it part of her life's mission to work with organizations whose goal is to positively impact communities near and far.
That's why she decided to partner with the Teachers Insurance and Annuity Association of America (TIAA) and serve as an ambassador for their Difference Maker 100 initiative. The company, a provider of financial services in the academic, medical and research industries, is celebrating its centennial anniversary by honoring 100 professionals in the nonprofit sector affecting change in communities across the globe. TIAA will award $10,000 to each of this year's recipients in an effort to help them build the organization they work for. "It's important to help others who are doing good," Ali says, "and I like to support causes that embody that." TIAA will also be performing community service activities in local neighborhoods for 100 days.
We spoke with Ali about the collaboration, her transition from boxing to entrepreneurship (she has a hair styling product line, a new cookbook and a lifestyle podcast that boasts 1 million downloads to date), how she balances work and raising two young kids, the worst money mistake she's ever made and much more. Here's an edited excerpt from our interview:
Subscribe to Kiplinger's Personal Finance
Be a smarter, better informed investor.
Save up to 74%
Sign up for Kiplinger's Free E-Newsletters
Profit and prosper with the best of expert advice on investing, taxes, retirement, personal finance and more - straight to your e-mail.
Profit and prosper with the best of expert advice - straight to your e-mail.
What other charitable organizations do you support?
The Women's Sports Foundation is one that I've been involved with for many years. I'm a past president. It's Billie Jean King's organization, and they focus on empowering women and girls through sports and physical activity. I've worked with Feeding America and the American Heart Association. Working with those organizations ties in with fitness and wellness, as well as helping prevent people from getting sick due to lifestyle choices, which is important to me.
Kids also have a near and dear place in my heart. I've worked with Peace4Kids, which centers around foster children, and Keep a Child Alive (Grammy award-winning singer Alicia Keys cofounded the organization that helps combat AIDS in Africa).
Are there any lessons you learned from your father that have influenced your approach to business?
Not really. I've pretty much learned from trial and error in my own life -- and am still learning. I've had an entrepreneurial spirit since I was a young girl, way more than I think my father did. I had a nail salon business by the time I was 18. I had clients and everything that comes with that, from ordering supplies to booking appointments to making deposits.
That was my first experience [starting a business], so I didn't do everything correctly. However, what I learned from that experience and others is that you need to do your research first and then surround yourself with and get guidance from people who are successful in the space you're looking to enter.
What's the best and worst part about being the CEO of your own company?
It's nice to be my own boss, because it allows me to create the balance I need to be a mom and a businesswoman. The toughest challenge is turning my brain off at night, because having my own business while balancing my Food For Life cookbook and the "Home Made Simple" television series I host on the OWN network is a lot. It's almost like having a newborn baby -- you lose a lot of sleep.
What kind of financial education do you seek out for yourself? Do you work with a financial team?
I'm not that far into it yet, but I do work closely with my CPA and bookkeeper so that I know what's going on with my finances. I also have a financial manager that I work with who helped me set up my life insurance and various other investments. Those are the people that I turn to for help identifying my financial goals and creating a plan to achieve them.
What money lessons are you teaching your kids?
My kids are 6 and 9, still very young. As a parent, I noticed that I was making the mistake of buying them whatever they wanted all the time. I realized they had no real concept of money and how it's earned. A good example of this is when they would play games on their phones. They might say to me "Can you buy me $100 worth of coins for this game?" And I'm thinking to myself, "They really don't understand." That's when I would try to explain to them the value of money and would ask them things like, "Do you know how much a housekeeper has to work to be able to afford something like this?"
I am making it a point to teach them it's not about being able to afford something, but rather earning it. They now have chores and must work for their allowance. It could be a dollar for one task and $5 for another. I do that so when they get the urge to spend $20 on a game, they can spend their own money and understand what it took to get that $20 they'll likely lose in a matter of minutes playing a game.
It's my job to teach them that and how to save, so [when they're older] they're not out there just buying the first thing they want.
How do you balance your work and home life?
That is something I'm still trying to master. You've got to have your priorities in order and be clear about what they are. For me, it's figuring out what's most important in my life. Then asking myself, how am I spending my time every day? Is there balance? How am I spending my time in correlation with what's most important to me? What are the top three or four things on my to-do list and how much time am I dedicating to those every day?
I'm learning to say "no" more often. For example, I could be preparing for a podcast or working on a book and get text messages while I'm working. I might stop and answer those messages right as they come through rather than putting my phone down and saying "No, they can wait until I'm done." I am learning that every time I say "yes" to something, I'm ultimately saying "no" to something else. I'm all about putting your priorities in order, sticking to your guns and not being afraid to take time for yourself and the things that matter most. My family and my children are really important to me. I want my kids to grow up and not view me as their mom who's always too busy.
What's the most frugal thing you do?
Something people might not expect is that I style my own hair, as well as my daughter Sydney's hair. My time is precious. I don't have time to drive an hour to a salon and then sit there for a couple more hours getting my hair done. It's really not that serious or important to me. Obviously, if I'm doing a photoshoot or something like that, I'll have someone else do my hair and makeup -- that's different. But as far as everyday maintenance, I do it myself. (For more money-saving tips from prominent figures, read Frugal Habits of the Super Rich.)
What's the biggest money mistake you've ever made?
When you don't come from money, it's easy to just want to spend it when you finally do get some. That's what happened to me. When my mom divorced my dad, she invested some money for my siblings and I and put it away. When I turned 18, I was able to get ahold of that money. My mom hadn't really taught me about what to do with it once I had it, and I just started spending it. I remember going into a dealership with about $27,000 and paying cash for a car. The salesman asked if I was sure, but of course didn't say, "No, Laila, don't do this."
When I got older and started understanding why people lease cars, I began to fully understand how much of a mistake that was. (Take our quiz Should You Buy or Lease Your Next Car?) As soon as you drive a car off the lot, it depreciates in value. You go to sell the car and you get a fraction of what you paid for it back. Between that and frivolously spending all of the money I got when I turned 18, those were definitely major mistakes.
What's the best money advice you've ever been given?
One of the key things I've learned is to never let your money sit in the bank. Invest it some kind of way -- whether that's through a life insurance policy or investing in the stock market. Get with someone who can advise you on what's best to do depending on your short- and long-term goals.
If you hadn't become a professional boxer, what career path would you have chosen?
I have so many different interests and have always been an entrepreneur. I would've probably opened a restaurant or pursued my nail salon business even further. When I was 18, I envisioned opening a chain of salons around the world. I love interior design. I might have went to school for that. I definitely would have had my own business.
Online Editor, Kiplinger.com
Browne Taylor joined Kiplinger in 2011 and is a channel editor for Kiplinger.com covering living and family finance topics. She previously worked at the Washington Post as a Web producer in the Style section and prior to that covered the Jobs, Cars and Real Estate sections. She earned a BA in journalism from Howard University in Washington, D.C.