Danica Patrick Reveals Why She Has Life Insurance -- And It's Not Just Because She Races Cars
One of the most successful women ever in professional race car driving reveals personal-finance inspiration from her parents, her own frugal habits and her newest money-making adventure.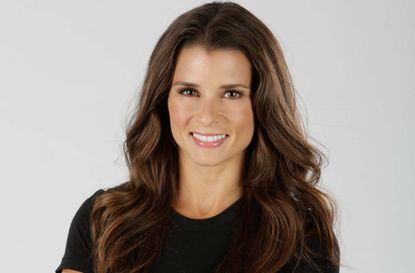 (Image credit: HHP/HAROLD HINSONhhinson1@carolina.rr.com704.786.7075)
Having made history in a fast-paced industry dominated by men, professional race car driver Danica Patrick doesn't shy away from risks. Her accomplishments include the best finish by a woman at both the Indianapolis 500 (third in 2009) and the Daytona 500 (eighth in 2013). Patrick currently races in the NASCAR series. She also earns money from modeling and endorsements.
But don't let her need for speed fool you. When it comes to her personal finances, Patrick plays it safe—spending smartly on her wheels and her meals, huddling with a variety of financial advisers, and diversifying with new sources of income.
She's the 2016 spokesperson for the insurance industry trade group Life Happens' life insurance awareness campaign. Patrick reveals that both her parents lost a parent at a relatively young age who was not covered by life insurance. Patrick's grandmother sold off most of the family farm to provide for Patrick's mother Bev and her four siblings after the death of Patrick's grandfather.
Subscribe to Kiplinger's Personal Finance
Be a smarter, better informed investor.
Save up to 74%
Sign up for Kiplinger's Free E-Newsletters
Profit and prosper with the best of expert advice on investing, taxes, retirement, personal finance and more - straight to your e-mail.
Profit and prosper with the best of expert advice - straight to your e-mail.
[Editor's note: Patrick, who is single with no children, may not need life insurance as much as others do, but an argument can be made for locking in lower rates while you're younger. And whole-life policies offer all sorts of financial flexibility while you're still alive.]
Kiplinger.com recently spoke with Patrick about life lessons from her parents and mentors, as well as her personal personal-finance habits, including the most frugal thing she does when she's not on the road. Here's an edited excerpt from our interview:
What's the best money advice you've ever been given?
I remember a conversation I had with my old boss Bobby Rahal, the former Indy 500 winner, which still resonates with me. He reinforced that I should save my money and be thoughtful about my finances beyond the right here and now. He literally said to me, "Don't spend all your money." Seems pretty straightforward, but he really encouraged me to think about my finances down the road and how I was going to live after I was done racing. The income for racing is pretty good, but we don't race until we're 65.
Why the passion for life insurance?
[Race car driving] is a dangerous sport. I've had life insurance since I was in my early twenties. For me, knowing that if I'm not here anymore that all of my expenses, such as my house bills, will be taken care of is important.
I think of my mom and dad. They both lost their fathers, who didn't have life insurance, when they were teenagers. They know what it's like to have to quickly adapt when the unexpected happens and one person all of the sudden has to cover the household expenses. As a result, my parents have had their own life insurance policies since my sister and I were born.
What other financial lessons have you learned from your parents?
My parents have always led by example when it comes to being smart about planning ahead. My mom went to CPA school for a period of time and always said that she and my dad had six months' worth of savings in the bank in case something happened.
What's the most frugal thing you do?
I love to cook. While it can sometimes be hard to have all the right ingredients when I'm on the road, I love stopping by local farmers markets and cooking as often as I can. The food I make is much healthier than always eating out at restaurants, plus it's a great way to save money.
What type of car do you drive off the track?
I drive a Chevrolet Tahoe. [Editor's note: The Tahoe appears in Kiplinger's 2016 list of Best Values in Used Cars and our 2016 list of Best Values in All-Wheel-Drive Vehicles.]
What are you doing to ensure your money lasts?
I've worked with my financial adviser since the start of my career. He not only helps me determine and sort out my current priorities, but also helps me plan for the future. I'm a race race car driver, not a financial professional. Working with a professional is a smart choice. They can help you set daily budgets, invest wisely and plan for retirement.
When it came time to hire a financial adviser, what specifically were you looking for in such a person?
I have a great team of advisers who I work with on a regular basis to manage my finances. For me, the most important consideration was choosing someone that I trust. A financial adviser can serve as such an important ally, helping to navigate estate plans, life insurance coverage and day-to-day budgeting and larger expenses. I wanted to work with someone who I felt comfortable having these conversations with.
What other business ventures are you pursuing?
I have been working on developing my own "athleisure" clothing line. It's called "Warrior" and will be available next year. I'm having so much fun with the whole process, from designing the clothes and the logo to picking out fabrics and colors to making sure the fit is exactly how I want it.
Besides the Life Happens campaign, what other ways are you giving back to the community?
I support a number of charitable causes -- especially those geared toward children and animals. Most recently, I supported "No Kid Hungry" through a partnership with Williams-Sonoma and the Rescue Ranch [Patrick along with several other celebrities helped design a special collection of spatulas that featured original artwork].
In what ways does the race car mentality carry over to your finances?
I like to live my life by the idea that there are no guarantees. Life isn't a set length, so you must live it and love it while you can. With race car driving, hard work and focus pays off. I apply both those approaches to my finances. Knowing how random life is, I am always certain to be covered with life insurance so that my loved ones are protected in case anything happens to me. I also know that through saving, I'll be better off and more financially secure down the road.

Browne Taylor joined Kiplinger in 2011 and was a channel editor for Kiplinger.com covering living and family finance topics. She previously worked at the Washington Post as a Web producer in the Style section and prior to that covered the Jobs, Cars and Real Estate sections. She earned a BA in journalism from Howard University in Washington, D.C. She is Director of Member Services, at the National Association of Home Builders.