Shark Tank's Barbara Corcoran to Entrepreneurs: Enough With the 'Fancy Talk'
The successful businesswoman offers advice on turning fledgling ideas into winning businesses.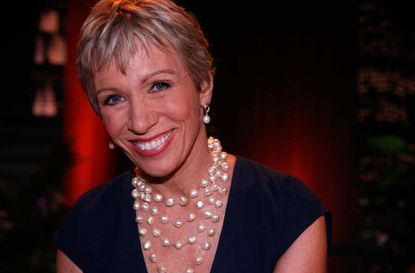 (Image credit: Sarah Hummert 2010)
Unlike other prominent entrepreneurs who made it big before graduating college, Barbara Corcoran (pictured at left) found great success later in her career. In 2001, she sold her New York-based real estate firm the Corcoran Group for $66 million after 28 years at the helm. Since then, Corcoran has gone on to make an even bigger name for herself in the business world and beyond. She is a regular real estate contributor on NBC's "Today" show, has written several books and is currently a panelist on ABC's reality TV competition series "Shark Tank."
See Our Slide Show: 6 Millionaire Moms
Kiplinger.com spoke with Corcoran about how taking risks early-on in her career proved beneficial, what makes a new start-up stand out, as well as her unusual approach to maintaining wealth. Here are edited excerpts from our interview:
What's one key piece of advice you'd give to a budding entrepreneur?
Subscribe to Kiplinger's Personal Finance
Be a smarter, better informed investor.
Save up to 74%
Sign up for Kiplinger's Free E-Newsletters
Profit and prosper with the best of expert advice on investing, taxes, retirement, personal finance and more - straight to your e-mail.
Profit and prosper with the best of expert advice - straight to your e-mail.
Don't waste time thinking about it. One of the biggest problems many entrepreneurs have is they spend too much time thinking about the process. They think they have to get a patent first or hire a PR firm right away -- what a waste of time.
I can't remember who said it, but there's an old saying: 'You don't have to get it right, you just have to get it going.' All you need to do is get a prototype, walk out there and see if anyone will buy your product.
Looking back at your professional journey, when did you realize you were on the path to becoming wealthy?
I can't say that I ever had that exact thought. I do remember, though, the moment when I thought I could actually "make it." It was 1985 -- about 16 years into my career. I ordered new cars for both of my parents and had them delivered to their retirement home in Florida. Growing up we always had clunker cars. I got my dad a beige Lincoln Town Car and bought my mom a blue Pontiac convertible. That was and probably still is the most thrilling moment for me, because I had the power to do that for them.
What's the biggest risk you took?
I never really thought about the risk. For me, it was more about the excitement of taking a shot at it. I remember in 1979, the market was doing horribly. I decided to plunk down a ton of money to rent out an entire floor of a building on Madison Avenue [in New York City]. It was a gut renovation and we built it to look like a state of the art spa with luxury finishes. Given the way the market was at the time, I had no business doing that. In my heart, I felt that if I took that plunge it would work out and it did.
What's the one thing you would have done differently?
I would've had a baby sooner. I had my first child at age 46. Becoming a mother is the most satisfying work I've done. When it comes to work/life balance, there is no such thing as balance. If you're a mom, you're a mom 150%. If you're a mom and you have a business that you're serious about, it's the same thing. Something eventually has to give and it will most likely be you. You'll always feel like you're on "E."
What are you doing to make your wealth last other than invest in new ventures on "Shark Tank"?
My personal goal is simple: to not lose the money I have until I'm dead. My unsophisticated plan is taking a $1 million profit from the stock market -- which doesn't necessarily happen every year -- and buying old lady bonds with it that return a very low tax-free return. Just doing that allows me to keep up my standard of living. I don't want to lose a lot of money or make a lot of money, just keep up my happy standard of living.
What are the key factors that make a "Shark Tank" pitch a winner to you?
For me, it's never the pitch -- it's about the entrepreneur. I look for someone who's really good at taking the pressure of a shark attack. If they can handle that, it lets me know they can probably handle all of the other pressures that come with a start-up. I look for someone who is good under pressure and can pop back in the face of adversity.
Also, I'll go for someone who has high energy over someone with a high IQ every time. I like people who cut to the chase and can get to the point -- not just in the pitch, but in the answers, too.
Read our profile on one of the companies Corcoran has invested in on "Shark Tank": Small Business Success Story: Daisy Cakes.
What are the show-stoppers that turn off your interest immediately?
Too much fancy talk -- someone who uses those Harvard MBA-type words all the time. To me, that guy will never make money. Too much education can build false confidence. When you build a business, you need to relate to everyday people. Those are the folks you'll need to help build your business. You have to talk their talk and get them to buy-in and follow you. The guys who talk fancy distance themselves from people and typically lack the ability to see what's really going wrong, because no one tells them -- and they wouldn't listen anyway.
Another thing that bugs me is when a person has no regrets about blowing their parents' money on their business idea or no sense of urgency to pay them back. That says to me that you'll have no qualms about blowing my money, too.
If you were starting out today, which industry would you choose other than real estate?
I would start an advertising agency or a public relations firm. It speaks to my strengths. I'm a great communicator and educator. Both fields require you to use your imagination to create magic and drive sales. That's what I do best and my talent would have applied well to both of those businesses.
How do you give back to the community?
I take care of my family first. I've been putting my college-age relatives through college for some time. I even set up a trust fund for it. I've sent 23 kids to college in total. That's my main focus, but I also mentor young people in business and help various charities geared towards dyslexia.
Online Editor, Kiplinger.com
Browne Taylor joined Kiplinger in 2011 and is a channel editor for Kiplinger.com covering living and family finance topics. She previously worked at the Washington Post as a Web producer in the Style section and prior to that covered the Jobs, Cars and Real Estate sections. She earned a BA in journalism from Howard University in Washington, D.C.