10 Best All-Wheel-Drive Vehicles for the Money
When you have to drive on the white stuff—or, worse, a wintry mix—you want to feel confident that you can get where you're going.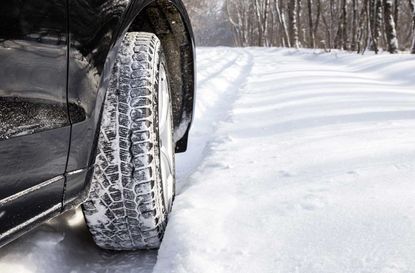 (Image credit: Courtesy Chevrolet)
When you have to drive on the white stuff—or, worse, a wintry mix—you want to feel confident that you can get where you're going. All-wheel drive can help give you that assurance. With the ability to direct power to all four wheels, vehicles with these systems provide better traction when things get slippery.
What's more, the all-wheel drive on all of these cars will work without your having to do so much as push a button. They can all detect slippage and take action, though in many cases you can help out by choosing a setting for the conditions you're experiencing. And they all do it on the fly; the days of having to slow down or stop to move a lever are long gone.
We're recommending ten 2016 vehicles equipped with all-wheel drive that offer a shovelful of value. Many have placed well in our previous car rankings, which reward resale value, fuel economy, safety and more.
A quick caveat about all-wheel drive: Its magic is that it can improve your traction when accelerating, but it does nothing to help you stop. The overconfidence the former can breed has put many an all-wheel-drive vehicle in the ditch. The solution (besides prudence) is winter tires.
Disclaimer
Pricing data from KBB.com except for Jeep Grand Cherokee, which is from edmunds.com
1/10
Mazda CX-3
Sticker price: $24,090 (Touring)
Invoice price: $23,435
KBB Fair Purchase Price: $22,955
MPG (city/hwy): 27/32
Heated front seats: depends on trim level
The diminutive CX-3 is the latest and smallest iteration of Mazda's CX line of crossovers (it joins the CX-5 and CX-9), and it shares the styling and layout of its larger siblings. The sporty edge that Mazda bakes into its cars (remember "Zoom-Zoom"?) helps the CX-3 stand out from the crop of tiny sport utes that have recently hit the market, including the Honda HR-V, Fiat 500X and Chevrolet Trax.
You can buy a CX-3 with front-wheel drive only for $1,250 less, but putting more capability behind those cute-ute looks will serve you well. Mazda touts the ability of its i-ACTIV all-wheel-drive system to predict where drive power needs to be routed, rather than waiting for slip to occur. Among the parameters the system monitors is air temperature—looking for the possibility of freezing.
All-wheel drive is available on all trim levels, but to get heated seats you'll need to step up to the Touring or Grand Touring level; they're not even an option on the entry-level Sport. One little gripe: The audio volume knob is down low on the console. It will take a long time before you stop groping the dash when you want to turn the decibels up or down.
2/10
BMW 3 Series
Sticker price: $36,145 (320i xDrive)
Invoice price: $33,835
KBB Fair Purchase Price: $32,490
MPG (city/hwy): 23/35
Heated front seats: $500
SEE ALSO: 10 Winter Car Maintenance Tips
The BMW 3 series, freshened for 2016, combines power, precision and bang for the buck. The 3 series is known for its well-balanced handling, and BMW's xDrive all-wheel-drive system works to preserve the line's sporty feel by sending more power to the rear wheels as the default setting. But if the system senses oversteer, for example, it will correct it by shifting some power to the front and applying braking to individual wheels to keep you safely on the road.
Heated side mirrors are standard, but you might want to add heated front seats or go whole hog with the Cold Weather Package ($800), which includes heated front and rear seats and steering wheel.
3/10
Ford Fusion
Sticker price: $28,755 (SE w/AWD)
Invoice price: $26,590
KBB Fair Purchase Price: $26,075
MPG (city/hwy): 22/31
Heated front seats: $495 in cold-weather package
Ford's "Intelligent AWD" uses sensors to constantly monitor traction and balances torque between the front and rear wheels, helping to avoid wheel slip before it occurs. But the arrangement is the opposite of the BMW's: The Fusion is fundamentally a front-wheel-drive car that will shift power to the back if needed.
One key selling point of the AWD Fusion: All-wheel drive isn't available on the Fusion's chief competitors in the mid-price-sedan class—the Toyota Camry, Honda Accord, Hyundai Sonata and Nissan Altima.
The Fusion keeps comfort and safety top of mind in a stealthy sort of way when equipped with all- wheel drive. The only tipoff to its slippery-road capability is a badge on the back; this stylish sedan is spared the higher ride height that compromises the styling of some AWD luxury sedans (we're looking at you, Mercedes, BMW, Infiniti).
To get heated seats, you'll need to spring for the cold-weather package. For 2016, Ford added remote start and all-weather floor mats along with the heated front seats. One further cold-weather option is a heated steering wheel ($195).
4/10
Subaru Forester
Sticker price: $26,645 (2.5i Premium with automatic)
Invoice price: $25,132
KBB Fair Purchase Price: $24,883
MPG (city/hwy): 24/32
Heated front seats: $500
Unlike much of its crossover competition, the Forester has reasonable off-road capability, with 8.7 inches of ground clearance. Even if you stick to the well-traveled road, that will help you get over those devilish piles the snowplow leaves at the end of your driveway.
Subaru is a dominant name in all-wheel drive; it's standard on virtually all models. We picked the Forester for its packaging, which offers carlike handling, enough headroom for the tallest of winter hats, and safety—it earned a Top Safety Pick + rating from the Insurance Institute for Highway Safety.
Buyers who opt for higher trim levels get more-complex AWD systems. The Limited and Touring trims on the 2.5i models, as well as all 2.0XT models (equipped with a turbocharged engine), feature X-Mode, which integrates control of the engine, brakes, and all-wheel-drive and stability-control systems to provide better wheel control on slippery surfaces and steep inclines.
Similarly, you'll need to move up the food chain to get heated seats (part of a package that also includes heated exterior mirrors and a windshield-wiper deicer). At the Premium level we've priced above, it's a $500 option if you specify an automatic transmission (curiously, it's standard equipment with the stick shift). Higher trims include the all-weather package.
5/10
Audi Q5
Sticker price: $41,825 (2.0T Premium)
Invoice price: $38,963
KBB Fair Purchase Price: $38,240
MPG (city/hwy): 20/28
Heated front seats: $500; standard on higher trims
From that broad group of AWD vehicles, we're calling out the Q5, a smallish crossover that in previous model years has posted strong Consumer Reports reliability scores (which the rest of the brand's models don't always share).
Audi's Quattro (that's four, as in wheels driven) system is available in every model and is an integral part of the brand's history—and advertising campaigns. (Remember the car that climbed the ski jump?)
While the Quattro branding is constant across Audi's line, the system is tailored to each particular model. In the Q5, power is normally split 60/40: 60% going to the rear wheels and 40% to the front. But when needed, the center differential can shuffle 85% to the rear, or up to 65% to the front.
Note that we've priced out one of the two gasoline-engine models available. There was a diesel Q5, but it was part of the VW/Audi emissions schande and is not available at the moment.
6/10
Lexus RX350
Sticker price: $44,240 (AWD)
Invoice price: $41,426
KBB Fair Purchase Price: $42,492
MPG (city/hwy): 19/26
Heated front seats: standard
In the RX you get a sleek package with a silky smooth ride. Plus, it's a technological tour de force, with such options as smart headlights (adaptive front headlights, which let you see around curves, plus automatic high beams), lane-keeping assist, and a pre-collision system that can actually brake the vehicle for you.
Like the rest of the car's drivetrain, the RX's optional all-wheel-drive system (which adds $1,400 to the sticker price) is designed to be quiet and unobtrusive. The RX usually powers the front wheels, but when conditions merit, it can shift up to 50% of its power to the rear. If you care to follow the computer's labors, you can view torque distribution levels at each wheel on the car's main screen when the system is in operation.
Heated seats are standard, but the cold weather package ($440) will add a windshield wiper de-icer, auto-leveling headlamps and headlamp washers, rain-sensing wipers, and a fast-response interior heater that kicks out warmth even when the engine is cold.
7/10
Jeep Grand Cherokee
Sticker price: $40,360 (Limited 4WDl)
Invoice price: $39,060
Edmunds True Market Value price: $38,782
MPG (city/hwy): 17/24
Heated front seats: standard or $1,695 in All Weather Capability package
SEE ALSO: 15 Cars That Refuse to Die
You can buy almost every trim level of the Jeep Grand Cherokee with only two-wheel drive. We don't recommend that. What's a Jeep without great traction in all conditions?
Most buyers will do best with either the Quadra-Trac II system or the Quadra-Drive II system. Both use sensors to determine tire slip and route torque to the axle with the most traction, and both have a push-button control that allows you to select "snow," "sand," "mud" or "rock" for specific driving conditions. The Quadra-Drive system kicks it up a notch with a limited-slip differential in back, which provides even greater grip. And both offer a proper low-speed range when you need to crawl your way over something, such as a big rock.
Heating your keister requires an expensive package (All Weather Capability) if you're buying the cheapest (Laredo) trim level. But in addition to heated front seats, you'll get a bevy of other features, including the Quadra-Trac II system, sturdy floor mats and a remote starter. Seat heaters are standard at higher trim levels.
8/10
Acura MDX
Sticker price: $45,805 (SH-AWD, Base)
Invoice price: $42,679
KBB Fair Purchase Price: $42,502
MPG (city/hwy): 18/26
Heated front seats: standard
The MDX can handle almost anything Mother Nature throws its way while providing a ride you'd expect from a luxury crossover. Acura's Super Handling All-Wheel Drive system adjusts the torque distribution not just between the front and rear wheels but also between the left and right rear wheels. Normally, the system sends almost all the power to the front wheels for efficiency's sake. But say you're going around a corner with a heavy foot on the gas. In that case, the outside rear wheel will get an extra dose of power, helping push you around the turn without the car's nose drifting wide.
Heated seats and side mirrors are standard. Redesigned in 2014, the MDX boasts better fuel economy and more standard features than before. It's safe, too. When equipped with the optional forward-collision warning system, the Insurance Institute for Highway Safety rates it a Top Safety Pick +.
9/10
Ford Explorer
Sticker price: $36,295 (XLT)
Invoice price: $33,906
KBB Fair Purchase Price: $33,540
MPG (city/hwy): 16/23
Heated front seats: linked to package choices
SEE ALSO: 9 Ways to Get Your Car to 200K or More
Tweaks in 2014 gave Ford's family hauler bigger brakes to improve stopping distance, plus electric-assisted power steering to give it more responsive handling. Ford's Intelligent 4WD adjusts power delivery automatically in normal driving mode but also allows you to use the Terrain Management System to select mud, sand or snow mode. In snow mode, for example, the system will allow less wheel spin and make throttle inputs more gentle. Your passengers will appreciate the lack of drama.
Heated seats and steering wheel are available as part of Ford's Cold Weather Package ($650), but choosing this also requires you to buy a package ($1,600) that will add premium audio, remote start and dual-zone climate control, among other features. No a la carte ordering here.
10/10
Chevy Tahoe
With the optional front-row bench, the Tahoe can take nine of you to the slopes. Boots, jackets and helmets can go in the 16.9 cubic feet of cargo space behind the third row; skis and boards, well, on the roof.
Like all the vehicles in our lineup, the Tahoe (when fitted with all-wheel drive) can respond to slippery conditions and transfer power to the wheels with grip. You can also select full-time all-wheel drive with a button. And, befitting the Tahoe's traditional body-on-frame roots, Chevy offers a two-speed transfer case that lets you go super-slow for serious off-roading or, say, pulling a trailered boat up a slippery launching ramp.
To get heated seats in the Tahoe, you'll need to step up to the LT trim level. Fancy up to the LTZ and the seats will be cooled as well. Heated rear seats are an option on both LT and LTZ.

Former Senior Online Editor
In his former role as Senior Online Editor, David edited and wrote a wide range of content for Kiplinger.com. With more than 20 years of experience with Kiplinger, David worked on numerous Kiplinger publications, including The Kiplinger Letter and Kiplinger's Personal Finance magazine. He co-hosted Your Money's Worth, Kiplinger's podcast and helped develop the Economic Forecasts feature.